For the first time since 2019, the LA Kings have a formal ECHL affiliation.
From the end of the Manchester Monarchs franchise in 2019, the Kings have utilized informal working agreements with ECHL clubs, typically sharing an affiliation with another NHL franchise. That approach will change this season, after last week's announcement that the Kings will formally affiliate with the Greenville Swamp Rabbits on a two-year agreement, continuing their work that was done informally over the last two seasons.
"It's an important part of our development pipeline as an organization and it's an extension of our brand," Ontario Reign General Manager Rich Seeley said. "I think it's vital, a lot of our prospects and young players come in and it's a huge jump coming from college, from the amateur level to the pro level. Some are able to make that jump and others need a little bit more time, but an important part of that development is they need to be playing, they can't be on the sidelines. Having this opportunity to further our development process in Greenville is very, very important."
Seeley is one who would know – before joining the Reign as the team's General Manager, Seeley was the Head Coach in Manchester for three seasons, from 2015 through 2018, leading the team into the postseason during each of his three runs behind the bench.
The Kings and Reign have found some success with players starting in the ECHL, or using the ECHL as a part of their development process. On the largest scale, Jonathan Quick is the prime example of a player who played in the ECHL and developed into an AHL player and eventually an NHL superstar. That's the billboard for the league, but even beyond the massive success stories like a Quick are players like Austin Strand, Chris Dreidger or Danill Miromanov, who all used the Monarchs as a development avenue on their way to reaching the NHL.
"It's a three or four year process to come from the amateur level and to put on an NHL Jersey, and for some of them that's going to be coming through Greenville," Seeley added. "[We] think that's a very important part for our organization."
The Kings and Swamp Rabbits used the last two seasons as a get to know each other phase.
The COVID-shortened 2020-21 season was the first date, with the Kings and Reign sending a few of their younger players to begin the season in the ECHL when it was the only show in town. Last season saw more of the same, as the organizations got to know each other even more. Goaltender Jacob Ingham saw game time with the Swamp Rabbits and several others featured for both Ontario and Greenville throughout the course of the 2021-22 season.
That led to a marriage proposal and a happy acceptance.
"We're really fortunate to have a group like this with development and developing players," Kings Director, Player Development Glen Murray said. "You really see how they understand, take care of themselves, not just on ice, but you couldn't pick a better staff and they're they personable, they care about the players. They actually want to know about their families, and that's part of these players coming down here."
The ECHL is an evolving league, a developing league, one that has seen its presence in the player development model grow over the years. Gone are the days when the ECHL was viewed as a fight where a hockey game broke out. Arriving in its place hs been an influx of speed, skill and talent, with younger players and draft picks able to use the league to grow and develop when they perhaps need more time in the process.
More and more NHL franchise are seeing value in having players on NHL and AHL contracts develop in the ECHL, something that Murray called an important part of the development process.
"The benefit is, when they come down here, they still have to earn their stripes," he added. "They come down to Andrew [Lord] and his staff and while they'll earn more playing time, the [staff] will instill a work ethic in you to bring back up to Ontario, to the LA Kings eventually. Those players are going to play, the best way to learn is that you have to play, so coming down here and learning how to play in the system, how to work hard, is a huge benefit."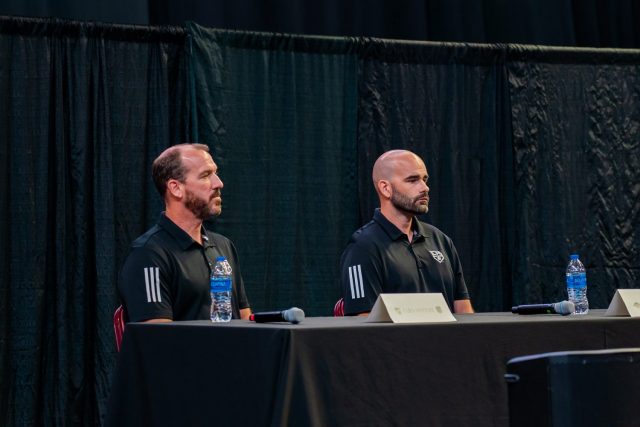 The head coach of the Swamp Rabbits – Andrew Lord – joined us on the All The Kings Men podcast to discuss the benefits of a formal affiliation agreement with the Kings.
Lord is a veteran of nine professional seasons, spent between the AHL and ECHL as well as a lengthy spell overseas in Germany and the United Kingdom. Having begun his coaching career as a player/coach with the EIHL's Cardiff Devils, Lord eventually returned stateside for an opportunity with Greenville, as the team's Head Coach and General Manager. It had been nearly 10 years since the Swamp Rabbits recorded back-to-back playoff appearances, but the franchise has qualified in each of the last two seasons under Lord's leadership.
The RPI graduate – shoutout Troy, NY!! – has gotten familiar with the Kings and the Reign over the course of the last couple of seasons, accompanying the team to last year's Rookie Faceoff in Arizona, in addition to attending training camp with both the Kings and Reign last fall. Greenville will integrate parts of the Kings system and structure this season into the way that they play, giving prospects an early taste of what they could expect should they earn a callup to the AHL.
A couple of excerpts from Lord below, with more information available in the full recording.
On the Kings embracing an ECHL affiliation
I think that's the fundamental reason why we got into this relationship, both ways we really care about them, they really care about us and the amount of communication we get, the amount of care we get and mentorship we get, I would say it's second to none, so we feel incredibly lucky. For Rich Seeley and Glen Murray to travel over and spend a couple of days with us and not just what you saw for that 30 minutes, it was the 48 hours surrounding that, getting to meet our staff, knowing how much they cared about finding out about our stories and how everyone got here to Greenville, what our front office teams doing, it was eye opening. To see a 1000-game NHL'er and a guy that's run an AHL team for four years, the level they cared about us, it blew me away and it's it's great really inspiring stuff. We couldn't be more fortunate to be in this situation, so we're all fired up from off ice team to on-ice team to really make Ontario and LA proud. We're going to do everything we can to to help develop their players.
Lord on the advantages of having the opportunity to place goalies in the ECHL
Yeah, it's critical. I mean, I think if you asked any of your six goalies, they would probably say six goalies is too many, obviously, but in actuality, it's not that many bodies when you're when you're thinking about the rest of the lineup, there's way more in other positions, obviously, there's more need for it. Still, you're trying to try to find some studs out of that low number and you need to develop and as Glen Murray said in our press conference, the best way to develop is to play and that's couldn't be more true than the goalie position. We play 72 games, we play a ton of three-in-threes, so it's a perfect opportunity to go with a two goalie setup and try to manage the workload, load management wise, so great opportunity for whoever we get.They also support them really well, there's a lot of visits from the goalie staff, constant phone calls, zoom and I'm sure video content mixed in there as well. I'm a big believer in it. I think it's you've seen a lot of goalies from our league make the NHL over time.