It's been a whirlwind summer for 2022 second-round selection Jack Hughes.
After he concluded his season at Northeastern University, as the youngest player in college hockey, Hughes began to prepare for the NHL Draft, where the LA Kings promptly made him the organization's top selection at the event. Immediately following? Participation in two summer camps, week-long events with both the Kings and USA Hockey respectively…….all while frequently being asked if he plays for the New Jersey Devils.
"Whenever somebody sees the name and I don't know them, there's always a couple of questions about that," he said with a smile.
An LA Kings prospect, who is the son of the general manager of the Montreal Canadians and also shares a name with a New Jersey Devils star. All a part of the whirlwind.
Hughes has personal connections to Montreal, home of the 2022 NHL Draft, which made his selection and the location that much more special. Both of his parents grew up in Montreal and he had friends and family with him, both at the Centre Bell and at nearby homes, throughout the course of the event.
"My family and both my parents grew up in Montreal, so I got to visit my grandparents, cousins and stuff like that, it was a fun overall trip," Hughes said. "All the years previously I've visited Montreal, we usually aren't really in the city much, so it was nice to kind of experience the other side of it and get to do it with friends and family."
From Quebec, it was off to Southern California, where he went from being selected during the draft on Friday to being on the ice Monday at Toyota Sports Performance Center, as a part of development camp with the Kings. While most returned to their summer preparation after the conclusion of the camp, Hughes flew to Michigan, where he took part in USA Hockey's 2022 evaluation camp.
A wide array of events for the 18-year-old centerman, who went into each showcase opportunity with the same approach.
"No matter where I'm playing or trying out, I want to do the same thing, I'm going to play my game," Hughes said. "If someone tells me I might have to play a different role, then you know, then I'll play that way and I'll change a little bit of what I do, but for the most part going into camps, or whatever it is, I'm going to do the same thing and play my game."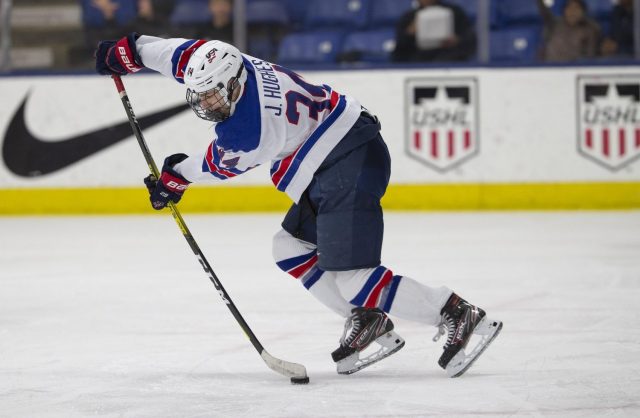 Skating with players in contention for places at the rescheduled 2022 tournament, which ended last night from a USA perpective, as well as this winter's 2023 tournament, Hughes was on the ice for an 11-day event as one of 63 players invited to participate. While the camp featured two tournaments worth of hopefuls, Hughes' sights were set on the winter edition to be held in Nova Scotia come December.
With the aim of extending his representation of the United States to the under-20 level, adding to his time with the under-17 and under-18 programs, Hughes had positive takeaways from his time with USA Hockey this summer. The Massachusetts native previously spent two seasons with the USNTDP, geared towards the top pre-draft players from around the country. A big part of his week with USA Hockey was an opportunity to see old teammates and old friends, but more importantly to strut his best stuff for inclusion on the final roster come December.
"I definitely want to be on that team," Hughes said. "I've watched that tournament every Christmas since I can remember and it's something I've always wanted to be a part of."
His play during that week alone won't make that final determination, but it certainly helped to make an impression. And, with an early elimination for the Americans during the summer tournament, Hughes now hopes to be a part of a redemption story and a medal contender come the tournament in December.
Between now and then, however, Hughes will return to Northeastern University, as he looks to grow both individually and as a part of a team. Hughes posted very respectable totals for a player who turned 18 two months into his time as a college student, with 16 points (7-9-16) from 39 games played. His team also had a respectable season, returning to the NCAA Tournament for the first time since 2019 and narrowly missing out on their first tournament victory since the 1980's, with a narrow, overtime defeat against Western Michigan.
"We learned and realized what we can do as a group," he said. "We made it to the tournament and lost to a pretty good team in overtime in the first round. Losing such a close game, I think we all learned that we can win against those big teams, so for next year, I think it's just building off of what we did as a group."
Individually speaking, Hughes was a unique story, as the youngest player in college hockey.
As a true freshman, posting just shy of a half-point-per-game is impressive, with the bulk of his competition coming in at two, three, four years older than he is. Though eligible to play in other leagues, such as the USHL, Hughes felt that committing to Northeastern and playing his draft year in the NCAA was the best move for him and his development process.
"I felt like I was ready to play college hockey and I wanted to challenge myself, I thought it was the best place for me to get better," he said. "I think I did that. I had to play a bit of a different way, over the course of different points in the season, I had to play a different way, in different roles. I think that helped me and it helped me learn how to play at the next level or how I might need to play to in order to succeed."
Northeastern also presented Hughes with the opportunity to play with his brother, Riley – a 2018 draft pick of the New York Rangers – and a close friend in Ryan St. Louis, his roommate and the son of Montreal head coach Martin St. Louis.
The chance to play with his brother was a rare one, but one that Hughes was eager to take. While not the reason for his commitment to the Huskies, having that instant chemistry with his brother was certainly a perk, both on and off the ice.
"It was definitely really cool," he admitted. "We played on the same line for a little stretch until he got hurt, it was cool. I kind of felt like I knew what he was going to do when he had the puck. I grew up watching him, listening to him, and my dad talked about his game, what he needs to work on, so that I think that was a cool experience for us to be able to play together build a little bit of chemistry, because I think we read off each other pretty well."
Hughes finished the season with five points from his last five games, centering the team's second line entering the NCAA Tournament, helping to bolster his production on the season. Kings Director of Scouting Mark Yannetti felt that had Hughes played in the USHL, he likely would have been more than a point-per-game player offensively and as such, his production might have pushed Hughes out of the Kings draft range, noting it may have attracted more teams.
It doesn't mean he would have been a better prospect though, with the added competition and tighter-checking brand of hockey that the NCAA offers providing a more difficult test, filled with opportunities to grow and develop.
Now entering his sophomore season, Hughes knows the areas he wants to improve on – even if he didn't outright share them – and it focused on those areas over the summer.
"I just want to work on what I need to improve on and if I keep trying to do those things, and I keep working on them, I think I'm just going have more success overall next year,' he added. "I'm excited to see what we can do as a group and then kind of build from there."
With the rules in place regarding collegiate players and NHL teams, we won't see those improvements in action, in person at least, until no sooner than next spring. Hughes won't be at rookie camp in one-month's time to test himself in a game setting with the Kings shield on his chest, but he'll be developing nonetheless while on Eastern time.
Until then, we'll hope to see him in the red, white and blue come December, and hopefully a history-maker with Northeastern shortly thereafter.