As I begin to reflect back on the 2021-22 season, I keep looking back to May 13 as a benchmark for how far things truly have come.
May 13, 2021. The LA Kings lost the second of two games in Colorado to close out their season. The Kings had to play games that late due to COVID rescheduling, games that were lame-duck games for the Kings, playing against a team fighting for the Presidents' Trophy. They lost the pair of games against the Avalanche by a combined 11-1 score, games that were not competitive between teams in two different places, with different motivations, in their final two games of the regular season.
May 13, 2022. The LA Kings boarded a flight to Edmonton to prepare for Game 7 of the first round of the Stanley Cup Playoffs. In 365 days time, the Kings went from playing meaningless, scheduled games to being on the verge of the organization's first playoff series victory since 2014. And, even though they fell short of achieving that with last night's 2-0 defeat against the Oilers, the growth over the last year's time has been immense.
When you look at last night's game, and the series as a whole, it's okay to be disappointed. Because this was a winnable series, and not getting the job done is disappointing. Game 6 was winnable at home. Game 7 was winnable on the road. Across the seven games, the Kings gave themselves an opportunity to come out on top. This wasn't the "waste of eight days" that playing Colorado in the first round was famously dubbed. This was a hard-fought, competitive series and one that the Kings had every opportunity to win. That they didn't find a way to do it is a disappointing ending.
It's a disappointing ending, however, to anything but a disappointing season.
Most external outlets had the Kings on the outside of the playoff picture looking in. They had the Kings between sixth and eighth in the Pacific Division, noting offseason improvement, but still a ways away from postseason contention. Those predictions proved incorrect. The Kings saw offseason acquisitions thrive, veterans play to form and younger players assume larger roles in the lineup. Despite a rash of injuries that had the Kings among the NHL's Top 5 in terms of man games lost, especially on the blueline, a resilient and structured group found a way to reach the postseason.
In that, there is something to be proud of.
It's okay to feel both sets of emotions in the moment. When you're in the midst of a series, invested in the team on the ice, losing in seven games is always going to sting, even if you can see things within the bigger picture. That bigger picture, however, paints a picture of positivity, even in what is currently a disappointing present.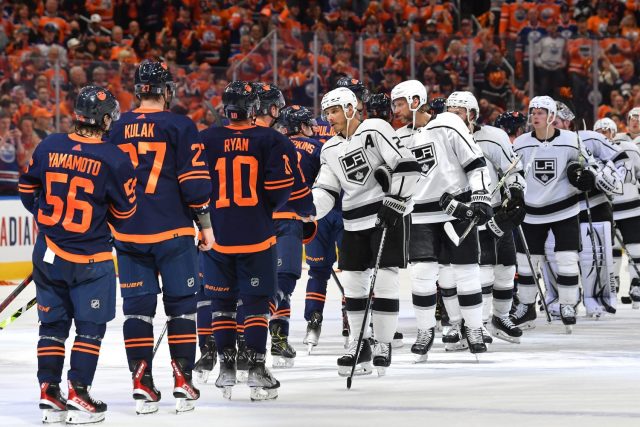 Adding to the emotions on a team-wide level last night were those felt towards Dustin Brown, who laced up the skates for the final time at the NHL level. It goes without saying but Brown is one of the all-time franchise greats, who we'll assume to see back for a game in short order to watch his number 23 jersey raised to the rafters at Crypto.com Arena. The Kings haven't held a jersey retirement ceremony for a player since Rob Blake in 2015. Brown will break that trend and start a new one, with three of his current teammates to follow when their time comes.
There was obvious sadness and disappointment in the room last night, publicly personified by Anze Kopitar. His emotions allowed him to get out just five words when asked about Brown, holding back the emotions as best as he could, a picture of the friendship the two have forged over the last 16 years. Brown will be continously honored by the organization throughout the summer and as emotions settle and we can more objectively look at the lifetime achievements that Brown has brought.
In the present, we move forward starting today, in the words of Head Coach Todd McLellan.
He ended his opening answer from last night's press conference by noting that the 2022-23 season starts today and that from his experience, it's going to be a tough one. It's not a statement he clarified, or a statement we have the context to. But his words summarized the approach of the small picture and the big picture, with a look ahead to what's to come, and perhaps the difficult work that lies ahead to take the next step forward. As exit interviews commence in the coming days, we'll get additional insight into what that work might entail, as we speak with both McLellan and General Manager Rob Blake in an extended, less raw setting.
We'll have full coverage from those interviews when the time comes, as well as anything else that could pop up between now and then. The Ontario Reign have a playoff game tonight facing elimination, an 8 PM puck drop at Toyota Arena, with three games at home to extend their season. They'll need to win all three, beginning later on today.
From there, I'd just like to say thank you. An 82-game schedule provided different opportunities, different challenges and different moments when it came to covering this team. It was a different job for me, being in the office full-time, outside of the bubble, with certain elements helping the product here on LAKI, and others I think holding it back. I have. a few areas of my own I'd like to improve with site coverage for next season, but without the community here sticking to it, those improvements would be for naught. For that, I have you to thank.
It was an exciting season to document and one that is hopefully a precursor to this organization returning to where it wants to be, and where it needs to be. I'm hopeful you were all able to enjoy that coverage and the insight and information provided across the course of a full schedule for the first time since 2019.
Naturally the summer provides and presents a different schedule. A few ideas in the works for that time of the year, with some much-needed rest and relaxation to be scheduled as well. Happy Sunday. Go Reign. Talk soon, Insiders.