WHO: Ontario Reign (2-1) at Colorado Eagles (3-0)
WHAT: 2022 CALDER CUP PLAYOFFS – Round 2, Game 2
WHEN: Friday, May 13 @ 6:05 PM Pacific
WHERE: Budweiser Events Center – Loveland, CO
HOW TO FOLLOW: VIDEO: AHLTV – AUDIO – Mixlr – TWITTER: @ShafReign & @ontarioreign
TONIGHT'S MATCHUP: The Reign look to rebound Friday night in Game 2 at the Budweiser Events Center with a chance to even their best-of-5 Pacific Division Semifinals series after dropping a lopsided Game 1 on Wednesday to the Colorado Eagles.
HEAD-TO-HEAD: The Eagles had control from the start in Game 1, securing a lead on the first of two goals by defenseman Keaton Middleton just 2:17 into the contest. While the teams finished even in shots on goal, with each club putting 35 chances to the net, Colorado jumped out to a 6-1 lead in the first 20 minutes and added on with two more goals in both the second and third periods. Reign captain Brett Sutter had the lone Ontario tally, deflecting a shot by Nelson Nogier past goaltender Justus Annunen at 6:13 of the first for his first goal of this year's Calder Cup Playoffs.
REIGN VITALS: Colorado built off the success they had against the Reign during the regular season and dealt Ontario its most lopsided playoff loss in team history on Wednesday.
It started with the Reign falling into and early hole and spiraled quickly, prompting Assistant Coach Chris Hajt to declare, "Everything that could go wrong went wrong" after the game. Sutter echoed his coach's words, saying "When you lose 10-1 you should walk out of this building embarrassed. It should sting like hell, and it does."
But the good news for Ontario is that the defeat counts the same as any other loss. Yes, it may have been embarrassing, but the group has an opportunity on Friday to even the series up and erase all the negative feelings from Game 1. If they do that, they'll be on a flight headed back to Southern California on Saturday with an opportunity to host the final three games of the series in their own building.
The Reign held a practice at the Budweiser Events Center in between games on Thursday, with a chance to get everyone back on the ice together and run through a game plan for tonight, including any adjustments the coaching staff put into place as a result of the series opener.
Both Ontario goaltenders that dressed for Game 1 saw action, with Matt Villalta making his third start of the postseason before he was replaced by David Hrenak after allowing a third goal at 5:32 of the first. Hrenak remained in between the pipes for the final 14:27 of the opening frame but allowed three goals of his own prompting the coaching staff to call back on Villalta to begin the second period. He remained in the crease for the remainder of the contest. The Reign could go back to Villalta again for Game 2, or they could opt to give Hrenak a clean slate, which would be his first professional playoff start. Other options on the roster include veteran Garret Sparks, who has been injured down the stretch but recently has practiced with the team this week, as well as John Lethemon, who earlier this month played in six ECHL postseason games with the Greenville Swamp Rabbits and was recalled by Ontario after the falling short in that best-of-7 series.
While forward Tyler Madden was able to return to action in Game 1 for the first time since sustaining an injury on March 9, the Reign were without forward Akil Thomas in the series opener. Thomas is expected to return for Game 2, which could mean a shuffle in the lineup. Madden entered in a spot he'd been familiar with during the regular season, on the left wing alongside the team's top scorers TJ Tynan and Martin Frk. But previously this postseason, that spot had been occupied by Jaret Anderson-Dolan, who shifted to the center position in the absence of Thomas. The Reign also were without forward Alex Turcotte for part of Game 1, and his status for Game 2 is unknown at this time.
For reference, here's how the Reign lined up in Game 1, with the expectation that forwards will likely be shuffled with Thomas, who had three goals in the first round against San Diego, expected to be available on Friday –
Madden – Tynan – Frk
Tkachev – Turcotte – Fagemo
Wagner – JAD – Ward
Dudas – Sutter – Doty
Gaunce – Grans
Wolanin – Allard
Hickey – Nogier
Villalta
Hrenak
EAGLES VITALS: There's no doubt Colorado has to be feeling good after what they were able to do in Game 1. The challenge for Head Coach Greg Cronin and his staff is to keep the team grounded and continue their aggression in Game 2.
For reference, here's how the Eagles lined up in Game 1 on Wednesday –
Oooo this is an exciting one 👀#EaglesCountry pic.twitter.com/P4D9owFY86

— Colorado Eagles (@ColoradoEagles) May 12, 2022
Three different skaters scored multiple goals in the series opener, and all but four skaters had at least a point, including forward Oskar Olausson, who earned a pair of assists in his professional debut. Without one of their best scoring options in Dylan Sikura, who missed his first game of the postseason, and leading scorer Kiefer Sherwood ejected from the game after a major penalty for cross-checking early in the second, the Eagles didn't have any problems putting the puck in the net.
Colorado has scored five or more goals in all of its first three games to open the postseason, which also have all been played on home ice in Loveland. Friday's game will be the final time they play in front of their fans at home in this series and they'll be looking to remain undefeated.
The defensive pair of Middleton and Wyatt Aamodt each registered a +4 rating Wednesday to lead the team, while forward Andreas Wingerli finished as a +3. All but one skater in the lineup had at least one shot on goal in the contest. Middleton was awarded with the first star, posting points on all three of Colorado's early goals to skate a lead right at the outset.
Annunen made his third consecutive postseason start and delivered an excellent performance for the Eagles, stopping 34 of Ontario's 35 shots to pick up his third win of the Calder Cup Playoffs. The netminder has allowed just five goals in 180 minutes of postseason action for a goals-against average of 1.67 to go along with a 0.947 save percentage. It was a different story for Annunen against the Reign in the regular season however, as he went 1-1-0 in two appearances with a 0.814 save percentage.
Notes –
Details, Details, Details
After the loss on Wednesday, Sutter said the team needed to have more accountability for the way they play moving forward. He also said the group needs to be concerned with their details.
What are those details, you ask? Defenseman Nelson Nogier expanded on that point after the team's practice Thursday, echoing his captain's thoughts while pointing to a reason for that specific emphasis.
"For very obvious reasons, we're not happy with the outcome that we had last night," Nogier said. "Just working on little things, whether that be net-front battles, getting pucks to the net, just going to the hard areas, I think those are things that we want to clean up and just make sure we just stick to our game and play the game that we want to set out and play."
Many of Colorado's scoring plays in Game 1 resulted from a player being left open in front of Ontario's net. Deflections or tips made it hard for the Reign goaltenders to see shots coming their way, and loose rebounds were quickly scooped up by Eagles' attackers with an aggressive mindset in the offensive zone. Those are also things that Ontario wants to do on the other side of the ice, but due to the inefficiency in their own end, they got away from the things they wanted to do offensively.
Hajt gave less specifics in his summary after the game, but it's obvious he's looking for a better all-around performance on Friday.
"We've got to look at all the facets of our game and how we can be better at five-on-five, special teams, and all other aspects," Hajt summarized. "They're a team that's hungry and plays well in their own barn and we weren't up to the challenge."
Little plays like checking within your system, winning board battles and defensive zone clears can add up over the course of a game. There are lots of plays to be made all over the ice that can contribute to momentum and slowing down a confident opponent. That's where the Reign will be starting tonight.
Starting Strong
Ontario will be looking to start Friday night's Game 2 the way it did in Game 2 of its first round series last week against San Diego when it potted two goals in the first six minutes of the contest.
That was after falling behind early in Game 1 to the Gulls, just like they did in Game 1 with the Eagles on Wednesday. After surrendering two goals in the first eight minutes of their first period of postseason action, the Reign turned the game around quickly on San Diego with three tallies of their own before the first intermission. Ontario was unable to replicate that on Wednesday in Colorado, falling further behind as the game continued.
That focus is also something Nogier mentioned as the team attempts a rebound effort.
"[In Game 1] we fell behind the 8-ball early, and that just snowballed," Nogier said. "This building just gets more and more life as the game moves on. If we can come out early and whether we weather the storm and try to keep it an even game or get out in front and continue to work on our game, I think it's going to take some life out of the crowd and allow us to settle in and just play our game for 60 minutes."
The common thread from everyone we've heard from since the Game 1 loss is that the group is focused on controlling their own effort and how they perform in Game 2, not worrying as much about what the Eagles did and will do moving forward. That message was probably delivered best by the team's captain.
"I think it's less about what they're doing and more about us now," Sutter said. "We've got to get back to our game, our checking, and our detail. We have confidence in this group, and character in this group. We've showed it all year long. After a tough loss, we can rebound and come back and find a way. That's what we're going to do here."
All season Ontario has played well in bounce back efforts, going 15-8-2-1 in the 26 games immediately following a loss. The first period will be a good indication of where the team is at, looking to even the series up on the road.
Gaunce Earns Recognition
On Thursday the AHL announced each team's winner of the annual IOA/Specialty Person of the Year Award, with defenseman Cameron Gaunce claiming the honor for the Reign.
It's the second time during Gaunce's 12-year career that he's earned recognition for this award, with his previous nomination coming from the Wilkes-Barre/Scranton Penguins at the conclusion of the 2016-17 season.
A well-deserved nomination for the reliable defender, who is the team's most veteran leader on the back end in his second campaign with Ontario. Gaunce played in 61 of 68 regular season games and stayed busy off the ice with multiple charitable pursuits. If it were up to him, Gaunce would have been even more active in the community, but COVID-19 restrictions didn't allow for in-person volunteer efforts during the season.
Most notably, Gaunce spearheaded the Reign's Movember campaign which helped raise money for men's health initiatives (Learn more about the program here on the LA Kings' website), and also helped to start Ontario's Teacher Appreciation Month, which saw over 50 nomination submitted to recognize local classroom leaders in the Inland Empire region.
Reign Check Rapid Recap
For more details on Game 1 and a look ahead to tonight's Game 2, check out The Reign Check Rapid Recap podcast with myself and broadcaster Josh Schaefer. We'll continue providing audio updates on that podcast feed throughout the postseason.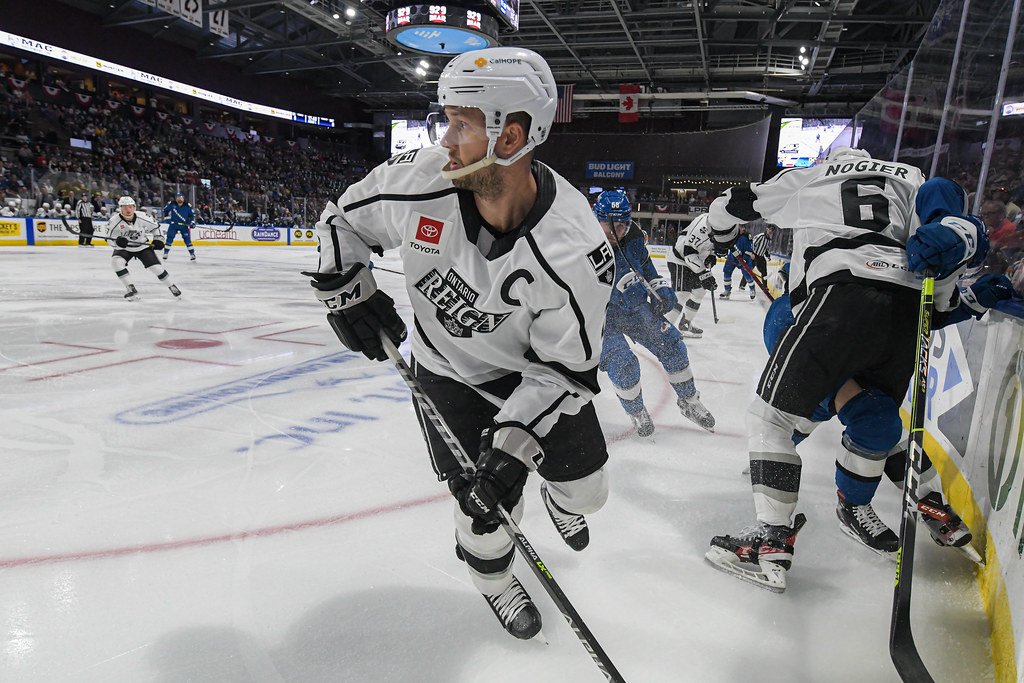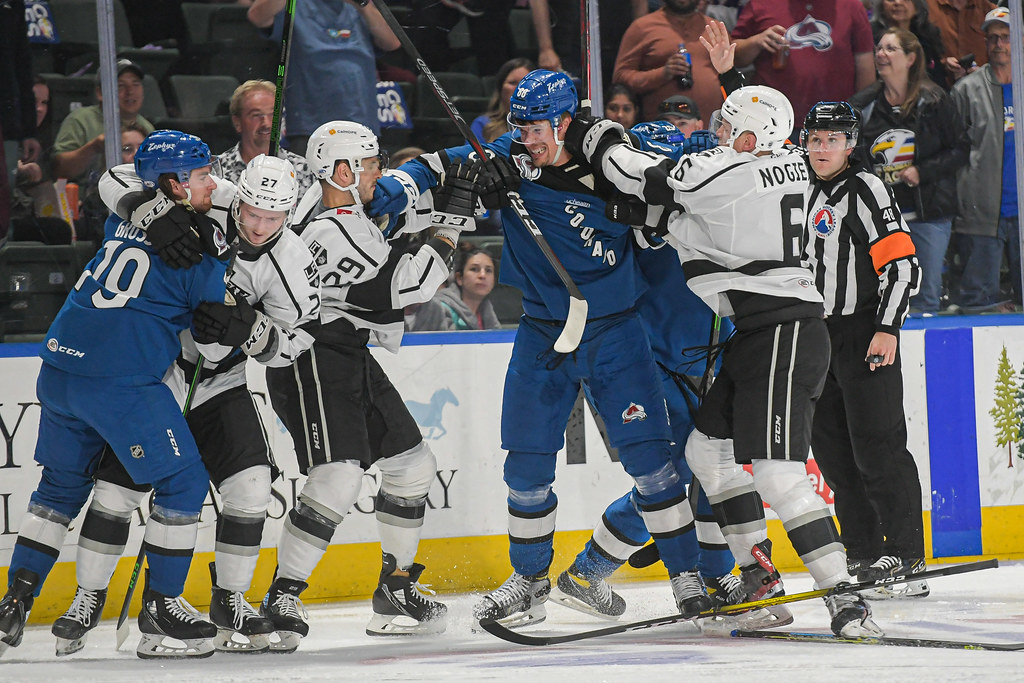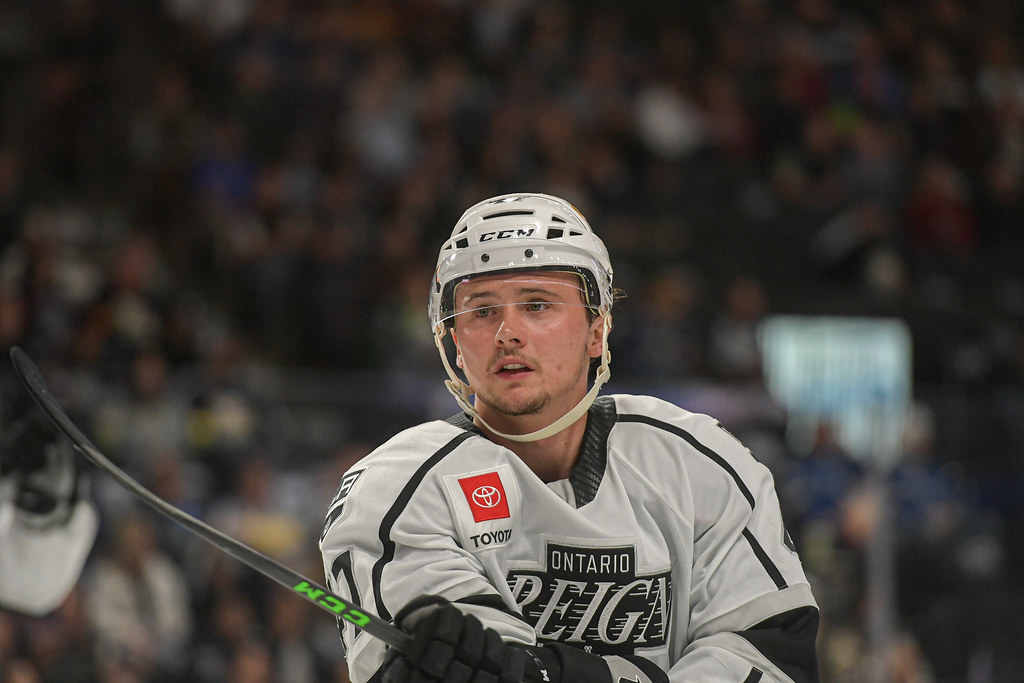 Game 2 gets underway at 6:05 p.m. PST tonight and video can be streamed live on AHLTV or listened to on the Reign Broadcast Network's Mixlr channel.