After yesterday's off day, the Kings were back on the ice earlier today at Toyota Sports Performance Center in El Segundo.
The scheduled this week aligns well with how the Kings have operated this season. Off of the last week of games – four consecutive Kings victories – the team had a well-deserved day away from the rink yesterday and with three days in between Saturday's win over Anaheim and Wednesday's game in Seattle, they'll still get two practice days in to prepare for the Kraken.
Right around 40 minutes later, Todd McLellan believed the team got a good skate in the books.
"We're sharpening up our whole game, the way the schedule has been rolled out for us, we haven't had many opportunities to practice like that, maybe once in the last three weeks," he said said. "Good or bad, I don't know, we'll find out. Our three-day break comes with two games left, a lot of teams had it last week or the week before, so we have to take advantage of that."
With that in mind, here's how the Kings lined up this morning in El Segundo –
Athanasiou – Kopitar – Kempe
Moore – Danault – Arvidsson
Iafallo – Lizotte – Brown
Grundstrom – Byfield – Kaliyev – Lemieux
Andersson – Vilardi – Kupari
Edler – Roy
Moverare – Durzi
Maatta – Spence
Bjornfot – Stecher
Anderson – Strand
Quick / Petersen
Today's skate saw no apparent changes to the lineup from Saturday, though we've still got plenty of time left to determine how the lineups against Seattle and Vancouver could look. The Kings have a magic number of 1 today and heading into tomorrow. A Dallas win of any kind tomorrow evening over Vegas could clinch a playoff berth on an off day. Potentially, that could affect the lineup over the two games this week, with the Kings having seven available players currently scratched on a given night, in addition to Mikey Anderson, who continues to work his way back.
"We know what our lineup is going to be in Seattle, right now," McLellan said after practice today. "We'll see what happens tomorrow night."
Notes –
One Point Away
As covered yesterday, we've reached that point in the season where that "day-by-day, the next game is the most important game", approach the team has taken has collided head-on with the longer-term outlook we're allowed to have watching from the outside.
Last night's game between the Golden Knights and Sharks helped the Kings, bringing the magic number down from 2 to 1, but it also didn't change anything fundamentally. The Kings, as it stands today, need to get a result in Seattle on Wednesday to lock up a Pacific Division playoff berth and they can do so with a win. From that side of things, nothing has changed.
"Really, last night didn't change anything, we're in the same position," McLellan said today. "We've got to do some things that we can control to get to where we want to go. Now, that can obviously change before we play again, but no one is thinking any differently around here, worry about your own work."
For the first time this year, the Kings taking care of their own business would result in a playoff clinch, as opposed to just bring them closer to one. The Kings made it pretty clear today that the thought of their next win clinching doesn't really change anything on the preparation end.
It's more of an external realization for me to write about, and us to chat about, than it is for the team to focus on. Should external help take care of business on an off day, we'll address it when the time comes.
"I guess it's how you look at it," McLellan added. "When we look back on the season, and we'll do that when it's over, we'll evaluate from Day 1 through, we'll look at practices, evolution, ups, downs, strengths weaknesses. Right now, we're not really doing that, we're living in the moment and trying to better what we have. I think there's a difference between the two."
McLellan's messaging has trickled down to the players as well.
Blake Lizotte admitted he was a "big San Jose fan" last night, hoping that the Sharks could have closed the deal in regulation to clinch the Kings from afar. He noted he'd probably be watching the Vegas / Dallas game tomorrow evening, but independent of that, he hasn't changed his own mindset for how the Kings need to approach Wednesday's game in Seattle.
It's still a focus of getting the needed result on the road, because at this time, the result is still needed. Until that changes, I don't think you'll see much of a long-term focus here from the Kings.
"You work so hard all year to get to the point that we're in, you give everything for six, seven months and to be on the cusp of what you first strived out for at the beginning of the year is to just get in," Lizotte added. "Yeah, I think it's really exciting to have that come to fruition, that we do have a reality to make the playoffs, but my mindset is that we still need one more point from the two games. I haven't shifted my mentality yet."
Star 3 For 3-2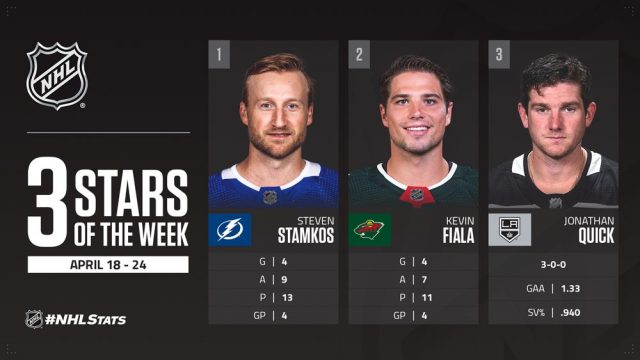 From the NHL –
THIRD STAR – JONATHAN QUICK, G, LOS ANGELES KINGS
Quick stopped 63 of the 67 shots he faced, compiling a 3-0-0 record, 1.33 goals-against average and .940 save percentage to lift the Kings (43-27-10, 96 points) to a perfect week as they pursue their first playoff berth since 2018. The Milford, Conn., native reached the 20-win milestone for the ninth time (a feat achieved by only five other U.S.-born goaltenders in NHL history) with 29 saves in a 2-1 victory over the Anaheim Ducks April 19. He then denied 15 shots in a 4-1 triumph against the Chicago Blackhawks April 21 before finishing the week with 19 saves in a 4-2 win versus the Ducks April 23. The 36-year-old Quick has appeared in 45 total games this season, going 22-13-9 with a 2.58 goals-against average, .909 save percentage and two shutouts.
The NHL announced this morning that Kings goaltender Jonathan Quick has been named as the league's third star for the week ending on April 24.
Obviously a massive week for Quick, who was steady for the Kings between the pipes, as the team won all three games played, four if you include Saturday which was technically the week prior. As noted above, Quick allowed just four goals over the three games, with 63 saves between the pipes. Todd McLellan said earlier in the week that it "looks like he's been here before" when it comes to Quick. Pretty apparent from his play.
Lizotte Masterton
Lastly, Insiders, Blake Lizotte was announced today as the Kings' nominee for the Masterton Trophy.
The Los Angeles chapter of @ThePHWA announces Blake Lizotte (@BLizotte46) as its nominee for the 2022 Bill Masterton Memorial Trophy.

— Dennis Bernstein (@DennisTFP) April 25, 2022
Each market's chapter of the Professional Hockey Writers Association nominates on player from the team they cover for the leaguewide award. Lizotte is this year's nominee for Los Angeles.
"Lizotte arrived in Los Angeles as an unheralded college free agent from St. Cloud State University. Despite the depth of the Kings' forward prospects pool, Lizotte has established himself as the mainstay of the "energy" line by coupling his high hockey IQ with a tenacious style. Blake established career-highs in goals, faceoff-win percentage, and hits this season to earn a two-year contract extension."
Lizotte is a terrific candidate, as a player who likely will not be in contention for many leaguewide awards throughout his career. His determination and willpower to get into the position he is has been commendable, so it's nice to see the group of individuals who cover the Kings and are eligible to vote for this award recognize that.
A deeper look into Lizotte's Masterton nomination to follow here tomorrow, including reactions and quotes on the choice!
Short and sweet today, Insiders – Kings are set to practice again tomorrow before the team departs for Seattle later in the day, with a report on that skate to follow. More to come, with the possibility of good news to end the day!