It's a new dawn.
I'm not sure if disappointed entirely covers it, but clearly everyone was disappointed with how yesterday's game went down. To lead 3-0 and lose by three goals is obviously not the outcome that anyone is in search of at this time of the year and after the game, the Kings lamented a breakdown in structure and identity, two of the things that have helped to hold things together during the rash of injuries to key players.
Yesterday's game saw uncharacteristic defensive-zone breakdowns, in terms of turnovers, coverage and faceoff coverage. Even with interchanging personnel, we haven't seen those types of breakdowns nearly as regularly as we did yesterday in Minnesota. Naturally, an area of focus for cleanup, though with only today's practice – the day in between three games in four days – much of those improvements will have to come with video work and discussion.
At this time of the year, what's important is how you're able to move on.
The Kings welcomed back forward Blake Lizotte against the Wild, after seeing Matt Roy and Brendan Lemieux check back in on Thursday against Edmonton. Todd McLellan noted yesterday that Lizotte's transition back into the lineup was the smoothest of the three, but that's probably to be expected considering his absence was three weeks lesser. More on his return below.
Everyone was on the ice today, but the team did not take formal line rushes. With that in mind, here's a look at how the Kings lined up during practice today at United Center –
Gray: Andersson, Arvidsson, Danault, Kaliyev, Kempe, Kopitar, Moore
White: Brown, Byfield, Grundstrom, Iafallo, Kupari, Lemieux, Lizotte, Vilardi
Defensemen: Bjornfot, Durzi, Edler, Maatta, Moverare, Roy, Spence, Stecher, Strand
Goaltenders: Quick, Petersen
As noted, no formal rushes, but naturally you can infer some changes from these groupings, though with a day between now and the Blackhawks game, nothing is guaranteed to stick. Assume we won't see a full skate tomorrow morning in Chicago, but it wouldn't be surprising to see some alterrations from yesterday's group against Minnesota. Veterans Dustin Brown and Alex Edler continue to work their way back from injuries, while Arthur Kaliyev was out of the lineup yesterday for the first time since October 19. A few questions remain unanswered at this time, but we'll likely get additional clarity in the morning.
Notes –
Communication
"I don't think our communication on the ice, particularly in our zone, has been pretty good. Usually that's the first sign of not being sure. When you're really sure of your game, you're talking, you're communicating, you're directing traffic. When there's a little bit of doubt, you tend to get a little bit quiet and we saw a fair amount of that in Minnesota last night. Things we can repair."
That was Todd McLellan's take this morning, on one of the issues that plagued the Kings yesterday in Minnesota.
The Kings have prided themselves this season on structure and identity, which has resulted in one of the league's best defensive records for much of the season. When individuals were lost due to injury, it was those principles that helped to hold things together at times, though as of late, we've seen more and more games where it hasn't done that as expected.
One such glue to that process is communication, something Blake Lizotte stressed the importance of after today's practice.
"It's huge, sometimes players make good plays, it's the best league in the world, but a lot of time goals against come from miscommunication," he explained. "It's a huge thing for our team going forward, cleaning up those extra chances we've given up over the last few games, it's simply communicating."
McLellan felt that several of the goals allowed came down to miscommunications, both verbal and non-verbal. Take Minnesota's second goal. Two defensemen converged to the same area on the ice, the front of the net, leaving Matt Boldy open where he was. Made a good shot sure, but in moments of unsureness, players sometimes retreat to protect the house, with the sort out not coming as quickly as it was needed.
"I thought the second goal was a miscommunication," McLellan said. "We doubled up the net front and by the time we figured out who was going to wander, there's a player wide open. Sometimes, when you're not sure, you migrate back to that area, you go back to the blue paint, go the middle of the rink, which is good, but you've got to get it sorted out quick and we have to do a better job of that."
The go-ahead goal had similar issues, though more in a nonverbal capacity. As McLellan pointed out, the combination of centermen in the dot indicated that the puck would go to the middle of the ice off of the draw. The Kings didn't read that play properly, which gave Mats Zuccarello two whacks at the puck from the circle, with the second one breaking the tie.
"Off the faceoff, there's visual cues that you can read, of where that puck might go," he said. "A lefty versus a righty, drawing into the middle, 99.9 percent, that puck is going to go there, so you have to anticipate where that puck is going to go. We didn't read, we didn't anticipate and it's in our net. Different types of communication, everyone just thinks it's verbal, but there's different types of information."
An area that the Kings will look to regain confidence in, and course correct, ahead of a massive game tomorrow at United Center.
Lizzo Lowdown
One positive takeaway from yesterday's game was the return of Blake Lizotte to the lineup.
Playing in front of a group of friends and family in his home state of Minnesota, Lizotte logged just over ten minutes in his return to the lineup, and all things considered, he felt that he faired okay from an individual standpoint.
"[I felt] surprisingly good," he said this morning. "Our training staff had me skating in very game-like drills, so my legs felt good, but mentally, it's just a little fast right away getting back into it. As the game went on, it felt better for sure."
He expanded that the biggest things that take some time to get back is the concept of "unrehearsed" plays. It's certain plays on breakouts, or in battles, that are spur of the moment reactions, things that aren't in the playbook. While that takes a bit of time to adjust to, it's something that Lizotte felt got better for him as the game went on, in contrast to the team as a whole.
Todd McLellan said last night that of the players to recently return to action, Lizotte's was the smoothest, though with the context that he also had the longest time out of the lineup. He also understands he's asking Lizotte to do what he's always done, which is to drag other players into games, while trying to find his own game at the same time.
Is it a fair ask? It really doesn't matter, when you look at the current situation.
"Lizzo is a mature veteran, and whether it's fair or not, we're asking him to do it," McLellan said today. "We're ripping sheets off of that calendar pretty quick, the days are going by and the game are getting eaten up. When you look at the amount of games that we've played, compared to other teams in our range, they're going by quickly for us, and we don't have a choice. He's got to drag people in and I thought he did a good job of that last night."
From the first game Lizotte was out for, his energy was certainly something the Kings missed. With only eight games remaining, the Kings certainly need a spark heading into tomorrow's game in Chicago. Lizotte is a player who can provide it, helping to improve others along the way. The time remaining to make an impact is only getting shorter, so no time to waste, fair or not.
Overview
Latly, a visual, overarching view of where we're at with 19 days remaining in the regular season.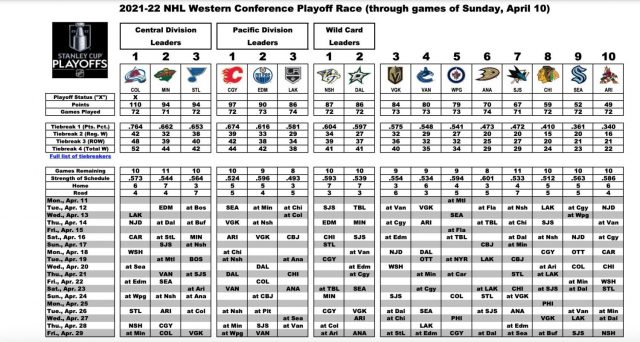 Certainly different schedule makeups for the Kings, when compared to teams nearest to them in the standings like Vegas, Edmonton, Dallas and Nashville. The Kings have a spaced out remaining schedule after the upcoming back-to-back, where Vegas and Edmonton both finish with a 4-in-6 and Nashville finishes with a 5-in-7. Dallas still has 10 games remaining and only one set of consecutive off days in that stretch.
The Kings are coming off of a stretch with five of six games against playoff teams, while the Golden Knights played six straight against non-playoff opposition. Some difficult games remaining for both teams, as well as the others around them, to decide the playoff mix. No one plays tonight, lots to be mindful of over the next two and a half weeks, though it all starts with the Kings handling their own business.
Today's coverage is broken up into two stories, with this evening's piece to focus more on the team's mentality heading into tomorrow, with a needed response from a disappointing performance in Minnesota. What went wrong was apparent, but at this time of the year, it's about the short-term memory and response. A look at how the Kings are attempting to do that, coming up later on today.