It's good to be home!
After an off day yesterday, the Kings hit the ice this morning for their first practice in El Segundo since Tuesday, March 1 and their first practice with Todd McLellan on the ice since Thursday, February 24.
After an off day, today's skate had a bit more substance to it than practices over the last week or so. When you're in a stretch with four games in six nights, recovery, cleanout and maintenance have been the words used to describe practices, with more learning going on through off-ice work and video than through on-ice practice. Today saw a bit of a return to the latter, with the Kings having multiple days off between games for the first time since a three-day break between games in Arizona from February 20 – 22.
The Kings made some in-game adjustments during the comeback win over Boston. Moves were already necessitated due to injuries suffered by Viktor Arvidsson and Brendan Lemieux and Todd McLellan shuffled the lines a bit during the first intermission, with forward Arthur Kaliyev slotting up alongside Anze Kopitar and Jaret Anderson-Dolan moving to a line with Blake Lizotte. Both moves seemed to be positive, with the Kings playing better as a unit in the latter 40 minutes.
Those moves remained true today, with Lias Andersson also joining the group today, after he was both activated from injured reserve and recalled from AHL-Ontario during yesterday's off day. Jordan Spence was also recalled from the Reign this morning and was a full participant in practice.
Here's how the Kings set up earlier today –
Kaliyev – Kopitar – Kempe
Moore – Danault – Athanasiou
Iafallo – Byfield – Brown
Grundstrom – Andersson – Lizotte – Anderson-Dolan
Moverare – Doughty – Spence
Maatta – Roy
Bjornfot – Durzi
Petersen / Quick
Forward Brendan Lemieux was placed on injured reserve yesterday, retroactive to March 4 and defenseman Mikey Anderson was placed on injured reserve today, retroactive to March 7. Naturally, neither player practiced today, nor did Viktor Arvidsson, who left the game in Buffalo with a lower-body injury.
Andersson rotated in with the fourth line, while Spence rotated next to Jacob Moverare, with Drew Doughty spelled during certain drills. Doughty, who left Monday's game in Boston briefly, was not mentioned during Todd McLellan's injury update, so we'll consider him good to go until told otherwise.
We'll hope to get a better picture of who will and will not feature against the Sharks tomorrow morning.
Injury Updates
When day-to-day becomes week-to-week.
Todd McLellan deemed the trio of Viktor Arvidsson, Brendan Lemieux and Mikey Anderson as "week-to-week" after today's practice. The latter two have been placed on injured reserve, while the former has not, but did not practice today.
"We left fairly healthy and came home banged up, but that's life in the NHL right now, every team, and everybody's depth is going to get tested," McLellan said. "We knew that, other teams knew that, we've been through it before and we're going to do our best to come out of it."
Andreas Athanasiou replaced Brendan Lemieux in the lineup against Buffalo and moved into a Top-6 spot to replace Arvidsson in Boston, with Carl Grundstrom taking his place on the fourth line.
McLellan confirmed that he has a "pretty good idea" of who he will have at his disposal tomorrow against San Jose, both at forward at on defense. Up front, the team currently has 13 forwards healthy, with Lias Andersson's recall from the AHL, with seven defensemen available as well, after Jordan Spence was added to the group this morning.
"Overall, we feel pretty good about depth on the blueline," McLellan said. "Jacob has played, Spence will get an opportunity after playing very well at the American League level, we've got to see where he is at the National Hockey League level. Strand, Wolanin, others down there have been able to pinch hit and each one of them provides something a little bit different than the other. As we go forward without Mikey, we'll be looking at the ingredient for a certain night or a certain team and make decisions going forward."
One notion that McLellan refuted is that Alex Edler's timeline to return would be at all impacted by Anderson's injury. McLellan noted that Edler has still not returned to the full group for practice, and his timeline will not be adjusted to fill an immediate need.
What he did touch on, however, is the ability to find and discover individuals through injury. Edler, on the front end, is an example of that. When a guy like Edler went down, it opened up opportunities and minutes elsewhere. With players going down in bulk on this trip, the Kings have others with the opportunity to either elevate their own role, or take a role from not having one. All silver linings, if you will, from an injury occurring.
"You find players," McLellan said, of those situations. "I'm not sure that Sean Durzi would have had the opportunity to prove himself the way he did, and credit to him. If it didn't go well for the first four or five games, somebody else would be here now. He got the opportunity, through somebody else's despair, then he accepted the challenge, answered the bell and hasn't come out since. That can happen tfor somebody else. Nobody wants to see it happen through injury, but if your number is called and you can take advantage of it, more power to you."
Arty's Engine
A lot has been made of Arthur Kaliyev's rookie season and for good reason.
This is a young player with incredible, physical gifts.
In the game on Monday against Boston, Kaliyev was given another opportunity on the first line, skating with Anze Kopitar and Adrian Kempe. It's something that fans have, no doubt, been clamoring for and something that now Kaliyev himself is better prepared to handle.
"It feels better than it did," he said today. "This year, I'm getting used to playing a lot of games and I'm getting better. My engine has been more used to it and better than it was at the beginning of the year."
Todd McLellan was willing to expand more on that.
McLellan believes that Kaliyev's showing on that line against the Bruins speaks for itself, with a player who is now more adept at handling that situation. In the past, McLellan noted that Kaliyev's engine just wasn't quite at that place, when he was used on that line back in November. That's a sign of growth for a player who now has 50+ NHL games to his name, and more experience learning the ins and outs of the world's best league.
"I believe he is and I think that the game in Boston showed that," McLellan said earlier today. "We didn't start there, but we went there quickly, for different reasons and we didn't leave saying 'boy, Arty's engine isn't allowing him to keep up there', or to play 18-20 minutes a night, versus 12. He's done really good work away from the rink and in practice to increase the stamina, and I also think he understands mentally what it's like to play in those situations. It was a heavy, hard game in Boston, he was able to lug some players around, he's starting to use his size, not just as a shooter, but as a retriever, a loose-puck competitor and those things are all real positive. He'll get another opportunity and we expect to see this go for a lot longer than it did in the past."
Kaliyev presents an interesting option in that spot, one that injuries has paved the way for. With Kaliyev's shot and offensive abilities, he could make for a natural fit on Kopitar's wing. Kaliyev has certainly been, no could about it, an effective player on Blake Lizotte's line, with the Kings opting to keep that line consistent for much of the season. With that line not possible at this time due to Lemieux's injury, and Top-6 spots open on both Kopitar and Danault's lines, the time is right to try Kaliyev in that spot.
"It's been good, I'm going to try to not change the way that I've played," Kaliyev said. "Shoot the puck, play great defensively and be great on the walls. I'm just trying to keep it going. I think I feel way more confident and way more comfortable. I don't think I was playing confidently [on that line] at the start of the year, so I think I feel a lot better here."
Sea-Dew(y)
Lastly, a little fun behind-the-scenes look at the Kings players giving Drew Doughty his gift from his 1,000th game. During the ceremony, it was announced that Doughty's teammates were gifting him a Sea-Doo and today, that Sea-Doo entered the building.
Doughty's reaction to seeing it on the ice was pretty priceless, with Jonathan Quick leading him out to see it for the first time. A fun moment as the group returned to the ice today.
.@dewyy8's teammates surprised him with a jet ski on the ice to celebrate 1000 games played. 🥰 pic.twitter.com/9fvOrNd592

— LA Kings (@LAKings) March 9, 2022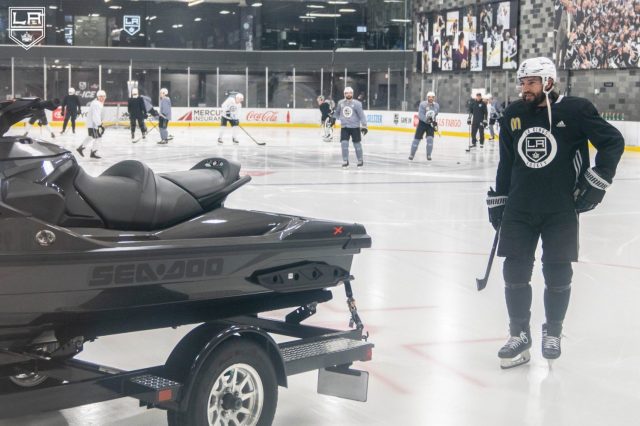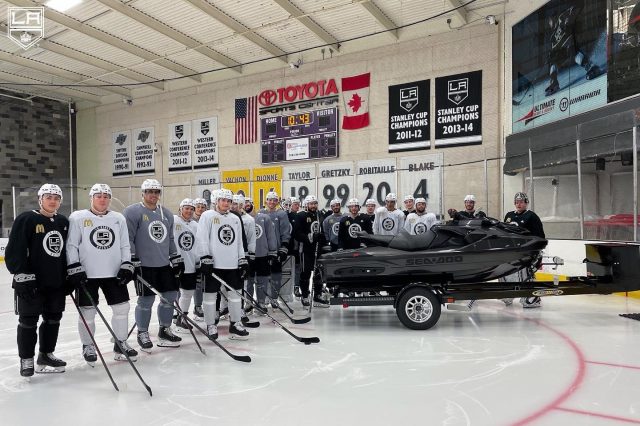 Kings are scheduled to hold a morning skate tomorrow in El Segundo, in advance of tomorrow evening's game against the Sharks. More to follow then, Insiders!