One more day, Insiders!
We've approached the final practice before the Kings officially return to game action tomorrow evening. The games come fast and faster over the final 73 days of the regular season, with the Kings slated to play 35 times in that span to close out the campaign, with the hunt for a playoff berth still in full swing.
Today's skate saw more of the same in terms of personnel, a welcomed sign after the up and down nature of the last two months. We had something to update you on just about every day in that span, but the current consistency is much welcomed. With the taxi squad no longer in play, the Kings have their group and without daily COVID testing for asymptomatic players, they figure to have stability on that front as well.
"Right now, we need to just have what we have," Todd McLellan said. "[Having] too many players gets in the way in practice, the reps and the rhythm, it's not as good, and it's not good for players just to be flying around on planes and watching their teammates play all the time. It's good for them to keep their game sharp by playing games. Hopefully we don't ever talk about taxi squads again and we're well on our way to normalcy."
With taxi squads behind us, and Edmonton ahead of us, here's how the Kings lined up today at Toyota Sports Performance Center –
Iafallo – Kopitar – Kempe
Moore – Danault – Arvidsson
Athanasiou – Byfield – Brown
Lemieux – Lizotte – Kaliyev
Grundstrom
Anderson – Doughty
Maatta – Roy
Bjornfot – Durzi
Petersen / Quick
Today's practice had a large-scale focus on special teams, an area that the Kings have discussed improving at length over the last couple of months of 5-on-5 success. The Kings have struggled to gain traction on both the power play and penalty kill, with extensive work put into both units during today's skate. The Kings also ran some special teams drills on Friday, as they do in just about every practice, for those constantly tweeting, asking why the team isn't working more on special teams.
An ongoing process that the Kings will continue to focus on as their biggest area for improvement over the final 35 games. We'll take a deeper dive into the power play later on this afternoon.
Notes –
Do It For Drew
Defenseman Drew Doughty will be honored prior to tomorrow evening's game with a pre-game ceremony in recognition of his 1,000th career NHL game. Doughty reached the milestone on January 27 in New York, during the 3-2 victory over the Islanders on the team's successful trip to the East Coast.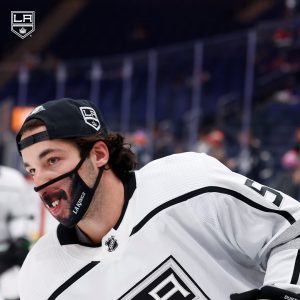 Doughty's ceremony will be complete with a facemask giveaway for the first 10,000 fans in attendance, the same ones the players entered the rink in prior to the milestone night. As is customary with a player reaching his 1000th NHL game, Doughty will be presented with a silver stick, assumedly amongst other gifts, prior to the game.
"I think, for Drew, we were lucky enough to have the game with him, when it was his 1000th," defenseman Sean Durzi said today. "We celebrated, did some nice things and tomorrow, I'm sure it's going to be amazing. 1,000 games in unbelievable, and not only just 1,000 but 1,000 good ones. It's going to be cool."
With a pre-game ceremony comes the possibility of emotions, an added element that comes right before the game begins. The Kings went through it last season with Anze Kopitar's 1,000th point and will go through it again tomorrow in recognition of Doughty.
"Drew's earned the right to be honored, this is the first game back since it happened and it's the right time," Todd McLellan said. "I'd like to think we'll be dialed in when the puck drops."
McLellan was more concerned with a lack of focus off the hop due to the extended layoff, rather than the ceremony. Speaking of that layoff……
Back To Business
McLellan talked about his worry being with the team's first game in 13 days, not necessarily the fact that the break will be extended by a few extra minutes for Doughty's recognition.
He noted that in his tenure here, he's seen the team play quite well off of some layoffs and quite poorly after others. The past four days have been the studying, if you will, for what McLellan always refers to as "taking the test". The test is scheduled for tomorrow evening.
In tomorrow's opponent, the Kings will see a team without any semblance of a layoff whatsoever. The Kings are the second to last team to return to action and will meet an Edmonton squad playing its fifth game since the All-Star Break, all of which have come over a span of just eight days.
While noting that he'd always prefer to be the team that's played one, as opposed to the team coming in cold, it's not the situation the Kings are in and getting things back quickly is a point of emphasis.
"I think I'd always prefer to be that team [that has played], but you have to play your first game back at some point," he said. "Edmonton will be playing their fifth since their quick break, so they never really lost rhythm or a sense of how hard it is to play, the physical aspect of the game and we have to get all of that back. The quicker we can do it, the better opportunity we'll have at success. If it lingers for a long time, than we're chasing it."
Saturday's practice was everyone's best effort to reintegrate the group into game situations, with the bulk of that day focused on replicating some of those physical situations that you might see during a game. That was a key part of the four-day plan the Kings set forth since returning from break, with the hopes of making the transition as smooth as possible getting back into game action.
"I think we've had a few good days to get us pretty close to game shape, if not ready to go," Durzi said. "It's just details – Cleaning things up, passing, making the right reads fast enough and working together as a group."
While a gameday matchup naturally puts the spotlight onto two teams, for the Kings, it's all about them and how they handle tomorrow's game. Edmonton is a team with several special players who won't make life easy on anyone, but the focus here for the Kings today is to do what they do, as efficiently as possible, rather than focus on the Oilers' situation.
With a team playing five games in eight days visiting a team that's played one in 13 days, it's certainly an interesting matchup in Los Angeles.
"We'll talk a lot about our game, both individually and collectively," McLellan said. "There are some things that make Edmonton a special team and we'll address them, but 25-30 minutes into the game, it will still be about us, trying to get legs and timing, the things that can disappear quickly, we've got to get them back. Edmonton's going to play tonight and they always run one game into the other, so they'll have those things. We'll have our work cut out for us."
Power In The Pacific
Lots of roster announcements today, and over the last couple of weeks, involving the Pacific Division. The Calgary Flames acquired Tyler Toffoli. The Vegas Golden Knights set a date for Jack Eichel's return to the lineup, while they also saw Mark Stone played on LTIR with no return date in sight. The Edmonton Oilers are six games into the addition of Evander Kane.
At the end of the day, each of those additions have made their respective teams better, with Stone's absence obviously the only move to the contrary.
How does that impact the Kings? If you ask Durzi and McLellan, it really doesn't. Both acknowledged the abilities of those acquired, with Durzi very complementary of Toffoli's play specifically, but the focus is what's going on here with the Kings, not in other markets.
McLellan – If we sit on the sidelines and worry about what other teams are doing, what they're adding or subtracting, we're going to drive ourselves crazy. The 23 that put on our colors have to get better and that's where improvement will come.
Durzi- I think our focus is how good can we get. Like I said, if we work on a few things, special teams, things like that and we clean up a few areas, I really believe that we have a chance with the best of them and that's what we're going to work on going forward.
As noted above, Insiders, we'll have a power-play specific story to follow later on today, followed by post-game notes and quotes from the Ontario Reign's trip to Bakersfield for Monday Night Hockey!