Aisha Visram envisions a day when her accomplishments aren't as big of a deal as they were last week.
"A woman stood on the bench for an NHL game and it felt like the entire sporting world took notice and that's obviously not what we want," she said. "If people can't remember the last time there was a woman on an NHL bench, it's clearly been too long. There's no easy answer as to how to move forward but I hope at some point soon that it's no longer news."
In the here and now though, what she did was a big deal.
With the Kings having several members of their support staff in COVID Protocol last week, Visram, the Head Athletic Trainer for the AHL's Ontario Reign, got the opportunity to step behind the Kings bench, working an NHL game for the first time.
In the moment, it was believed that Visram was the first woman ever to work a game from behind an NHL bench. With that thought believed to be fact, the moment was celebrated around the hockey community, as it should have been. While it was later discovered that Jody van Rees of the Montreal Canadiens was the first ever to do so back in 2002, it did little to diminish a special and noteworthy moment.
From as high up the official NHL social media handle, to her professional beginning in Upstate New York, well wishes flew in from all angles, including from van Rees herself. She was, frankly, blown away by all of the friends, family, colleagues, classmates and people she had never met before who reached out. All put together, it was honestly a bit overwhelming for Visram, someone used to putting in the work behind the scenes, as opposed to in the spotlight.
"This story has received a lot of attention, which is overwhelming," she admitted. "I think honestly the things that meant most to me were people that I didn't even know that were sharing personal stories. That stuff was very overwhelming and very emotional as well and I think that was what I found most surprising and most meaningful."
Having the opportunity she did was the latest stop on a long road for Visram. From the NCAA ranks with St. Lawrence University, to the ECHL with the Adirondack Thunder, to her current role in the AHL with the Ontario Reign, Visram has certainly paid her dues through the ranks to get to where she has today.
Getting the opportunity in the NHL was the cherry on top of what has been a well-deserved rise throughout the system.
"It's been my professional goal for as long as I can remember to work in the NHL and while it was now just two games, it was pretty cool for me," she said. "You work hard your whole life for something and to get a chance to live it even for a day or a couple days, it really makes everything worth it."
Welcome to the @NHL, @aishaish__baby‼️ 👏@LAKings | #GoKingsGo pic.twitter.com/YiAEQhg98j

— Bally Sports West (@BallySportWest) January 14, 2022
It hasn't always been easy along the way. I mean, frankly, working in the ECHL is rarely easy for anyone, but for a woman working her way through a male-dominated field, the path becomes that much trickier.
Visram shared that she's been fortunate throughout her career to not have many naysayers, or people who have discouraged her from realizing her ultimate goals. Unfortunately, the same can't be said for others in her field, with several people from around the world sharing stories with her of how they haven't had a similar experience.
She hopes that her own story and her own, successful path can help to be part of that solution moving forward. If we want hockey to truly be for everyone, things like that need to change.
"If we want to keep promoting this idea that hockey is for everyone, which I think most of us strongly believe that it is, then women belong here, everyone belongs here," she said. "There isn't a place in the world that a woman or a man don't belong or anyone. I think that inclusivity everywhere is really important and if people don't think we belong here, you're wrong."
It's important to remember the path when discussing the moment from Thursday Night. Visram earned her moment by being a qualified trainer at the minor-league levels, rising up the ladder over the last several years.
In the ECHL, she served on the league's advisory board, representing all teams in the Eastern Conference. She was the most qualified applicant when filling an open assistant role with the Reign back in 2020 and was the most qualified individual to move up into the head athletic trainer role this fall, when longtime Ontario trainer Jeff Andrews earned his own, well-deserved promotion to the NHL level.
That's what has stood out to Visram in the Kings organization. It's about merit here, and her chance behind an NHL bench strictly came down to that.
"They needed someone to step in and here it's based on who is deserving of that opportunity and who is the next person up," Visram said. "I was fortunate that it was me. That's how we've always treated things here, you earn what you get. I got fortunate and earned the opportunity to move up and fill a role."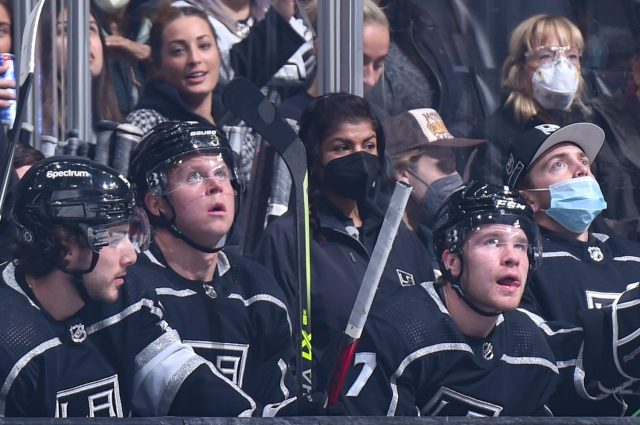 Kings Head Coach Todd McLellan had similar thoughts.
While the Kings and Reign operate separately, there are certainly benefits to having both teams under the same roof in El Segundo. When situations arise like the one the Kings have been under since late last week, it opened up opportunities for individuals who were close by and well accustomed to how the Kings operate.
That proximity allows for comfort within the staff, meaning a stranger isn't coming across the hall, but rather someone who is familiar with the players, coaches and remainder of the training staff. That was the case with Visram, with McLellan highly complementary after her first game.
"That's incredible, it's great, we need more of that in our game," McLellan said. "I can tell you that Aisha is a big part of our organization. We never talk about these people, the trainers, the equipment people, but she's mentoring with [Head Athletic Trainer] Chris Kingsley and the rest of the staff and accepted a huge role there and does a tremendous job. A great reward for her and everyone is a big part of it."
While game one, and now game two on Tuesday against Tampa Bay, was the next step for Visram in her journey, it's not the final destination. Filling in on a game-to-game basis was an incredible experience, though the end goal remains to hopefully one day be here in a full-time capacity.
"The ultimate goal still is to be a full-time staff member for an NHL team," she said. "I'm lucky right now to be in a great spot to get another chance someday."
For the time being, Visram is back at her day job, as the Head Athletic Trainer working with the top prospects in the Kings organization, a job she loves and is proud to work on. With NHL experience now to her name and an overwhelming week's worth of memories to reflect back on, the future remains bright for Aisha Visram.