If it weren't for Skittles and a persistent older sister, Alex Laferriere might not be the hockey player he is today. The Harvard University sophomore has family and candy to thank for kickstarting his love for the game of hockey.
"My first memory of skating was with my dad and sister and I didn't really like it," he recollected. "My sister kept forcing me to go out and skate, bribing me with Skittles. So, after she kept forcing me to go out, I started to fall in love with the game."
Born into a hockey family in Chatham, New Jersey, Laferriere started playing the game following the footsteps of his older sister Sophie, with the hopes of one day playing college hockey like his dad, Rob. Laferriere grew up playing with the North Jersey AAA youth hockey program, the New Jersey Colonials and the North Jersey Avalanche. It was there that the right-handed winger flourished, averaging over 1.5 points per game early in his amateur career.
After a successful youth hockey career in the Garden State, Laferriere joined the Des Moines Buccaneers in the USHL full-time for the 2019-20 season, where he led the team in points (19-26-45) and ranked second in the league in points among first-year skaters. Following his rookie campaign in the USHL, Laferriere was drafted by the Kings in the summer of 2020, selected in the third round, 83rd overall. Unable to attend the draft in person due to the COVID-19 pandemic, Laferriere, a "glass half full" type of guy found positives in spending his draft day at home.
"Getting drafted by the Kings was super surreal," Laferriere reflected. "Not being able to have the draft in person actually worked out, I was able to be at home with my family and friends. I was actually on my phone on the couch when my name popped up and my brother screamed and tackled me when he saw the Kings had selected me. Being able to be surrounded by my family and friends who have supported me throughout my whole life was very special."
As many of us can relate to, Laferriere's plans were changed last minute due to the ongoing pandemic, as he entered his freshman year of college. Originally slated to attend Harvard University and play for the Crimson in the 2020-21 season, it was not to be. Prior to the start of the hockey season, the Ivy League announced that the league would not contest in winter sports, wiping out what was slated to by Laferriere's entrance into NCAA hockey.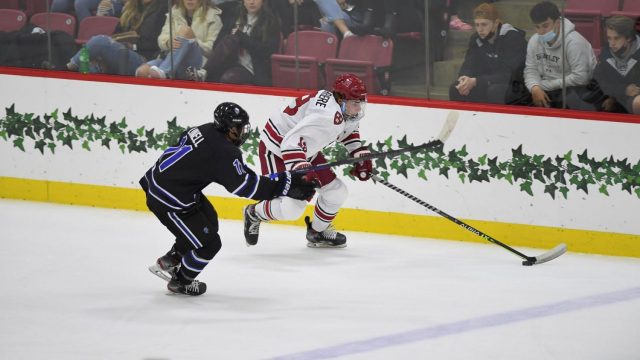 Instead of foregoing a whole year of on-ice development, Laferriere returned to Des Moines and began his freshman year of classes for Harvard online. The book smart and hockey smart student-athlete not only took on the new responsibilities juggling academics and athletics at one of the top universities in the nation, but also took on new responsibilities with the Buccaneers, as he joined the leadership group, elected as an alternate captain for the 2020-21 season.
"It was a huge year for me," he said. "It was the first year of my hockey career that I wore a letter and it gave me a new whole new perspective of being a leader. Having guys on the team look up to and look at you for support was pretty new to me. Being able to grow in that department and just able to play games during a pandemic was super important and I was very fortunate."
Laferriere falls into the LA Kings model of drafting not only quality hockey players, but also quality, high-character people. Led by Mark Yannetti, the Kings amateur scouting department and Hockey Operations has focused on the potential of playing in the NHL one day, as well as leadership qualities and high-character indivudals. Laferriere is just that.
With the opportunity to work on his personal growth on and off the ice, Laferriere took that "A" on his chest seriously, focusing on becoming a better hockey player and teammate.
"I'm not a very vocal person, I try to keep to myself and keep everything lighthearted in the locker room but wearing a letter and being looked upon to be a leader forced me to get outside of my comfort zone," he recalled. "I had to balance holding people accountable with still being myself, being approachable and lighthearted. It was a great learning experience."
It's safe to say that the 2020-21 season went well as Laferriere was voted as the Most Valuable Player and Offensive Player of the Year by his peers for the Buccaneers.
Now in his first year with the Harvard hockey team, the sophomore leads the country's 20th ranked team in goals, competing in deep and competitive ECAC conference. With seven tallies and 10 points from 11 games played, Laferriere's ability to score and produce offensive chances for his teammates was particularly on display earlier this season, when the New Jersey native notched four goals against Colgate on November 6th, spearheading a 5-1 win over their conference foes. The self-described "two-way player that can score goals" and "can bring that offensive aspect of the game as well as create plays for [his] teammates" has done so thus far for the Harvard Crimson.
With the overarching long-term goal set to play in the NHL for the Kings one day, Laferriere has his focus set on the here and now.
"Everyone in college hockey has the goal to win a national championship, but specifically for me, with my dad having played college hockey at Princeton and Boston College, he won the Beanpot tournament but never the ECAC or the Ivy League championship," Laferriere said. "I want to help my team win those three titles. That would be some pretty nice bragging rights in the family."
With a pinpoint understanding of his role within the larger picture of a functionally successful Harvard hockey team, the goal scorer with a team-first mentality is willing to do whatever it takes to get those bragging rights against Dad and whatever it takes be the best hockey player he can be.
A hat trick for Alex Laferriere – Harvard's first since Jan. 11, 2020 (Jack Drury vs. Yale) and first natural hat trick since Dec. 30, 2017 (Ryan Donato vs. Vermont). @espn #GoCrimson

WATCH: https://t.co/jwEvIqtyUM pic.twitter.com/D0jEsYEzVY

— HarvardMHockey (@HarvardMHockey) November 7, 2021