It took 11 games and a span of almost a month, but the Ontario Reign were finally beaten in regulation last Friday, falling to the Tucson Roadrunners by an 8-4 score. The following night, Ontario bounced back in a big way, scoring six times to defeat Tucson and earn a split of the weekend road series.
Saturday night's star was forward Samuel Fagemo, who found the back of the net three times to record the first hat trick of his American Hockey League career. It was a breakout night on the scoresheet for the former second-round selection in the 2019 NHL Draft, who had scored three times prior, but only one of which came at a meaningful point in the game with the other two in the final minute of lopsided victories over San Diego.
A quick look at his scoring statistics for the year might make you think Fagemo wasn't at his best, but according to Reign Head Coach John Wroblewski, things have been quite the opposite.
"I like Sammy's game a lot lately," said Wroblewski after Saturday's victory. "He's been asked to take on a penalty killing role, which, those extra minutes, they can sometimes detract from your offensive output because you're mentally and physically just waned and taken away from your concentration point. But it's really good for his development and he's been playing a lot of momentum hockey for us."
Building off a 10-goal output in 32 games last season has always been the plan for Fagemo and even though pucks weren't going in as often as he'd like at the beginning of his second year in North American pro hockey, the 21-year-old has focused on his all-around game.
"I'm feeling good and confident right now," Fagemo said. "It's a fun feeling to score a hat trick for the first time in the AHL. That's a nice feeling and I've just been focusing on doing the right things for 60 minutes."
Seeing one of his top offensive players take the next step on plays away from the puck is something Wroblewski and the rest of his coaching staff are proud of.
"He's done a lot of things along the wall and he's greatly improved his defensive zone coverage," Wroblewski said. "He hadn't found the back of the net in a while and so it's really gratifying for the coaching staff to see Sammy get rewarded too."
Fagemo felt that it was important for him and his teammates to have a better night on Saturday after not performing their best in Friday's loss.
"It was a great feeling to bounce back from the game [Friday]," said the Goteborg, Sweden native. "We had a nice meeting in the morning and we scored six goals so I think we did a really good job."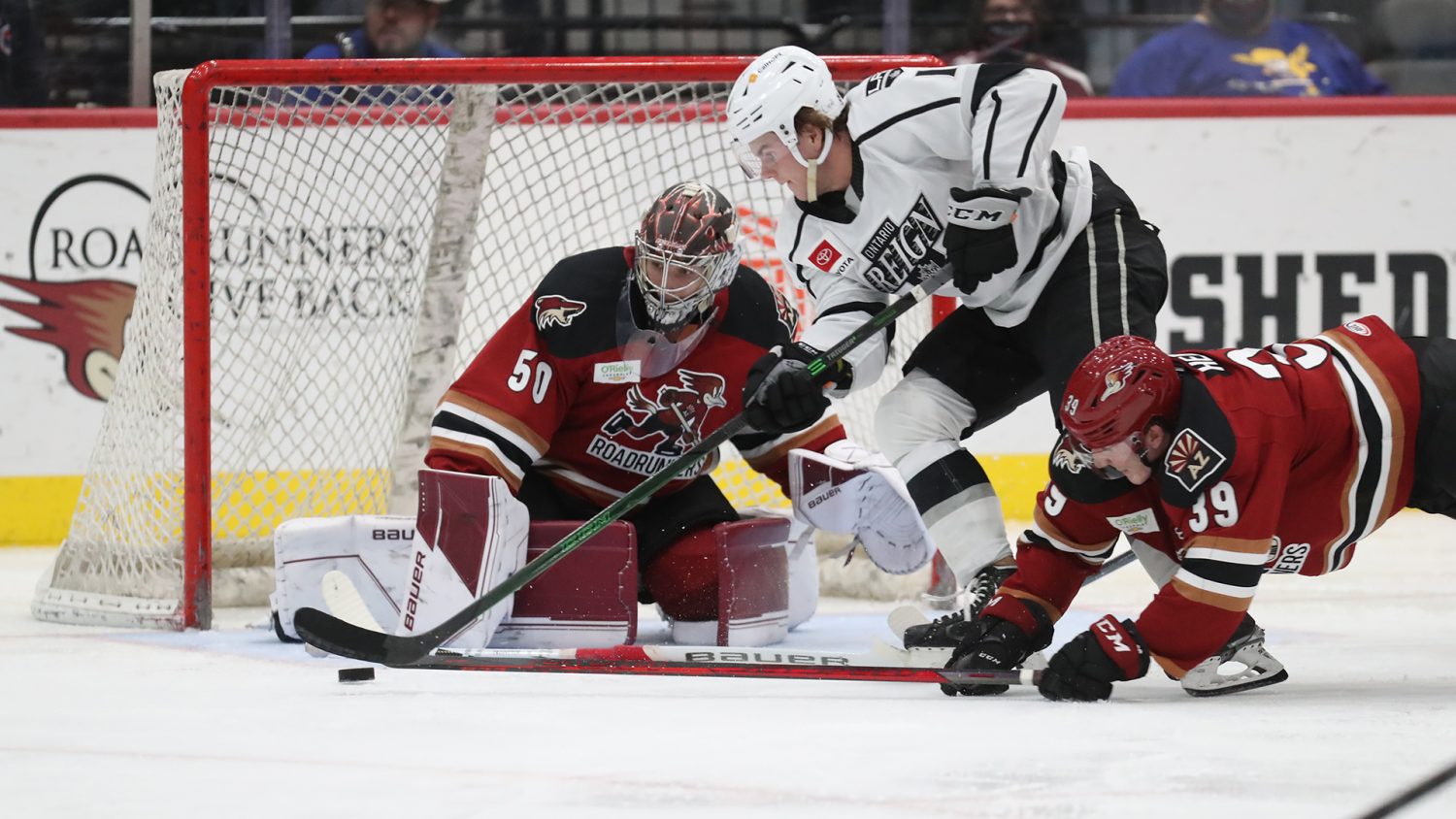 Wroblewski mentioned the job on the penalty kill that Fagemo has taken on, but he's also a fixture on the team's power play, which has scored a league-high 15 goals in the team's first 12 games. The unit has the best conversion percentage in the AHL at 27.3%.
One of the architects of that group is Assistant Coach and former LA Kings forward Craig Johnson, who has worked closely with Fagemo and seen his success.
"He's doing a really good job net-front on the power play," Johnson said. "He's bringing pucks to the hole and he's giving good support for a guy who's been pretty good on the break-ins too."
Johnson also expanded on what he's seen from Fagemo in the first month of the season, saying that the little things he's been doing right may be even more important to his development than the points he's putting up.
"He competes really hard," Johnson said. "The key to his development is going to be continuing to win his puck battles, learning the wall play and doing the little things. He's a natural goal scorer, he has a great release and a great shot, and that part when the puck finds his stick, he's really good at. Things weren't going in for him early, but his work ethic was there, and he was doing a lot of little details. When you commit to those details, you're going to be rewarded in the long run."
Johnson's been working with the Swede since he first joined Ontario at the start of the shortened 2020-21 campaign after previously playing in his home country with Frölunda and Södertälje. He knew that there would be an adjustment period, but he's seen Fagemo pick things up quickly.
"I think with any European that comes over it takes a little bit of time to adjust, whether it's to the rink dimensions or just the pace of the play," Johnson said. "Sammy's done a really good job adjusting and he has a really bright future. He has to continue to get stronger and continue doing those little things to succeed."
A crowded prospect pool is allowing the Kings to be patient with their young talents from Sweden, like Fagemo, fellow second-round selection Helge Grans, as well as Jacob Moverare, who is also in his second season in North America.
Johnson felt that while he'll always be looked upon to score goals, Fagemo will need to round out the rest of his game before he will be truly ready to play in the NHL.
"He's coming from the Swedish system where he was always looked at as a power play guy and one of their top-line players," Johnson said. "It's good for him to learn the grind game, the North American game, and to learn those little details and how important they'll be. Then when he does get an opportunity in the NHL, he'll be ready."
While he still has work to do before he gets that chance, Fagemo made a great impression with Kings' Head Coach Todd McLellan in August at Development Camp and then in September both in the Rookie Faceoff in Arizona and then at the team's main training camp. After Fagemo scored an impressive goal in the team's Kings vs. Kings showcase in Ontario, McLellan had high praise for the prospect.
"I think Sammy gets lost in the talk, or the hype, about the early first-round picks, but we haven't forgotten about him, he's a hell of a player," McLellan said. "18 months ago, he was one of the top scorers at the World Juniors tournament, and he does a lot of things well. Not only did he score, but he checked well, he made smart plays with the puck in different areas. His game has grown, and he has an opportunity, he has a real good chance if he continues it."
The long-term goal will always be to earn a spot in McLellan's lineup, but for the time being, Fagemo is focused on his play with the Reign.
"We have a really skilled team, a great group of guys and we talk to each other," Fagemo said of his current club. "I think it's been a good start to the season."
This week Fagemo and the Reign face their toughest test yet, a pair of back-to-back games on Sunday and Monday against the first place Stockton Heat, who have also been on a long unbeaten streak to begin the year with a 9-0-2 record in their first 11 contests. Ontario is just behind Stockton in the standings and a pair of good results this weekend would put them back into the top spot in the Pacific Division.