Good Afternoon, Insiders!
Obviously not where we want to be three games into a season-opening road trip, with last night's game a headline for all the wrong reasons. It's Sunday though. So, we're going to take a line from one of the greatest TV shows of all-time, The Wire, and call a Sunday truce.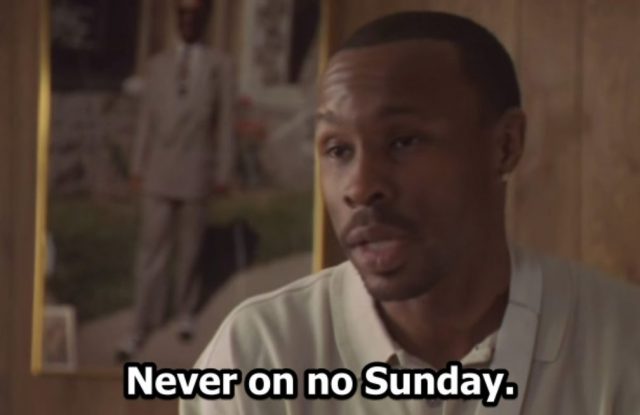 I tried my best to find a video of what I always thought was an amazing scene, but if you've ever seen The Wire, that video does not exist with acceptable language to post without breaking our own site rules.
You can be mad about the state of where things are at, you can be upset with yesterday's performance on a lot of different levels and you can expect more. As you saw in last night's post-game comments, the team is and does as well, and it's to be expected with where things are at right now. There needs to be more. But on a Sunday? We're going to go another direction.
For me, this is my first real experience being on the road for a full season, at least one where we can leave our hotels. The hotel here in St. Louis offers a view of the water, of the arch, and of "The Dome", former home of the St. Louis Rams. St. Louis Rams you say? Here's a story on LAKings.com on former Ram Todd Gurley, an avid Kings fan, and his journey of brings sports together and giving back.
That's a shameless plug and I am sorry.
The ability to get out of our rooms again, enjoy some local delicacies outdoors and see some of what the country has to offer has been a good thing. On the downside, I am much, much worse at PGA Tour 2K21 on Xbox than I was with all of the reps logged last season. But, in this life, you take the good with the bad.
We only had one night in Nashville, followed by three apiece in Dallas and St. Louis, two cities I had never been to. In Dallas, an incredible running trail was the de-facto home of Daryl Evans and also featured an awesome outdoor area for dinner and drinks. We also got the chance to check out the Sixth Floor Museum, which is in the building where John F. Kennedy was shot in 1963. A chilling, yet incredible experience, to stand where an infamous moment in our history occurred.
In St. Louis, other than checking out the Arch, I am still in search of a Sunday activity that isn't sitting down and watching sports. That isn't all that bad though, is it? One more sleep here in Missouri before we return home to Los Angeles, where a more consistent temperature awaits.
Since this is a hockey blog, let us also take a short (short) look at the success being had right now in Ontarios throughout North America.
Reigning Points
While the Kings are 1-3-1, their AHL affiliate, the Ontario Reign, are off to a 4-0-1 start to the season, including a pair of victories over the San Diego Gulls.
"4-0-1, you'd sign up for that all day," Ontario Head Coach John Wroblewski said last night. "You like the process because I think we had a lot of guys show up. Whether it was Alex Turcotte's three assists last night or [TJ] Tynan racking up assist after assist, Brayden Burke, what a nice surprise being able to pick up some offense for us. You can go up and down the lineup of guys who have played well, it's a different star every night and a different cast every night. We're very happy with it."
As mentioned, Turcotte had a three-point game on Friday, and has four points (1-3-4) from five games played this season. Offseason signing TJ Tynan has six assists from five games, while his linemate, Martin Frk, has three goals. Ontario has 10 skaters with three points already this season, and 15 with multiple points. In net, Matthew Villalta is 3-0-0 with a .931 save percentage. A balanced start to the season, that has resulted in on-ice success.
Jared Shafran has game-to-game coverage of the Reign here on LAKI, with Reign posts on the main feed this season, worked in amongst our Kings coverage. We'll have a story from Jared coming up this week with a look at Ontario's early success.
Ontar-three-o
The Kings have their 4-0-1 AHL team currently playing in Ontario, but going North of the border to another Ontario ain't too bad either. The Kings have three players participating in the OHL this season, and all three are off to strong starts to the season.
Defenseman Brandt Clarke, back in action after he missed rookie camp and main camp with an illness, is off to a flying start to the season with the Barrie Colts. A pair of forwards, Martin Chromiak and Francesco Pinelli, are both scoring at over a point-per-game pace early in the season.
Prospect writer Jack Jablonski will have feature stories coming up here on LAKI coming up with a look at both Pinelli and Chromiak, including exclusive interviews, with Pinelli recently named as the captain of his Kitchener team and Chromiak signing his entry-level contract after a strong preseason. Here's how all three players have fared in the season's first month.
Clarke – Clarke has tallied six points, all assists from five games played. Clarke, one of the most offensively talented blueliners in the league, is tied for fourth in the OHL in assists by a defenseman. If he continues at this pace, he will likely remain on track for a spot with Team Canada at this winter's World Juniors.
Pinelli – Named captain of the Kitchener Rangers, Pinelli is off to a strong start to the season with six points from four games. Pinelli has a pair of multi-point games already and is tied for third on the Rangers in scoring, though with one fewer game played than his teammates.
Chromiak – Another Kings prospect, another point-per-game player. Chromiak has six points from six games played and like Pinelli, he also has a pair of multi-point games under his belt for a Kingston team that has jumped out to an early lead in the East Division.
The Kings themselves head to Ontario in early-November, where they will look to continue their success in that province.
*Photo Credit above to Dach Zooley, who snuck on a fight to St. Louis for an artsy shot. McDonald's has the Golden Arches, McDowell's has the Golden Arcs, St. Louis just has the Arch. Until tomorrow, Insiders.