The LA Kings moved from the practice rink to the big fella, skating this afternoon at American Airlines Center in Dallas.
The Kings had two practice days here in Dallas, in preparation for tomorrow's game against the Stars. Yesterday's skate, in Todd McLellan's words, was a valuable one, with the Kings taking a skate that could have been taken as more of a get the legs moving practice into one where they worked on important things for the team's success.
The team lined up identically to how they played on Tuesday in Nashville. As noted earlier, McLellan is looking for more production from the lines behind Kopitar's line, though both lines are still just three games together as a line.
Arvidsson – Kopitar – Brown
Kempe – Danault – Iafallo
Grundstrom – Lizotte – Kupari
Kaliyev – Vilardi – Moore – Tkachev
Anderson – Doughty
Edler – Walker
Bjornfot – Roy
Petersen / Quick
From today's first run-through of line rushes, the only change was that Arthur Kaliyev rotated in with the Vilardi line, rather than the Lizotte line. The first run through had Kaliyev on the left, with Vilardi at center and Moore on the right, though all four took repetitions throughout practice, including Moore playing in the middle on reps that didn't include Vilardi.
The Kings continued to focus on special teams this afternoon, an aspect of their game that has been relatively strong through the first three games. LA has scored three, compared to just one allowed, though that one against came last time out against Nashville, a goal which brought the Predators level in the third period. One change of note saw Alex Iafallo practicing on the top unit, in place of Tkachev. Iafallo brings a puck retrieval attribute to that unit if he is deployed there, with his ability to get pucks back creating second and third opportunities on the man advantage.
For more on the team's secondary scoring, see here from earlier in the day.
Edler Statesman
Through three games, defenseman Alex Edler has fit right in for the Kings, forming a formidable pairing alongside Sean Walker. The contrasting styles of play have been a good, early mix, with the smooth-skating Walker partnering the savvy Edler, who can contribute at both ends of the rink.
Edler has already made two, headline worthy defensive plays. The 4-on-1 breakup, where he baited the pass across and intercepted was excellent, and a play he made without his stick, using his foot to clear a puck out of the zone while on the penalty kill. After he broke his stick on the play, Edler tied up the puck behind the net, before stepping on the puck and playing it to a teammate for a full-ice clear.
While isolated moments, the plays showcased the things that Edler can contribute to this Kings team.
"I got the puck with no stick and I was just trying to keep it away from them," Edler. "I stepped on the puck and I had someone talking behind me, so I just tried to get the puck to our player. [Communication is important], especially in your own end, you need to communicate, talk to each other, help each other out."
The underlying message is defensive-zone awareness.
Which is interesting through three games here this season, because Edler has spent such little time in that zone to date. Through the opening 180 minutes of the season, the two players who have been on the ice for the most chances for have been Edler and Walker. At 61.4 percent of shot attempts controlled, no Kings defenseman has a better statline.
"I think as a defenseman, you want to be a part of the forecheck, close your gaps, take away time and space for the other team," he said. "That way, you create turnovers, get pucks back and create time in the offensive zone."
Edler and Walker have played second-pairing minutes here through the first few games, though still on somewhat level pegging to the duo of Tobias Bjornfot and Matt Roy. The pairings off different things, and both bring value to the Kings.
For Edler and Walker though, it's been a solid start together, building chemistry throughout training camp, into the regular season.
"I've been with Walker since Day 1 of camp, so it's been nice to build a relationship there," he added. "I think he's a pretty easy player to play with, solid, easy to read off of. There are still things that I'm learning about the system, all of the guys, but I think it's been going pretty well so far."
See the full interview with Edler here from earlier today, as he expands on the team's defensive play, how he's settled in with the Kings and his takeaways from three games into the season.
Pronman Pitches Prospects
From yesterday, NHL Prospect Analyst Corey Pronman joined LAKI contributor Jack Jablonski for a video segment, that touched on several topics related to Kings prospects. Included was a look at the thought process between playing a younger players in an NHL bottom six, versus on an AHL first line, a report on recent first-round selection Brandt Clarke, and a couple of names that are perhaps off your radar that are worth keeping in mind.
The full interview with Pronman is embedded below –
Practice Photos
P words only here in this final couple of sections.
Sharing a few photos from this morning's practice. Dach Zooley was not brought on the trip, sitting out with contract dispute with the organization, so these are courtesy of the LA Kings!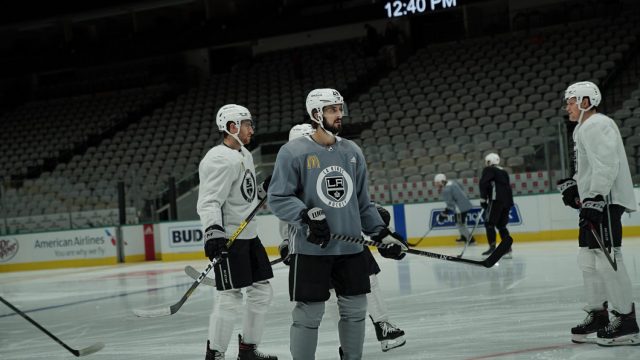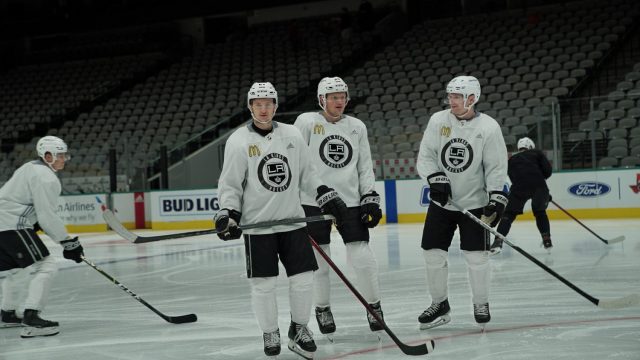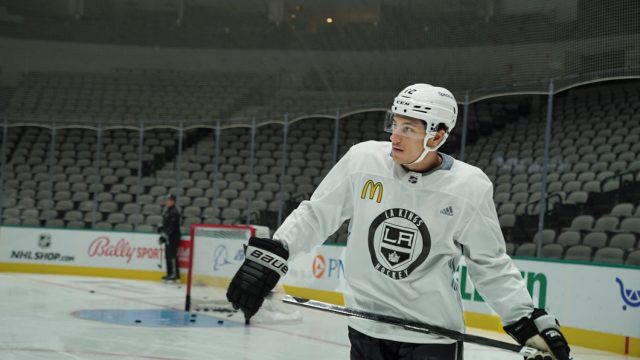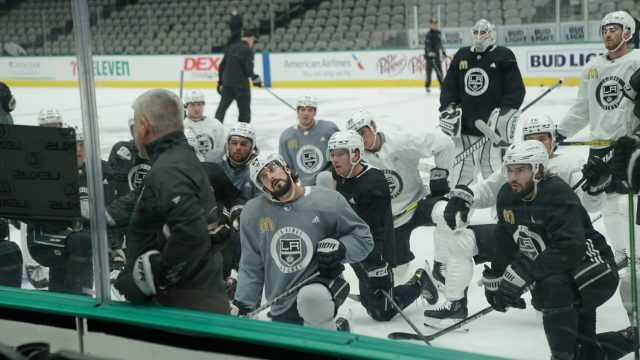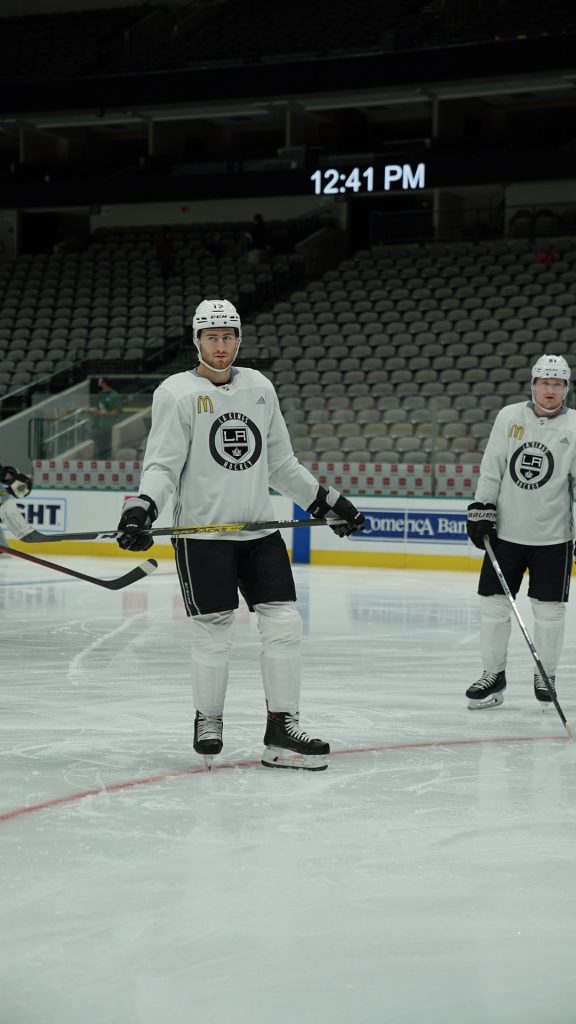 Dave Strader still on the zamboni here in Dallas 🙏 pic.twitter.com/qOvBfMECwg

— Zach Dooley (@DooleyLAK) October 21, 2021
Morning Skate is on the docket for tomorrow at 11:30 AM in Dallas, prior to a 7:35 puck drop tomorrow evening against the Stars. Tomorrow is an ESPN+ / Hulu game, nationally, so for those in Los Angeles, the game will not be blacked out on those services. We'll be back on Bally's on Saturday in St. Louis. Until then, Insiders!