For Ontario Reign fans following the team's training camp which began in El Segundo on Sunday, there are many familiar names on the roster. In total, 19 players on the initial roster have been with the team before in some capacity. After an up and down year during a shortened 2020-21 season, there are now high expectations for the team with all the experienced returners.
If he wanted, Head Coach John Wroblewski, who is starting his second campaign at the helm of the Kings' AHL affiliate, could almost make an entire lineup exclusively of players who previously donned the Reign sweater. But there are also some intriguing newcomers that have joined the group, bolstering the talent level on the roster.
Here are a few names you can keep your eye on as Ontario prepares itself for a new season that opens in just over a week.
Jordan Spence, Defense
Selected by the Kings in the fourth round of the 2019 NHL Draft, Spence is transitioning to the pro level this season after back-to-back selections to the Quebec Major Junior Hockey League's (QMJHL) First All-Star Team. The blueliner was also awarded the league's Defenseman of the Year honor after the 2019-20 campaign.
Spence, 20, began his year at LA Kings Rookie Camp before earning an opportunity to play in an NHL preseason game for the second time in his career last week. He starred in the contest for LA, scoring a goal and finishing with a team-high +2 rating. With that experience under his belt, Spence said he is starting to feel more comfortable with the professional game.
"I think in that preseason game I was a little nervous in the first period, but after a couple shifts I got comfortable and during the second and third I felt really good," said Spence. "There was a good amount of NHL guys on the other team so to play at that pace and experience that level of play was really fun and hopefully I can play more."
The right-shot blueliner stands at just 5-foot-10 but has a powerful shot that can lead to more offense for the Reign from the back end.
"It sort of explodes off his tape," said Wroblewski. "It's not the big, 100 mile-per-hour shot, but it's on the goalie before you know it and every one is very pure, labeled for one of the corners. He also works in conjunction with the net-front player; he's not just shooting to shoot, there's a method to everything he does. It seems like he's a thinker of the game even though he's doing everything at a pretty high speed."
Wroblewski has also been impressed with Spence's level of consistency in the early part of training camp.
"Even though he's very young in age and experience, he's a quick study and rarely makes the same mistake twice," Wroblewski said. "No matter how complicated a drill is in practice, he seems to execute and pick up on it very quickly. Even though his feet are fast, he doesn't skate himself into trouble which some defensemen can do and he doesn't just rely on his speed and his skating, he's a very heady player, who has a strong stick. He's got all the goods; he's just got to figure out the man's game and that will define him."
Ultimately though, while he may be able to inject offense, Spence will still need to be reliable on the defensive side of the puck and in front of his own net.
"We've got just a brief glimpse on this guy who looks the part but the most important part of the game for a defenseman is the 10×10 in front of your net," Wroblewski said. "If he can figure that out at the pro level then he's got a real good chance to play for the Kings one day because he's got a lot of the other things you can't teach."
Since he was selected in 2019, Spence has participated in two different development camps and rookie events with the Kings, allowing him to already become familiar with a lot of the faces in the locker room.
"I was here two years ago and all the guys that were rookies then are now here playing with Ontario," said Spence. "I got to know most of the guys that are already on the team and I trained here a little bit before this year's camp as well, so I also got to know some of the vets. It's been pretty great so far and I'm really excited for this season."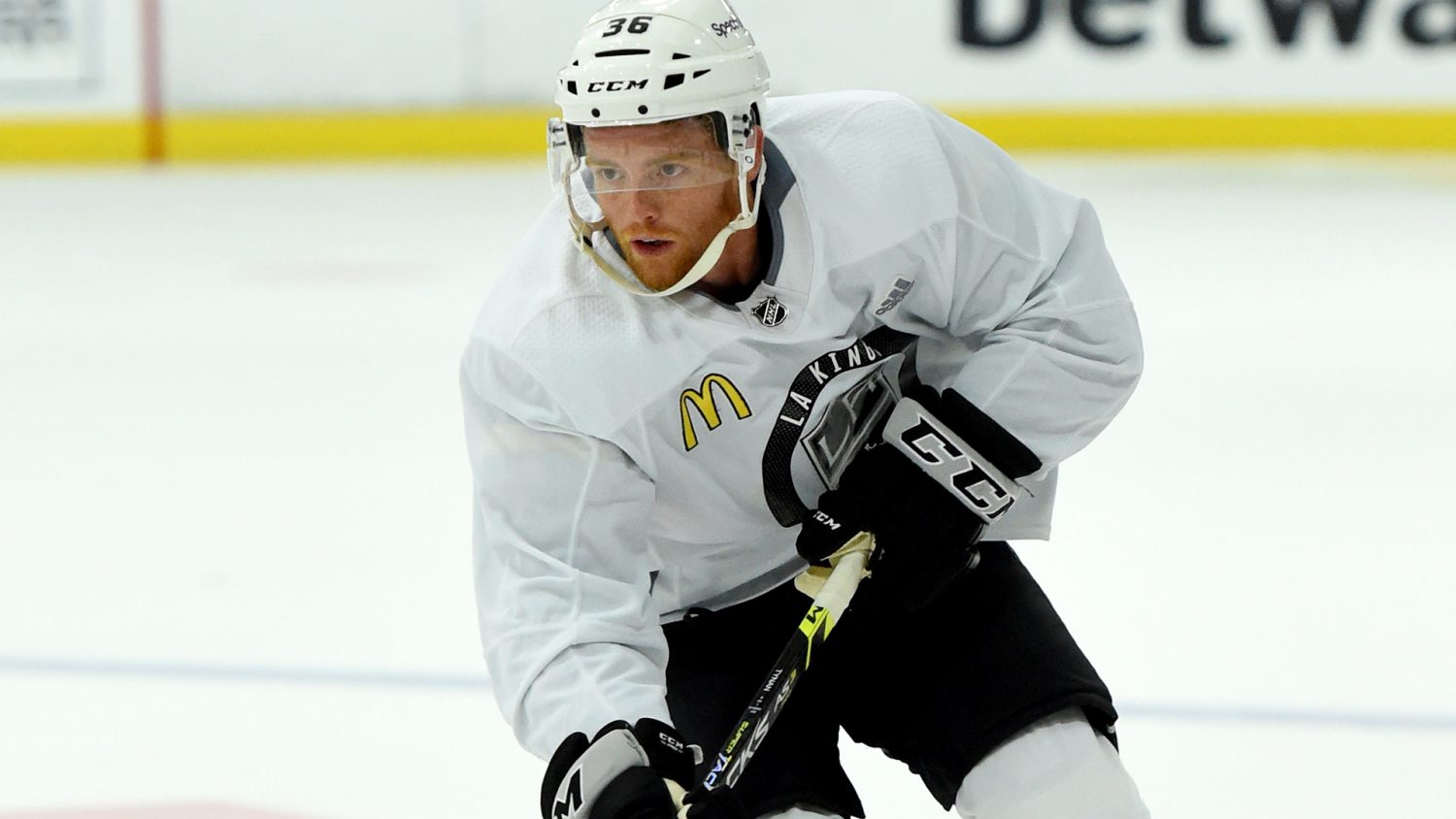 TJ Tynan, Forward
Entering his eighth year of professional hockey, Tynan has done it all at the AHL level. The 29-year-old spent his last two seasons playing with the Colorado Avalanche organization, where he suited up for 16 contests at the highest level and 69 with the Reign's Pacific Division opponent, the Colorado Eagles. A year ago, he was honored as the AHL's Most Valuable Player, posting 35 points in 27 games on eight goals and 27 assists.
Now with the Kings organization, he's jumped to the other side of the rivalry.
"I'm excited to be here," Tynan said. "It's a great place to play and a great organization. It just felt like a good fit with the way I play the game. We had good conversations and it's been fun getting to know the guys on a teammate level as opposed to playing against them."
Wroblewski said Tynan brings more to the table than just being a prolific scorer, that he can help get other players to elevate their game to his level.
"I think the defining characteristic of TJ is that he makes everybody around him better," Wroblewski said. "Whether that's him making a slip pass to his linemates or buzzing through the neutral zone or the offensive zone always demanding the puck. But also, it's his infectious work ethic, his tenacity, his desire to win and be a leader, those are the things that are ultimately going to rub off on guys."
Tynan also comes in with a ton of playoff experience, having won a Calder Cup Championship with the Lake Erie Monsters in 2016. Three years later he made another run to the finals with the Chicago Wolves, where he tied for first on the club with a career-high 71 points during the regular season.
Now that he's made Southern California his home, Tynan is looking to bring what he's learned from some of those elite teams to his new locker room.
"It's a long year, so we're just getting better as a team one day at a time because you're not going to make the playoffs or win a championship on day one or day two," Tynan said. "The teams I've been on, it's just about getting better each day. I know that's probably a cliché but it's the truth and obviously there's a lot of talent here so it should be great."
When asked what it means to have his postseason resume within his group, Wroblewski said that's of paramount importance.
"We want to have winners around to breed winners, and TJ is that," Wroblewski said. "As long as we have him, we're going to continue to boost him up and give him every opportunity to make our young guys better to boost our internal competition. That's the reason for veteran players in the AHL, it's not just to come here and fill a spot and put up points on the power play, it's to have that leadership and accountability to be the type of player that our young guys aim for and have to be better than."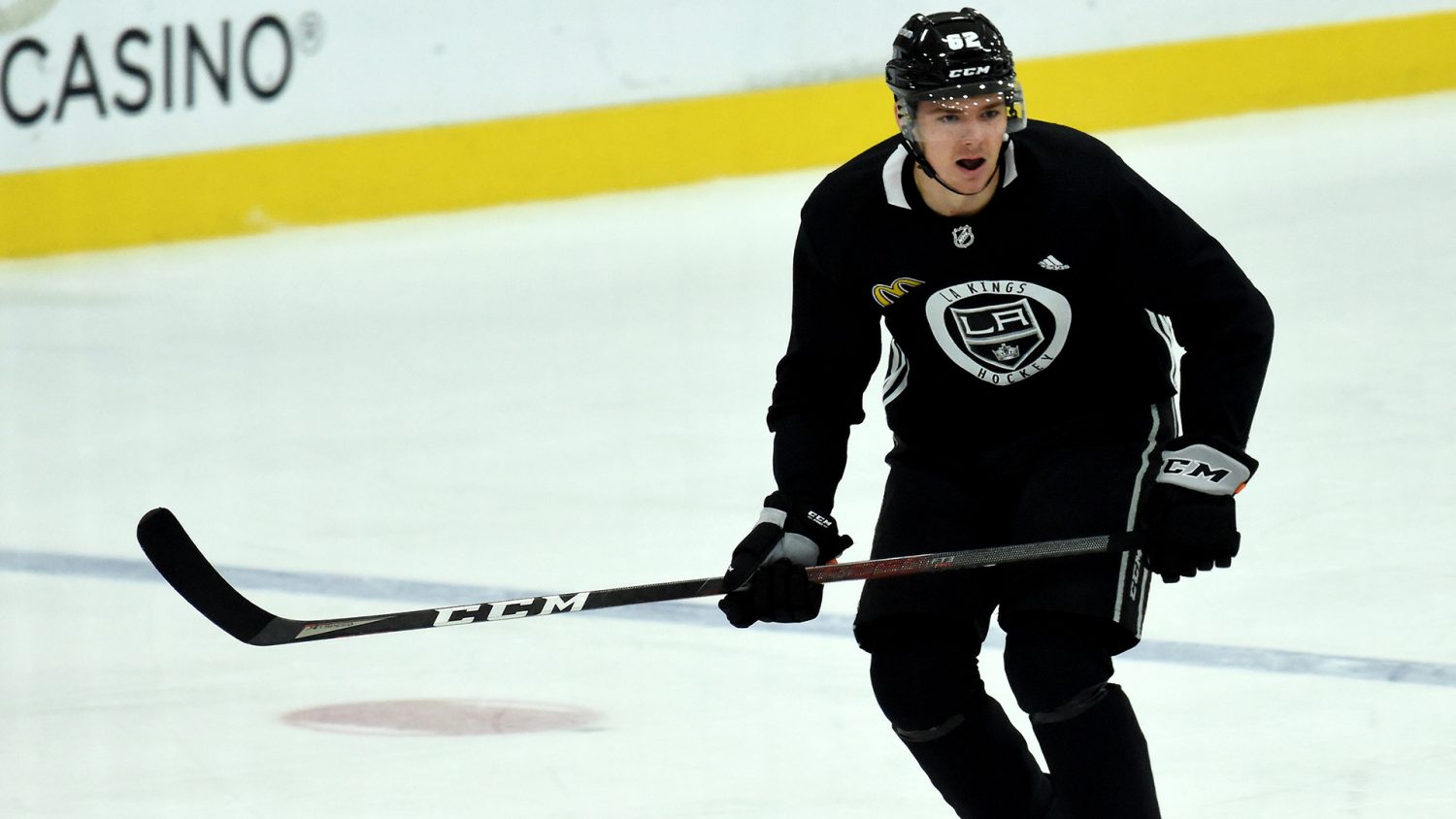 Helge Grans, Defense
A rookie out of Ljungby, Sweden, Grans is the youngest member of the Reign's training camp roster. The 19-year-old will have a lot to adjust to, but he's already bonded with two returning forwards, fellow countrymen Samuel Fagemo and Johan Sodergren.
"The three of us live together so they're showing me around town," Grans said. "They're telling me where to eat and everything you need to do off the ice."
The arrangement has made it even more fun for Grans, who said he's already enjoyed visiting the beach with his new roommates.
"I think it's almost impossible to not room with a Swede in this organization," laughed Wroblewski. "Swedes are great guys. They're always fun, and they speak English very well, almost to a T. It's great to have those guys around and really nice for the young players to come in and have a guy like Alex Edler or Viktor Arvidsson in the organization. Then as you work down into our lineup you have Fagemo and Moverare, just to name a couple. They get along well and take a lot of pride in their country."
Grans felt that he's benefitted from interacting with some of those players who are veterans at the NHL level during the first week of Kings training camp.
"It's pretty cool to see all the NHL guys in the same dressing room and very fun to watch them in action," said Grans. "You get a little extra inspiration seeing them and working toward the goal to be one of them sometime soon."
As for his on-ice game, the defender is working on improving in all areas.
"I need to get better at everything," said Grans. "It's a hard competition against everyone here. I need to work on everything and I'm looking forward to getting better with the coaching staff this season."
When asked what the toughest challenges might be for the young blueliner this year, Wroblewski mentioned that going up against older, stronger opponents will be an adjustment.
"It's playing against guys like Tynan, and other veterans in the league like Adam Cracknell and Sam Carrick. These guys, when they're not in the NHL and playing in the minor leagues, this is their living. That's a big step up for a 19-year-old to figure out the difference between just playing hockey and doing it for your job, actually having to take someone's job and jump over a guy who has been playing in the league for 15 years or longer."
Grans will also have the obstacle of getting accustomed to playing on the NHL ice surface as opposed to the international configuration that he grew up with in Sweden.
"It'll be an ongoing process, but I think there might've been a couple times in Arizona where he might've actually clipped the side boards," Wroblewski said. "When I was with the US program, I remember coming back from international competition and feeling a little bit claustrophobic, and that was only after a week on the big sheet. I think hockey players acclimate pretty quickly and he's going to be just fine on the NHL sheet. He's a big guy, so he should actually flourish and feel more comfortable in his skin on the NHL sheet because there's not as much wide ice."