The LA Kings were back on the ice this afternoon at Toyota Sports Performance Center, split into two groups, on the day between back-to-backs.
The members of Group B that played in last night's game skated for about 30 minutes before heading off, while the remainder of the group stayed on for over an hour, participating in small-area games and other drills over the course of the session.
Group A followed, with a slightly different alignment and practice plan, but that group featured most of the Kings established veterans, working on certain systematic elements.
Here's how the groups aligned this morning –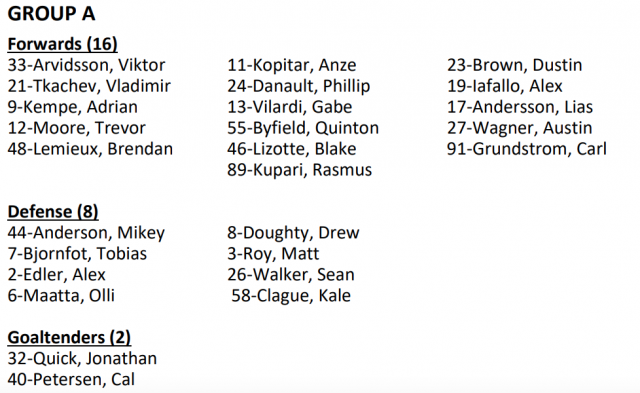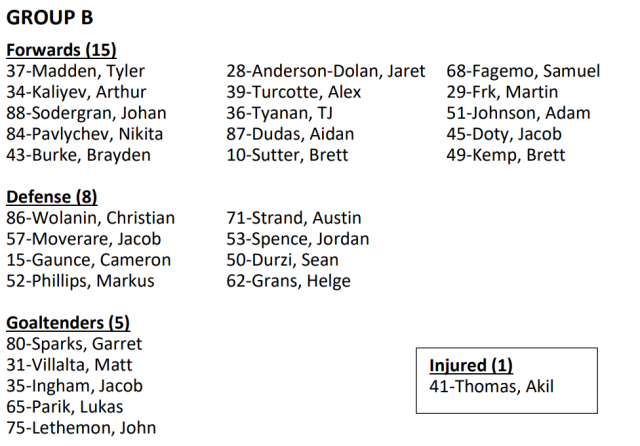 One player who was not included in either group is forward Andreas Athanasiou, who suffered an injury a few days back during practice, and is currently out of the lineup.
For those asking, Andreas Athanasiou is out with an injury he suffered recently in practice, per Todd McLellan.

"It's serious enough to keep him off, but I don't think he's in any danger right now of missing regular-season play. We'll see how he feels"

— Zach Dooley (@DooleyLAK) September 29, 2021
We will see how the situation progresses for Athanasiou, who also did not skate yesterday, as we approach Opening Night.
In The Quick Of Time
Goaltender Jonathan Quick made his preseason debut yesterday against San Jose and was sharp in doing so with 22 saves on 23 shots.
Last season, teams didn't get the opportunity to have any formal preseason games, though the Kings did scrimmage amongst themselves both informally at Toyota Sports Performance Center and formally through a Black-White game at STAPLES Center. Regardless though, having the scheduled, preseason games is nice, especially for the goaltenders.
Speaking with Quick earlier today, he pointed out the benefits of being able to establish his game-day routine early, to get into the flow of games leading into the regular season.
"It helps, more for getting your routine, your game day routine," he said. "When you don't do it for 4-5 months, and especially last year, 8-9 months, it [helps] your daily routine. [Last season] we did a bunch of scrimmages, we did the Black-White game at STAPLES Center, but we probably didn't get as many reps as you're used to. At least we had those scrimmages to feel game pace and put yourself in those situations that you would see in a game, but, like anything, the more you get to do it, the better off you are."
The group in front of Quick last night consisted of a large chunk of younger players, some of whom were getting their first taste of NHL hockey.
The first period started slowly from an LA perspective, with San Jose accounting for 19 of the 22 shots on goal in the opening frame. From that point on, once the Kings settled in, they were able to put forth a strong final 40 minutes, behind aggressive play that returned to their focal points.
With a young group in front of him, Quick highlighted communication as one way that he can help the group from in net. The more you talk, the easier it gets.
"I think just talking, and that goes for no matter who you're lined up with," Quick said. "One thing I've learned over the years is the more you talk, your teammates know what to expect out of you and you know what to expect out of them. I think Todd does a great job of relaying that message. Yeah, they dressed a good lineup last night, and we had some young guys in there for their first NHL experience, so communicate, talk to your D and that goes a long way."
Looking at Quick himself between the pipes, the win has always been the only thing that matters for the Connecticut-born netminder. Wins are a team stat, and when the situation calls for it, so are shutouts, as he puts it. That being said, McLellan was quick to highlight his goaltender's standout performance , especially during that first period yesterday.
"Very good for him, it's exciting to see him that sharp, that fast," McLellan said. "The game came at him right away and he was tested a lot. He had some difficult saves and I thought he managed the game a little bit for us, that's where his experience came in, he brought us some whistles when we needed them. I'm happy for him and his start."
Arizona vs. San Jose
The Kings now have two preseason games in the books, a 2-1 defeat against Arizona and a 4-3 victory over San Jose.
For the organization's first two exhibition contests, McLellan opted to use a completely different lineup across the two games, with 20 players against the Coyotes and a different group of 20 facing off against the Sharks.
When asked this morning, about comparing the Arizona game against the final 40 minutes of the San Jose game, McLellan felt that the two games were quite different, with Monday's loss being more of a tight-checking, lower chance game, and yesterday's being more open.
"Arizona was a tight game, there weren't many 2-on-1's, 3-on-2's either way," he recalled. "It was well checked, or poorly executed, as far as skill and executing. This one [San Jose] there was a little bit more in it, last night, the talent level might've been higher with the opposition, but I don't think they were the same type of game. I thought we were on our heels a lot more in San Jose than we were in Arizona."
One of the challenges, perhaps, is that both games were essentially played in a vacuum.
With no continuity between the groups that played, there's no real sense of carrying over anything between the two games. In fact, similar to what those at home experienced, there was no video feed available for the players, meaning that those not at the game were forced to either listen on the radio, or not follow along with the action. As such, we saw few similarities.
"When you use 40 different players, in a 24, 36 hour span, it's hard to gain any type of momentum," McLellan said. "The 20 that played last night didn't even witness the game in Arizona, they weren't there to understand the speed, pace, emotion in it. As a result, each game had its own life."
That could change, however, as the Kings hit the road to faceoff against Vegas in a two-game set tomorrow and Friday. While Thursday's game in Utah is a Kings home game, it's played at a neutral site, meaning travel for the Kings. For the first time this season, the players will have an overnight trip, which means that whoever doesn't play tomorrow will at least have the opportunity to watch.
With that in mind, the opportunities for roll over some momentum is much greater.
"Now, we get on the road, we stay overnight, so the players that aren't involved in tomorrow's game will actually be there watching it," McLellan said. "They'll get a sense of the pace, how it's getting faster and stronger and maybe momentum carries forward from there."
Love The Way You Lias
Lastly, hear from Kings forward Lias Andersson below, thus completing our trifecta of Anders(s)on(-Dolan)'s we've heard from here during 2021 training camp.
Andersson discusses his position with the Kings, whether that be at center or on the wing, his mindset of approaching this season to earn a spot, not being given one, and his preseason debut yesterday evening.
The Kings are scheduled to return to the ice tomorrow with morning skate slated to begin at 9:30 at Toyota Sports Performance Center. The team will then depart for Utah to take on the Vegas Golden Knights at 7 PM Pacific.
Coming up later tonight, we'll focus in on the Kings and their aggressive outlook entering the season, with several players putting what that means into their own words. Story to follow this evening on LAKI!