Good afternoon, Insiders!
The LA Kings and Bally Sports West today released their 71-game, regular-season television schedule for the 2021-22 season. The schedule was announced in conjunction earlier today, which unveils that all 82 Kings regular-season games will be broadcast in the Los Angeles market, through BSW and ESPN/Turner Sports broadcast platforms.
In addition, the Kings today announced all Kings preseason, regular season and postseason contests will again be streamed live on the LA Kings Iheart Audio Network on iHeartRadio and select home games will be broadcast on Spanish Radio KWKW 1330 AM TU LIGA.
The full broadcast schedule is listed below –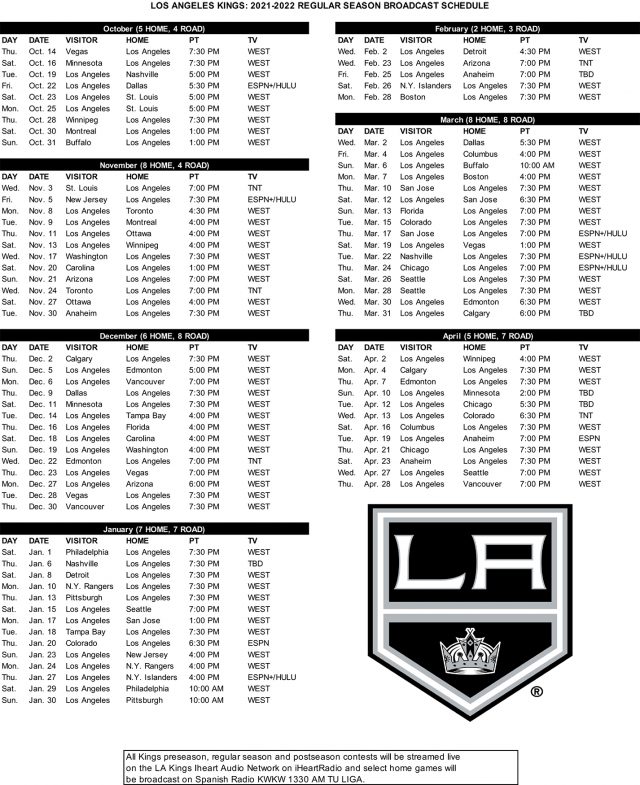 Previously, ESPN and Turner Sports announced that 13 LA Kings games would be nationally broadcast, including two on ESPN, six on ESPN+ / Hulu and five on TNT. That information is available HERE.
From the team's release earlier today –
All 82 Kings regular-season games will be broadcast this season locally or on national television with regular-season game coverage of LA Kings Hockey on Bally Sports West kicking-off with the club's season opener, the Kings-Vegas Golden Knights game at STAPLES Center on Thursday, October 14. Game time is 7:30 p.m. and that broadcast marks the first of three consecutive Kings games on Bally Sports West (October 14, October 16 and October 19).

The 2021 Kings preseason on Bally Sports West begins with two special preseason game broadcasts from home: October 5 versus Arizona (game time is 7:30 p.m.) and October 9 versus the Ducks (game time is 7:30 p.m.). The Kings-Ducks preseason game on October 6 in Anaheim will also be broadcast on Bally Sports SoCal (Ducks broadcast).

Kings television play-by-play announcer Alex Faust returns for his fifth season and is joined by analyst Jim Fox in the Kings broadcast booth. Fox, the former Kings forward, is entering his 32nd season as the club's television analyst.

Hall of Famer Nick Nickson returns for his 41st season as the radio "Voice of the Kings" and Daryl Evans, the former Kings forward, will serve as Nickson's partner for the 23rd consecutive season.

Faust, Fox, Nickson and Evans are all scheduled to call road games from the road.

Francisco X. Rivera and Nano Cortés will call each game on TU LIGA for the fourth consecutive season.

From the Bally Sports West production truck, Steven "Hoover" Dorfman will begin his 13th season on Kings telecasts, serving as the producer, Mike Hassan will again direct the telecasts, a position he has held since 1995, and Joel Goodling will return for his ninth season as "LA Kings Live" pre- and post-game producer.

Games will air this season on Bally Sports West and Bally Sports SoCal. As part of game coverage, the Emmy Award Winning "LA Kings Live" returns prior to and immediately following all home and road telecasts on the regional networks. Patrick O'Neal returns as host to cover the team for his 17th season, sitting alongside former Kings players Evans, Jarret Stoll and Derek Armstrong. Fox also joins pre- and post-game shows to offer viewers further analysis. In addition, Carrlyn Bathe is back for her fourth season to deliver interviews, reports and social media updates surrounding home and road telecasts.

Also returning to the TV programming lineup in is "LA Kings Weekly." The show takes Kings fans behind the scenes with exclusive interviews, unique features and more. The half-hour show debuts October 23 on Bally Sports West immediately following the LA Kings-Blues contest.

Kings programming airing on Bally Sports West, Bally Sports SoCal, and KCOP TV will stream live on the Bally Sports app and on ballysports.com when viewers authenticate through their pay-tv service. The Bally Sports app is available on mobile and tablet devices, including iOS and Android, as well as the following connected devices: Amazon Fire TV, Android TV, Apple TV, Google Chromecast, Roku Players and Roku TV and Xbox One. Fans can also download the app for free from the iTunes App Store, Google Play, Amazon App Store, Roku App Store, XBOX One App Store and Windows App Store.

The LA Kings Iheart Audio Network this season also continues to feature pregame shows and postgame shows. Jesse Cohen leads the club's podcast efforts on the medium which includes a pregame call-in show prior to select Kings games. The Kings-Coyotes game tonight (September 27) in Glendale (AZ) kicks-off coverage and is followed by tomorrow night's (September 28) Kings contest at San Jose.

This year's broadcast schedule on TU LIGA is as follows: October 28 (vs. Winnipeg), November 24 (vs. Toronto), December 2 (vs. Calgary), December 11 (vs. Minnesota), December 28 (vs. Vegas), December 30 (vs. Vancouver), January 8 (vs. Detroit), January 10 (vs. New York Rangers), January 18 (vs. Tampa Bay), January 20 (vs. Colorado), February 26 (vs. New York Islanders), and February 28 (vs. Boston). The games will also for the first time this season be available via the Tu Liga Live Stream (tuligaradio.com) simultaneously to the regular radio broadcast.

As previously announced, the following two Kings games – January 20 (vs. Colorado) and April 19 (at Ducks) – will be broadcast on ESPN, and these six games – October 22 (at Dallas), November 5 (vs. New Jersey), January 27 (at NY Islanders), March 17 (vs. San Jose), March 22 (vs. Nashville), and March 24 (vs. Chicago) – will be streamed nationally on ESPN+/Hulu.

These five Kings games will be broadcast on TNT: November 3 (vs. St. Louis), November 24 (vs. Toronto), December 22 (versus Edmonton), February 23 (at Anaheim), and April 13 (at Colorado). TNT will also broadcast the Kings-Vegas Frozen Fury game as part of the club's 2021 NHL Preseason Schedule on Thursday, September 30, at Vivint Arena in Salt Lake City. Game time is 7 p.m. (PT)/8 p.m. MT.

Nickson will call TV games with Fox in place of Faust on October 9 and November 20 broadcasts. On the radio, Josh Schaefer, the play-by-play voice of the Ontario Reign, is scheduled to call those two games with Evans.

On the radio only three current club broadcasting duos have worked together longer than Evans and Nickson (Toronto – Joe Bowen and Jim Ralph started together in 1997-98; Detroit – Ken Kal and Paul Woods started together in 1995-96; and Ottawa – Dean Brown and Gord Wilson started together in 1992-93). Fox is one of the most tenured club television analysts in the NHL – he and his former Kings teammate Brian Laughlin of the Capitals have been in their roles since 1990-91; Mickey Redmond has consistently worked Red Wings broadcasts as an analyst since 1986.