The Kings were back on the ice for the second day of main camp, with the groupings shuffled from yesterday's practice.
The structure of the day remained the same, with Groups A and B swapped from how they organized yesterday. Group B opened the day on the Olympic Sheet with the day's first practice, before scrimmaging Group A on the main sheet at TSPC. Group A then held their practice, before Group C, which featured several, established NHL veterans, finished the day with practice on the main ice.
Here's how the Kings lined up for today's practice –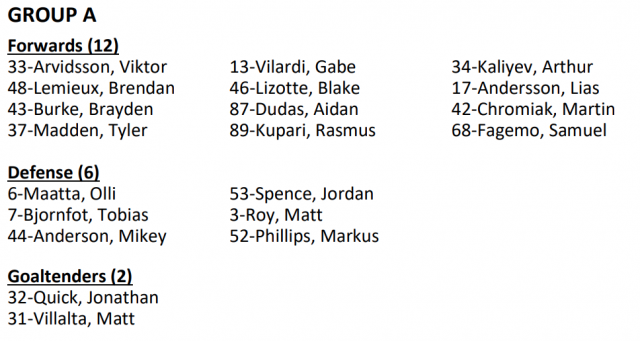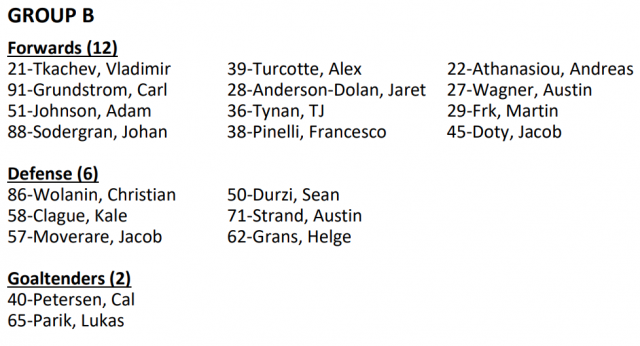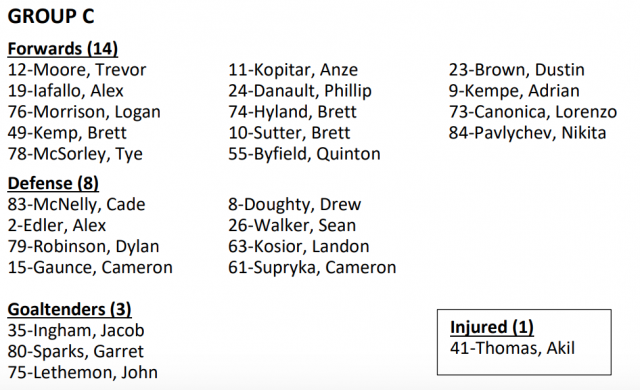 The Kings chose to switch things around from what we saw yesterday, making some changes amongst not only the groups, but also the personnel and the line pairings.
"We took some of the veteran players and put them in the C group, to allow some more kids to experience the scrimmage," Todd McLellan said, of today's changes. "I think there's value in that."
Group B began the day with a practice, before switching ice sheets to play against Group A.
Today's scrimmage saw a larger quantity of goals, especially in the second half of play. Group A and Group B, significantly different in makeup from yesterday, squared off following Group B's morning skate, with Group A taking a 2-0 lead at halftime. Blake Lizotte and Samuel Fagemo scored the opening goals, with Fagemo's coming off of an excellent feed from defenseman Olli Maatta.
In the final 30 minutes, the teams combined for seven goals, with Group A coming away with a 6-3 victory. Fagemo and Lizotte each tallied again in the second half, giving them two for the morning, with Gabe Vilardi and Arthur Kaliyev also scoring goals for Group A. Forwards Martin Frk, Austin Wagner and Johan Sodergran each scored for Group B.
"I'm looking at individuals right now and how they react to certain situations," McLellan said. "I thought some of the players that didn't have good Day 1's had good Day 2's and there's going to be ebbs and flows like that throughout training camp."
The afternoon finished with Group A running through a similar practice to Group B, followed by Group C on the ice, consisting of many for the Kings veteran players. Group C ran similar drills to the first two groups but was on the ice a bit longer and did not participate in the scrimmage.
Competition Within Camp
"You can feel the tension. I think the players can count, they know how many players are in camp that are very capable of playing in the league, and they can feel the tension. That's a good thing. That's a really positive step for our organization, to have competition at training camp."
Todd McLellan acknowledged things that we've been talking about for a bit now, which is that there are simply more players with at least a case to play in the NHL than there are NHL roster spots.
Through two days of training camp, it has already become increasingly apparent that there will be competition for jobs and roster spots, especially among the bottom forward positions. Two such players, who were a part of last season's Kings roster, are Jaret Anderson-Dolan and Carl Grundstrom, both of whom commented on the competitive nature through two days of training camp. At the other end of the spectrum, forward Dustin Brown has noticed the step up in competition this season, noting the larger number of guys with a chance at making the team than in years past.
Speaking with McLellan today, he believes fully in the idea of competition bringing out the best in certain players. There are only so many roster spots available, for a large number of players vying for them, and that creates an internal competition that should only benefit the team as they approach the regular season.
"It better be, for a lot of players, because if you're not approaching that way, I'm sorry but I don't think it's going to work for you," he said, "For as much as we'd like to have a roster of 35 players, we can't. I mentioned that at our opening meeting, unfortunately some players, maybe they played in the league for a little while, they're going to get pushed out and that's evolution, but only if somebody is pushing them out. Are those young players, older players, new players ready to do that? That's what training camp is for. I think there should be some tension, I sense that there is, and we'll know more as some of the exhibition games tick off."
Dustin Brown – It's exciting that we have competition for spots. Just going through the evolution of the team, the last couple of years, there wasn't a whole lot of competition in camp to make the team. Now, we have competition in camp. When you're fighting for a spot, you're going to have a better team, even the guys at the top are getting themselves ready. Overall, it's better to have competition for spots going into the season, it will bode well for us being prepared at the beginning and moving forward.
Jaret Anderson-Dolan – With a couple of new guys who have been around for a while, they're driving it, and all the young guys as well, they're following that lead and it feels competitive the first couple of days. I have no doubt it's going to continue that way, and it's good for the whole group to have that competition within the organization.
Carl Grundstrom – Absolutely, but that's how it's supposed to be. It's a lot of fun. I think that [it brings out the best in everyone]. Like I said, it's a lot of fun.
Aggressive, Aggressive, Aggressive
Just two days in now, there has been a focus on being more aggressive throughout camp.
Speaking with Brown and defenseman Sean Walker today, both players felt that last season, when things got away from the plan, or perhaps dicey, the team found itself reverting back to the familiar 1-3-1 in the neutral zone, because they were comfortable with it. The downside of that is that the 1-3-1 made it more challenging to create turnovers and offense, for a team that already struggled to create even-strength offense.
Todd McLellan emphasized the focus this season on getting back to that aggressive mentality as a group.
"That's an organizational focus for sure," he said. "It's not based on the neutral zone, or how we play in that situation, I just think we can be aggressive all over the rink. How you define aggressive is important. It's not about the fighting or even body contact, it's about the hunting, the puck mentality, getting it back after we take a shot, not receiving the game as much, getting aggressive, but smart, not reckless or careless. A smart, aggressive group is what we're looking for."
Part of that had to do with the personnel that the Kings had last season. Without having the ideal makeup to play the way they wanted to play, at times, the group retreated into what was familiar, and what, on paper at least, would protect the most dangerous areas of the ice the best.
"I think we have better players, a better group right now and we can be more aggressive," McLellan said. "We don't have to protect certain areas of the ice as often, but with that said, it means there's a full buy-in from everybody to play all over the rink. If we don't get that, that's when we retreat back and protect certain areas of the ice. It's a good observation."
Dustin Brown – A lot of our vets have played a different type of style, more defensive, sit back, and I think guys like myself and Kopi, we have to adjust our game and be a little bit more aggressive. I'm looking forward to it, compared to last year. We were so good at the 1-3-1 neutral zone that we reverted back to it, human nature I guess, you want to do what you're good at, what you're comfortable with. I think this training camp is really important to get back on the forecheck. I think we did it two years ago, but we did it in a really crazy way as players, I think McDavid had five breakaways in the first 20 minutes of the season against us. We forechecked really hard, but maybe not very smart. Now, it's little adjustments, more personnel, but I think it is an adjustment for our whole team to play a little bit more in your face. On the forecheck, it's very structured, but now with this aggressiveness that we're trying to [play with] this year, we still need to be smart about it, but it will allow us to turn over more pucks. For me, it's much more exciting than backing up in the neutral zone and having to skate backwards.
Sean Walker – I think it's always been emphasized, but I'm sure you guys saw it last year, we relied on how good we were at the 1-3-1, it was almost a comfortability factor. If we didn't think something was going right, we'd just fall right back into the 1-3-1. I think this year, the main focus is being aggressive and only going to the 1-3-1 when it's absolutely necessary. I think you're going to see a team that's a lot more hungry, more aggressive, turning pucks over and keeping the offense alive.
Adding Alex
While we heard from other veteran additions Viktor Arvidsson and Phillip Danault yesterday, defenseman Alex Edler spoke with media in LA for the first time in an in-person setting, following his second day on the ice.
Edler, and Arvidsson for that matter, join an already strong Swedish contingent here with the Kings, with Carl Grundstrom, Adrian Kempe, Lias Andersson and Tobias Bjornfot all playing NHL games last season, and Samuel Fagemo, Johan Sodergran, Jacob Moverare and Helge Grans waiting in the wings.
Speaking with Edler today, he talked about switching teams for the first time and the changes to systems and culture that come along with it. So far, so good for the veteran blueliner in moving from Vancouver to Los Angeles.
"It's been good so far," he said. "A lot of teams in this league are playing very similarly, but there are little things and getting to know the guys, how they move on the ice. I'm still learning that part, but it's going to be [about] getting better every day."
Todd McLellan – In all my years involved in this division, he's been one hell of a player. He almost reminds me in some sense of our General Manager. When I was coaching in San Jose, a little further in his career, he's changing teams…when I talked to Blakey about it, it was exciting for him, it was refreshing for Rob when he came to San Jose and I hope Alex gets that as well. Everything's new to him…sometimes it is a nice boost to your career later on. So far, he's been tremendous. You can see his professionalism, he picks things up quickly, asks good questions, fits the group very well. I hope he can play at a high level and we get the best of him.
Sean Walker – It's been great. Everybody knows he's a great defenseman, a great player and he's a great guy. I'm getting to know him. It's been great so far and I hope we continue to play together.
The Kings are slated for the same schedule again tomorrow, with Group A opening the day at 10 AM. The format expects to remain the same, with a scrimmage, followed by individual practices for Groups B and C.