When the LA Kings announced their roster for the 2021 Rookie Faceoff on September 2, goaltender Matt Villalta was absent from the 28-name group. After being part of the young roster during the team's last three rookie events, the 22-year-old netminder had seemingly graduated from the showcase and was set to begin his third professional season at training camp on September 23.
However, a late injury forced the backstop to join the Kings' prospect group on short notice.
"It was a last-minute call," said Villalta. "We had a skate on Wednesday and I was half-dressed when Jeff Andrews our athletic trainer came into the room and told me I've got to go get my medicals done because I'd be going to rookie camp."
Without much time to prepare and just one practice with the group on Thursday before the flight to Arizona, Villalta was given the starting nod Friday against Colorado and ran with the opportunity, posting a 23-save shutout of the Avalanche youngsters in a 4-0 victory for the Kings.
Although he was surprised by the late opportunity, Villalta said he was happy to jumpstart his season with some extra time on the ice.
"It's always exciting when you can come to an event like this with all the young guys and play games," said Villalta. "I feel like it's a good thing to start off the year, get a few games in and feel good for main camp."
The Kings took a lead just 1:07 into the first period when Martin Chromiak buried a feed from Arthur Kaliyev and never looked back. The early goal set the tone for the contest, one which featured a 47-23 shots-on-goal advantage in favor of LA, and allowed Villalta to settle in and execute his game plan.
"It relieved the pressure a little bit," Villalta said of the early strike. "You can kind of relax a little more when the boys get an early start and you know they're buzzing right off the hop. Personally, I wanted to set the tone for myself this year and start off on a high note. I stuck to my structure, which is something I want to do and just go out and play. I think it was a really good start."
Villalta, who spent his second professional year in the American Hockey League with the Ontario Reign during 2020-21, is coming off a season of mixed results, posting an 8-8-1 record in 18 appearances. Like much of the young team that got off to a slow start before rounding into form during the second half of the campaign, he had moments to learn from.
A full offseason allowed Villalta to reset and get back to basics with the help of the Kings goaltending staff, led by Bill Ranford and Matt Millar. Millar, who is with the team this week in the desert, said he noticed the results of summer training paying off in Friday's win.
"It was really neat to see a number of things that we talked about and actually had time to work on during the offseason," said Millar. "Because we had a lot of normal things we were able to do like development camp, Matt was around and able to hop in for some sessions with us. He stayed coachable and was open to the changes we brought in while continuing to work hard. I think if you spend time around Matt you know that his character and work ethic lend him to be extremely coachable and he took a lot of the instruction and put it into his game. We saw that last night and it was exciting."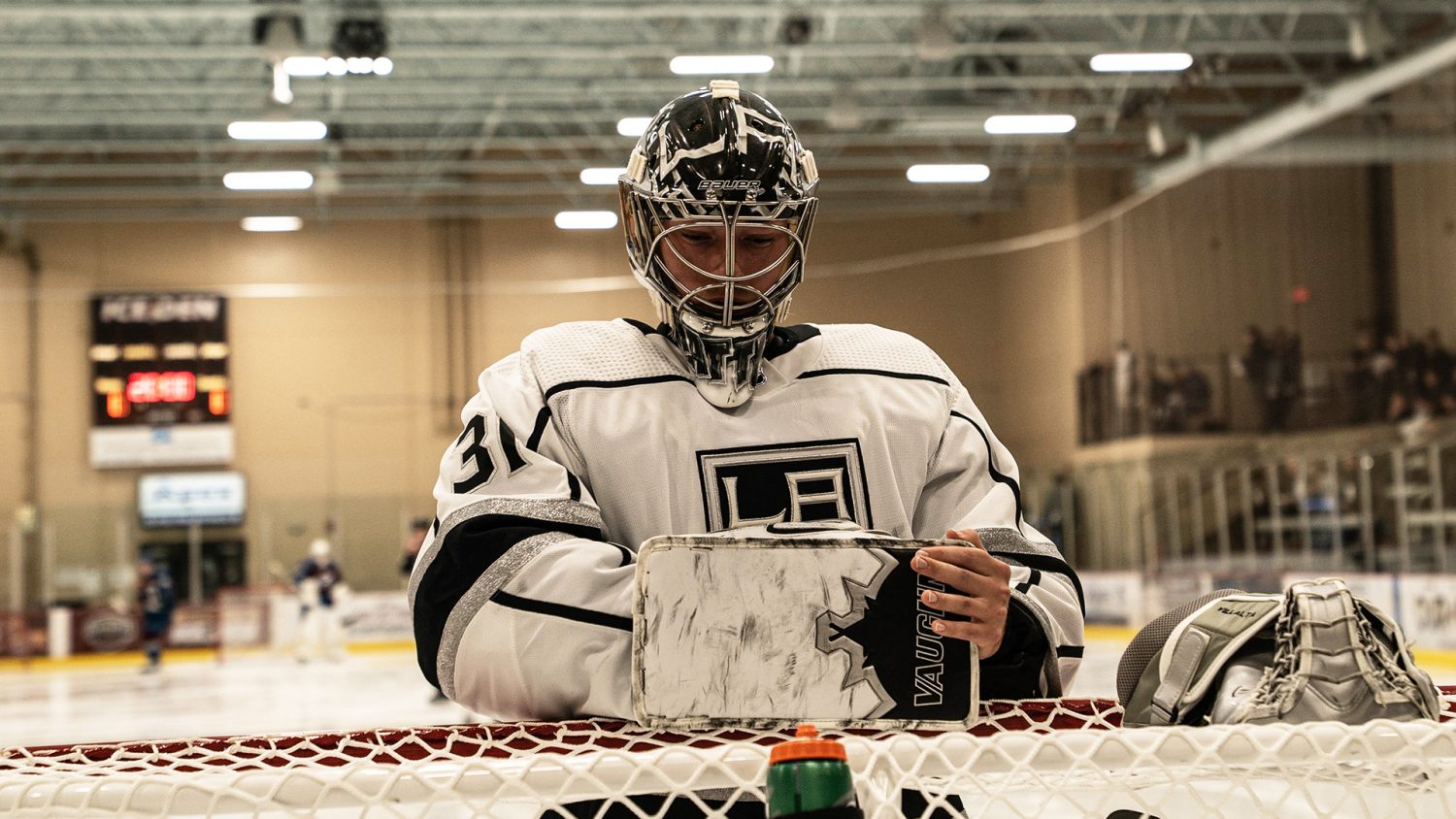 One of the most impressive features of Villalta's game on Friday was the ability to control rebounds from Colorado opportunities that came his way.
"That was one thing I've been working on a lot all summer is tracking pucks all the way into my body," Villalta said. "I just wanted to stick to my structure and track pucks and I felt like I did a good job with that."
Millar also acknowledged those were some of the things that took priority during the offseason sessions.
"I think we had a pretty clear plan for a few things we wanted to get back into Matt's game," said Millar. "It really was just re-focusing on some basics and then allowing him to go out and play with his instincts and athleticism. I think that starts with him tracking the puck well and then making sure he keeps his feet in a good place in his stance so he's able to move whenever he needs to."
As for the late change to his schedule and joining the team in a pinch, Millar wasn't surprised at Villalta's ability to quickly get comfortable and ready to play.
"Knowing how Matt is, I'm not surprised," Millar said. "He's excited for these games and to be around this group of young players. [Ontario Reign Assistant Coach] Chris Hajt was around when he was notified that he was going to be coming with the group and said Matt was super excited to hopefully get into a game, but more importantly just to be around the guys and get back into that team atmosphere in the locker room."
Friday's result was a positive outcome to build off not just for Villalta, but the entire Kings lineup that featured 11 skaters with previous AHL experience in Ontario.
"I think right from the puck drop, guys were playing hard," Villalta said. "They were first on pucks, winning battles and finishing checks. If there was a turnover in the offensive zone, guys were working hard tracking back and most times when you do that, you'll get more offense. Guys were joining in on the rush and I thought they were very aware on the ice, moving the puck well and getting shots on net. I thought it was a great start."
With his team building a lead in front of him, Millar was impressed by Villalta's maturity and ability to remain even-keeled throughout the game.
"I don't think he faced a lot of volume in the first period, but he faced some really good grade-A opportunities," Millar said. "He was ready and kept us in the lead as the game evened out and some chances were exchanged back and forth. He also provided more steady goaltending and made two or three timely saves per period. I think he showed the maturity of being prepared mentally and physically for those moments when they do happen because breakdowns are going to occur, but he was ready and responded extremely well. As the game went on, he found his footing and was able to make those everyday routine saves and not complicate the game for himself or for our team."
But as good as Villalta was Friday, the Reign coaching staff led by John Wroblewski, who is getting more time behind the bench with the prospect group in Arizona this week, was most impressed with his ability to replicate the winning effort the following morning during Saturday's practice.
"The highest praise we can give him was that he continued the attention to detail, the changes he's made in some of his habits and the effort level that he had in the game on a practice day," Millar said. "He looked just like he did last night, but in a practice. I think that's the most exciting thing you see from him having a high character, which is the desire to compete that translates directly into practice."
After finishing with a clean sheet the night before, it would have been easy for the goaltender to rest on his laurels and coast into the next day's schedule. But Villalta followed up with a focused effort, which also served as a role model for the other young netminders on the Kings roster.
"His effort isn't just something you see in a game where he's getting a shutout and feels pretty high and there's some emotion and it feels good," Millar said. "He came back the next day and almost repeat that performance in practice which I would say is a very high mark of maturity. Maybe you can get away with not giving 100% and letting some of the details slide, but he took it upon himself to stick to his structure and work with detail in a pretty tough practice."
With a refreshed outlook heading into a new season, the Kings are hoping their former third-round draft choice can continue to build off his start and make an impact at next week's training camp with the full roster.