Good Morning, Insiders!
The Kings rookies hit the ice today for a skate at the Ice Den in Scottsdale, the lone practice day of the weekend. Coming off of yesterday's victory, it was interesting to think about the possible approach coming into today. Naturally, you look at some of the effective combinations from yesterday and want to see more, but on the other hand, you remember that the overall point of this tournament is evaluation, and that seven players didn't have the opportunity to be evaluated yesterday.
Today's practice saw the combinations from last night altered in terms of jersey colors, but the team didn't run a ton of formal line combinations throughout the skate, which consisted of eight forwards on each side. The defensemen, of which there were eight, were broken up with four per side.
Not on the ice today was defenseman Brandt Clarke, who was officially confirmed as out for the tournament. Clarke has a "non-COVID related illness" and did not travel with the team to Arizona. As such, don't expect to see Clarke in the lineup for the games either tomorrow or Monday.
In terms of today's group, here's how the Kings aligned –
Gray
F: Byfield, Canonica, Fagemo, Kupari, Madden, McSorley, Morrison, Pinelli
D: Grans, McNelly, Phillips, Spence
Black
F: Chromiak, Dudas, Hyland, Kaliyev, Kemp, Pavlychev, Sodergran, Turcotte
D: Durzi, Kosoir, Robinson, Supryka
Goaltenders: Ingham, Parik, Villalta
With eight forwards per-side, we didn't see a ton of formal line combinations, but the following lines were the first lines out during on drill in particular.
Pinelli – Byfield – Madden
Chromiak – Turcotte – Kaliyev
We'll plan to hear from John Wroblewski tomorrow, and ask a little bit more about how he plans to rotate the lineup over the next two days, but it wouldn't be surprising to see certain players play one of the two remaining games this weekend. This morning's groupings indicate that we'll likely see some more of the camp invites worked into the lineup, and that some of the more established players might not play tomorrow night. at Gila River Arena.
With Sunday being a 6:30 PM faceoff, followed by an 11:00 AM puck drop the following morning, squad rotation is to be expected for those two contests.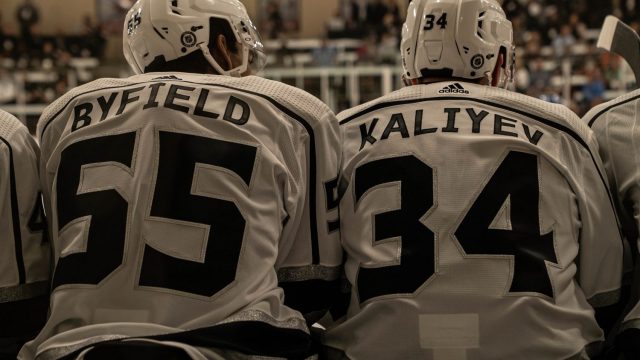 QB -> AK
The much-discussed combination of Quinton Byfield and Arthur Kaliyev was on display last night, with the duo combining on linemate Martin Chromiak's early goal off a pair of quick passes off the rush.
Byfield gained the offensive blueline and hit a streaking Kaliyev to set up the odd-man rush, before Kaliyev fed Chromiak crashing the net on the ensuing 2-on-1 for the goal. Without making too much from a play in a rookie tournament, it was clear that the two were on the same page. From talking with both players, the admiration for one another's games and how they mesh together, was evident.
QB: Me and Arty, we had some chemistry last year. I'm more of a pass-first guy and Arty loves to shoot the puck, from wherever, so I think that works well.
AK: He's a great passer, a great skater, he's fast and big, he's great on the forecheck. He tries to find me, for me to shoot, he's such a great all-around player. I think it's a good combo for us.
Byfield and Kaliyev were frequent linemates with last season's Ontario Reign, and in Game 1 yesterday, proved to be an effective combination at this level as well. This morning, the two were on separate sides, with Byfield between Francesco Pinelli and Tyler Madden on the first set of rushes, and Kaliyev lining up with Chromiak and Alex Turcotte.
On Kaliyev specifically, John Wroblewski commented at the start of camp that Kaliyev was a guy who stood out as someone who added strength and muscle over the summer.
"There's one guy in particular that stood out to me, just size-wise, I thought Kaliyev looked like a monster out there, compared to last year," Wroblewski said on Thursday. "He just looks a lot sturdier, a lot thicker, and if his shot could get harder, it actually did. I think he put in the work this summer, he looks great."
Speaking with him today, Kaliyev agreed that adding strength was one of his main focuses over the summer. He pointed to time in the gym as helping him to achieve that.
"I was just trying to work hard and be in the gym this summer," he said. "The main goal was to try to get stronger and faster."
As he progresses through the rookie tournament here, his focus is on playing his own game, and trying his best to impress those who are here to evaluate. Kaliyev knows that all he can control at this point in the process is what he's doing, and how he's integrating with his teammates, both new and old.
He learned last season, with the Ontario Reign, the importance of his play in all areas, beyond just his offensive gifts, and is committed to showcasing his improvements in different aspects this weekend.
"I'm just trying to go out and play, even better than last year, in all parts of the game," he said. "Defensively, offensively, neutral zone. I don't just want to be a shooter out there, you have to win puck battles, good play in the d-zone, all things that they look at. [In the AHL last season], I learned you have to be great all-around."
Turcs & Caicos
We also spoke with forward Alex Turcotte this morning, after the stout performance of his line alongside Samuel Fagemo and Tyler Madden last night.
Turcotte skated in the middle, after moving between the center and left-wing positions in the AHL last season with the Reign. His line yesterday combined for 17 shots on goal, with the USNTDP product accounting for six of those opportunities himself. The 20-year-old forward reflected back a day and was pleased with the work that he and his linemates put together.
"I thought it was a really good game, I thought the line with Fagemo, Madden and I had a really good game, we created a lot of offense," he said. "They created the two goals with it, we had a lot of really good chances. It was just good to be out there, we had a lot of fun, I just missed playing with the guys. Just being with them in general, I had a lot of fun."
As we detailed on Thursday here on LAKI, Turcotte and Madden saw their rookie seasons run on very different paths, with the two hardly in the lineup together at all throughout the season, due to injuries for each.
Turcotte noted that he did play quite a bit with Fagemo, and the trio seemed to be well in-sync on the ice against Colorado.
"I played with [Madden] a little bit – we had some injuries and when he was in I was out, and vice versa, so I haven't played with him too much, but I thought we clicked really well together. [Fagemo] and I, we played a lot with each other last year actually, he's a shooter and I'm a playmaker, so I think it fits well."
While the three were not necessarily skating together at today's practice, their play last night certainly left a good impression with the three players themselves, and the Ontario coaching staff, with Wroblewski praising the impact of his forwards after the game.
Turcotte felt that he just focused in on what makes him successful – his compete level, winning puck battles and feeding his teammates – and that on another night, the two goals their line wound up with could have been even more.
"I just tried to go to the dirty areas, win battles, try and get those guys the puck and I thought it worked out well. I think we easily could have had 6, 7 goals. If we keep up the tenacity, keep playing the same way, it will break through for us."
Four Score And……
Lastly, enjoy the Kings goals from last night's game! Not a ton of video was available yesterday, but we were fortunate to get a look at the game today.
For a full straem of yesterday's game, visit BDEHockey.com/arizona.