After three straight days of multiple on-ice sessions, Kings prospects had a lighter schedule at the Toyota Sports Performance Center on Thursday with more time built in to enjoy the Southern California amenities.
The defense led things off, working very closely with Development Coaches Sean O'Donnell and Matt Greene, who spent a lot of time on instruction and teaching with the blueliners. After beginning with passing drills, the defenders moved on to net-front battles while working on re-directing shots.
Things finished up with high-speed conditioning and a continuation of one of the Day 3 focuses, shooting. Kings 2019 fourth-round draft pick Jordan Spence showed off his excellent form, hammering one-timers at the net.
None of the development camp goaltenders were on the ice with the defense, so all three were fresh and ready to go for a busy session with the forwards.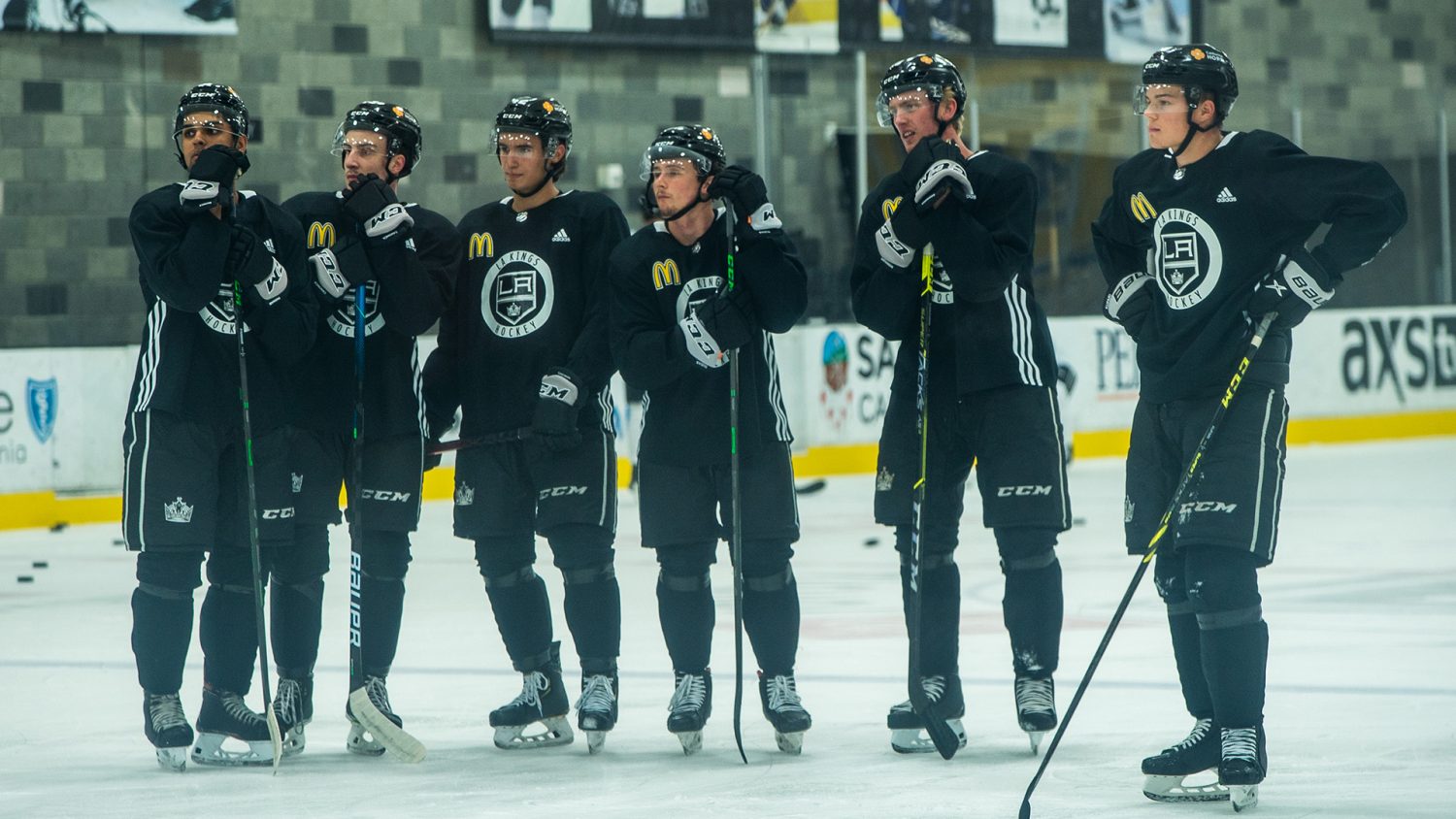 The attackers also spent time on conditioning and skating drills before focusing on controlling pucks near the boards. One of the highlights was a competition that ended the skate, a 3-on-2 small area game that was won by the team wearing white jerseys by a score of 5-4. That group featured 2019 third-round draft selection goaltender Lukas Parik, and Brett Kemp netted the deciding goal. Tyler Madden and Samuel Fagemo, both members of Ontario last season, also found the back of the net, while 2020 fifth-rounder Martin Chromiak scored twice for the other side as did camp invites Logan Morrison and Lorenzo Canonica.
Madden, who later spoke with the media during Thursday's availability, said he's been feeling good this week and enjoys being around development camp. While he only played 14 games last season with the Reign due to injury, he said he's back to feeling 100% and expects to be ready for the upcoming campaign.
Karlstad, Sweden native Andre Lee also met with the media and emphasized how comfortable he's felt during this year's camp compared to his previous development camp experience in 2019. Lee, a seventh-round selection by LA in 2019, has spent the last three seasons in North America starting with Sioux Falls in the USHL during 2018-19 and most recently in the NCAA at UMass-Lowell alongside fellow Kings prospect Ben Meehan (5th round, 2020).
With their work on the ice done for the day, the prospects took a ride to the shore, enjoying time at nearby Hermosa Beach. Some explored the area with a bike ride, while others jumped into a game of volleyball or spikeball.
The relaxation time was short-lived, as the final day of Development Camp gets underway with a full-roster scrimmage Friday morning at 9 a.m. Many on this roster have already showcased themselves during the week, but the ending competition will allow for a lasting impression during a game with more heightened intensity. With an extensive group of talent in this young age range, the game is another opportunity to stand out in front of the team's staff and hockey operations department.