It has been just over a month since the LA Kings drafted Brandt Clarke with the eighth overall selection in the 2021 NHL Draft on July 23rd and then chose Francesco Pinelli with the 42nd pick a day later. This week's 2021 Development Camp is the first time anyone from the organization has seen their newest young talent on the ice wearing Kings colors. Unfortunately, the excitement surrounding the other half of the 2021 draft class is going to have to wait as Samuel Helenius (Finland, Liiga) and Kirill Kirsanov (Russia, KHL) were unable to make the trip due to their regular season's having already begun. Anyways, as I was saying, Clarke and Pinelli took the ice for the first time as members of the Kings organization during 2021 Development Camp among their highly-rated peers.
On and off the ice, Clarke and Pinelli have both been impressive. Starting with the first-rounder, Clarke has been noticeable in each session, whether it be a defensemen-only group or in the inter-squad scrimmages. There really is something about seeing a high-end skilled hockey player handle, control and whip the puck around effortlessly. All week, Clarke has shown off his advertised attributes by productively implementing himself into the plays up the ice, creating opportunities for others and being a more than capable puck-handler in all three zones.
Clarke, who spoke to the media on Tuesday, had a very clear plan for this week and it has definitely followed suit.
"I just want to play my game and be a good teammate; listen to the coaches and be an all-around good person," Clarke explained. "When it comes to game time in the scrimmages, I want to perform and I want to be able to do my thing. I like to impress and I'm looking forward to having a fun week, it's been great so far."
As expected, the Napean, Ontario native has been noticeably active around the puck in the afternoon scrimmages. The offensive-minded defenseman has consistently been able to join the rush to create additional passing options for the puck carrier and has continued to cleanly bring the puck up himself. In both facets, Clarke's decision-making has proven to be effective throughout camp.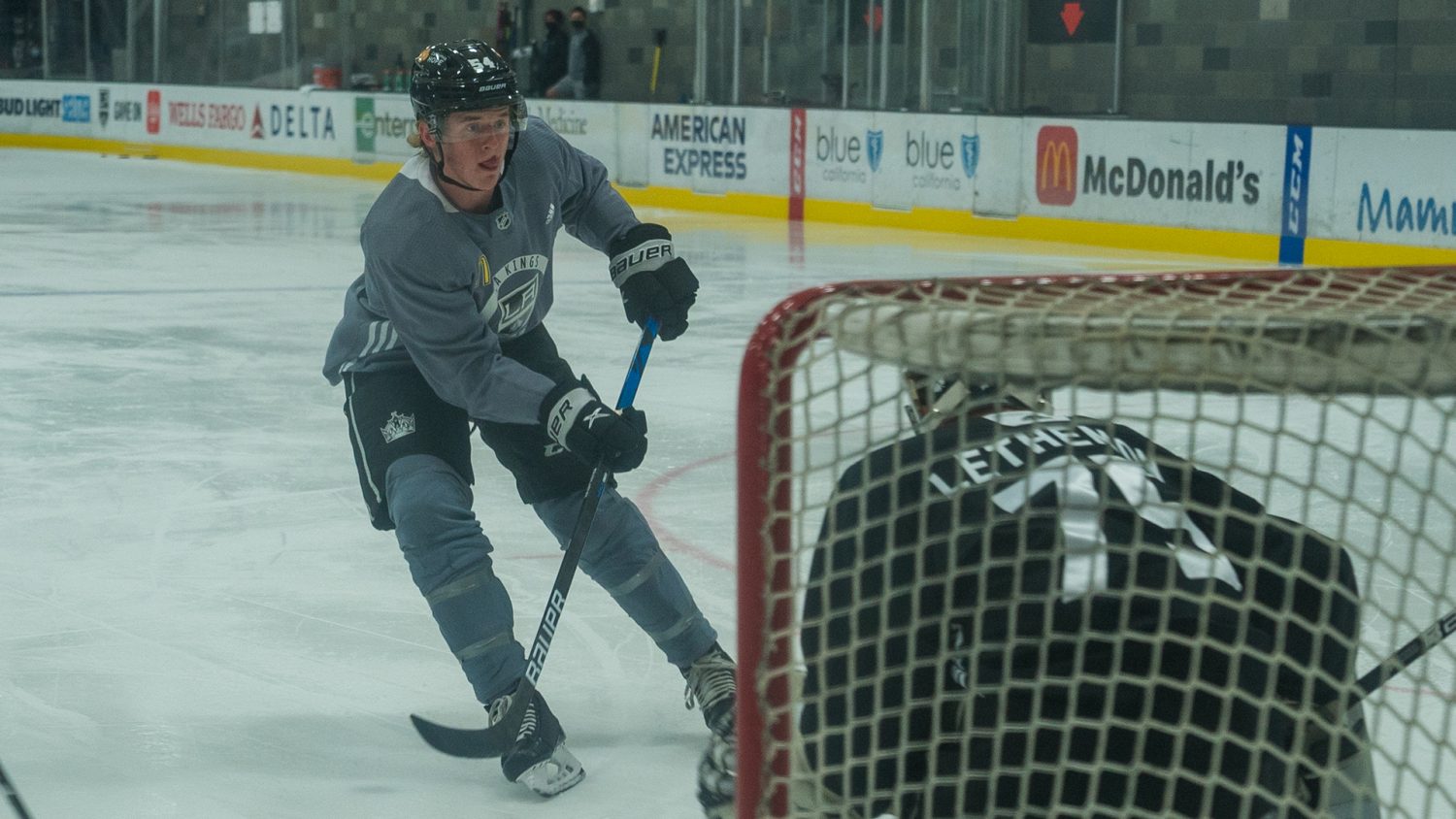 "I feel good so far this week," Clarke said. "I feel like I'm reading the plays pretty well, whether it be defensively or offensively. I've been able to shut down the majority of 1-on-1's and 2-on-1's and I feel quick out there. I'm pretty satisfied with how I've been moving around. As the week progresses, I want to make sure I don't take my foot off the pedal."
When the Kings selected Clarke eighth overall, he became the highest-drafted defenseman in the organization since Drew Doughty was taken second in 2008. But, with that eighth overall selection comes pressure and expectation. Just four days into watching Clarke go about his business on the ice, pressure and expectation don't seem to be impacting his play; the offensive juggernaut has been cool, calm and collected. Impressively, Clarke's self-awareness actually gives off the complete opposite vibe; the right-handed defenseman is both aware of the attention that a high draft gets and knows he still has to round out his game before he can take those next steps to getting into a Kings jersey.
"I want and have to get stronger," said Clarke. "I feel like I have a good size to my body, but if I want to play in the best league in the world, you can't be small out there. You've got to be a bigger presence and I want to fill out. I want to be someone who is a presence in front of the net, clearing screens out of the way and knocking guys down in the corner. Being stronger will definitely help me in many ways in the game."
While the annual development camp is a great showcase to see the Kings' newest and best prospects, it serves value in many ways. For the players themselves, it provides an opportunity off the ice to connect with their peers and get to know their potential teammates in the coming years, whether that be in Ontario or LA. Across multiple drafts, the prospects at camp have been given the chance to bond, develop friendships and broaden their horizons by spending a week with players from across the world.
"[Francesco] Pinelli is someone I've spent a lot of time with this week," Clarke said. "We know each other from the U18 Team Canada; he also plays in the OHL and I've known him for a while. A guy I've spent a good amount of time with this week who I didn't really know is Jordan Spence. He's in all of the defensive skates with me. Obviously, he's also from Canada and he knows my older brother [Graeme]. He's a great guy and he's definitely someone that I had an instant connection with when I showed up."
Speaking of the first-round talent, but 2021 second-round selection, Pinelli has also had a noticeable development camp. His most eye-catching plays thus far have consistently come when the Stoney Creek, Ontario native shoots the puck. Coming into the 2021 NHL Draft, the 18-year-old's scouting reports all had one thing in common; his shot is in the upper echelon of the NHL, right now. LAKI can confirm. It also reminds me of another shooter the Kings recently picked up in the second round… *cough, Arthur Kaliyev, cough*. So much so that Pinelli's shot falls into the category of "stop what you're doing and watch this shot," as the left-hander casually enters the offensive zone by himself in a warmup drill.
Although he's a different type of player than his fellow draft-round counterpart (Kaliyev), Pinelli also knows it takes more than an elite shot to develop into an NHL player. The center has his sights set on getting bigger, smarter and better at everything.
"I need to work on getting bigger and better every day," Pinelli explained during his media availability on Wednesday afternoon. "It starts in the gym with speed and strength. Both speed and strength play a huge role in today's game and I think to get to the next level you have to continue to work on those things. I love the little details, that's what separates one from another. I just want to keep improving and take every opportunity to be the best person I can be. I have to continue to grow and get better."
For both the forwards and defensemen, each day of camp has been a different focus. For Pinelli and the forwards, focal points have ranged from shooting and scoring, to board battles, and in-tight teamwork. Without question, Pinelli stood out on the shooting drills and held his own throughout the rest of camp. Run by former NHL forwards Mike Donnelly and Jarret Stoll, part of the team's Player Development staff, the sessions have covered a number of bases for both the players to show off their skillsets and the Hockey Operations department to evaluate young talent in the organization.
"I think the practices that have been run and the programs they have assigned us have been incredible. I really like how the first few days have unfolded and I just want to continue getting better and better," Pinelli said with a smile on his face.
As I mentioned with Clarke, the off-ice interactions and experiences really do play a big part in the prospects' growth and comfort level with their fellow peers. Pinelli, the first-time camp-goer explained what his exposure to the Kings has been like thus far. "Getting to meet the staff, the other players and seeing the facility is unbelievable. Everything around me is top-notch and professional, I couldn't be happier with where I landed. LA has been a great experience so far and I can't wait for the next few days," said Pinelli.
***
The taste of what life in a Kings jersey is like has been on display all week and should be good reason to believe that Clarke, Pinelli and the other 27 prospects attending camp will be hungrier than ever when the week comes to an end. With a very important scrimmage set for 9:00 a.m. Friday and a Future Skills Competition on Saturday at STAPLES Center, there is a final impression for everyone to make.
You only get one first impression, but you always have the opportunity to leave on a good note. The top two 2021 Kings draft picks will look to do that in the coming days.