After splitting up for separate sessions in the morning, the group of 29 prospects at 2021 Development Camp were all on the ice together Monday afternoon at Toyota Sports Performance Center. This was the first of five days of action, which gives team executives a chance to take a look at some of the best young talents in the organization while allowing the players to showcase what they've worked on both last season and this summer.
I don't want to read too far into anything on day one, but there is a lot of excitement surrounding the forward group, especially among those who were with the organization in Ontario last year.
Alex Turcotte stood out as someone who looked really comfortable with his surroundings. An early first-round selection in the 2019 draft, the Illinois native spent one year at the University of Wisconsin before turning pro and posting 21 points in 32 games with Ontario during the shortened 2020-21 season.
Being back in a familiar place has him feeling good coming into a year where he'll have an opportunity to earn a place on the Kings' roster.
Another attacker who is familiar with the ice at the TSPC is 2019 2nd round pick Samuel Fagemo. After beginning his 2020-21 season in his home country of Sweden, Fagemo joined the Reign for his first action in North America, also appearing in 32 games with Ontario.
The 21-year-old mentioned that he had to get used to playing on a smaller ice surface when he made the transition last season, but now knows that keeping up his pace of play will help him see more offensive chances as he continues to develop.
Player Development Coach Mike Donnelly also spoke about the progress of both of the above forwards. He commented on how coachable Fagemo is and felt that he's gotten better due to his own self-motivation. As for Turcotte, Donnelly felt that his overall effort both on and off the ice has led to a big difference in his game.
After a quick warmup, the afternoon on-ice session began with drills for the first 20 minutes. Once players had their legs moving, the group played a controlled 5-on-5 scrimmage for 15 minutes before closing the day out with 4-on-4 work. Notes on some who stood out during the afternoon below:
– The forwards with previous pro experience were driving play during both the early drills and scrimmages. Two of those, Alex Turcotte and Tyler Madden, have good chemistry together and took over at times.
– Day 1 of camp was the first time we got a chance to see 2021 first-round pick Brandt Clarke with a Kings logo on his chest and he definitely stood out. I can see why there is a lot of great things being written about his overall skill level. He has great instincts and his stick placement while defending broke up a bunch of plays.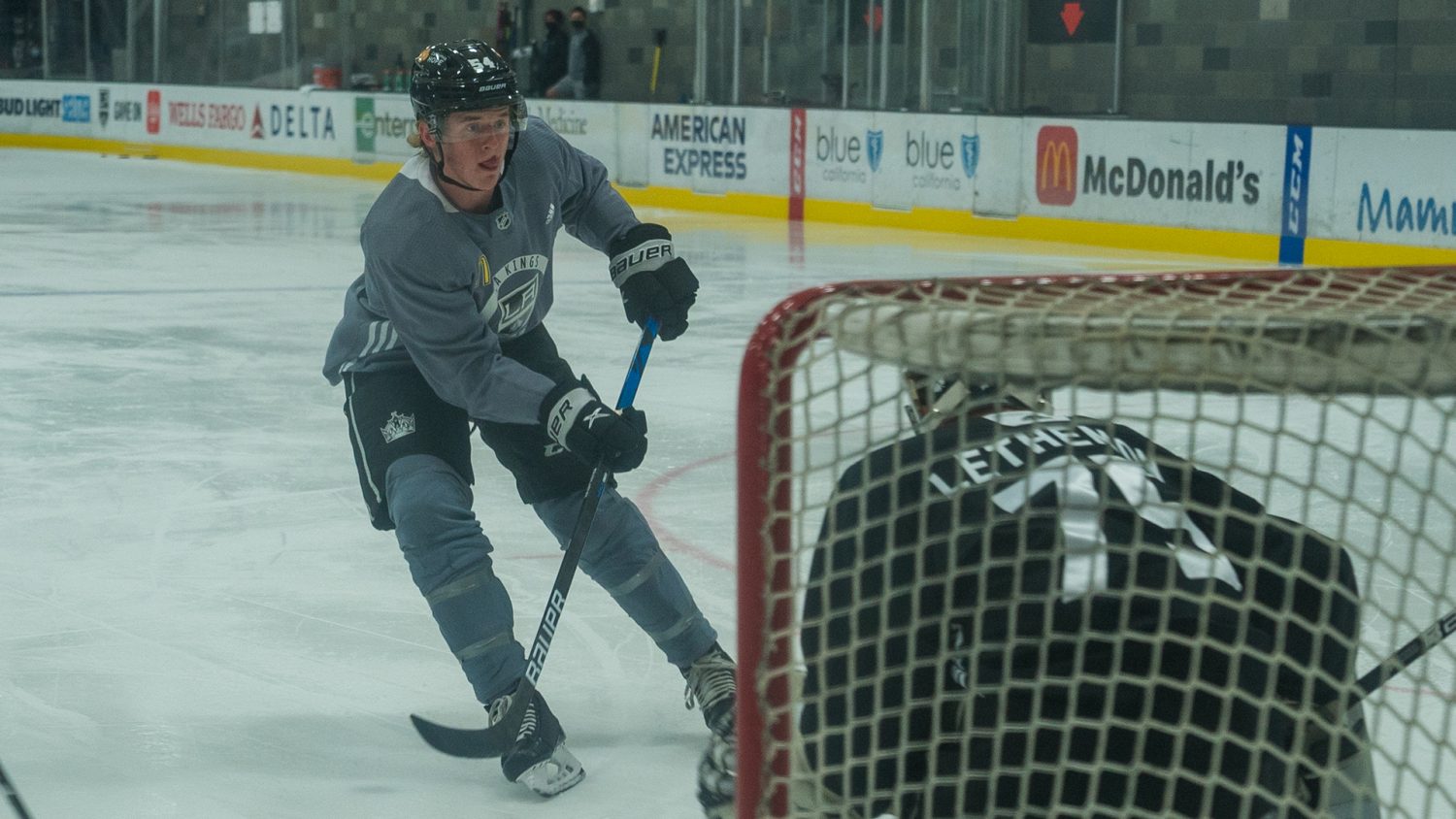 – Goaltender John Lethemon looked very composed and made some great saves throughout the day. The former Michigan State Spartan spent his first pro year in the ECHL last season where he went 13-5-5 and is signed to an AHL contract with Ontario for 2021-22. Lethemon played his best hockey in the postseason last year, posting a .941 save percentage in four appearances.
– At the start of the 4-on-4, Johan Sodergran powered a shot into the net on one of the first shifts to score an impressive goal.
– Lukas Parik, the youngest of the three goalies in camp, moved well in the crease and had a few highlight-reel stops. He'll be making the jump to pro hockey this season after spending his last two seasons in the USHL and WHL.
– I was impressed with rookie Brett Kemp's hands around the net during the afternoon drills. Kemp was an overage forward in the WHL with Medicine Hat last season. On an AHL contract with the Reign this year, Kemp will be looking to make an impact on what is sure to be an experienced roster.
– The 6-foot-4 Andre Lee is hard to miss as one of the biggest players on the ice. He looks comfortable around the net and scored during the 4-on-4 by finishing a play with a nice backhand move. (photo of the finish here)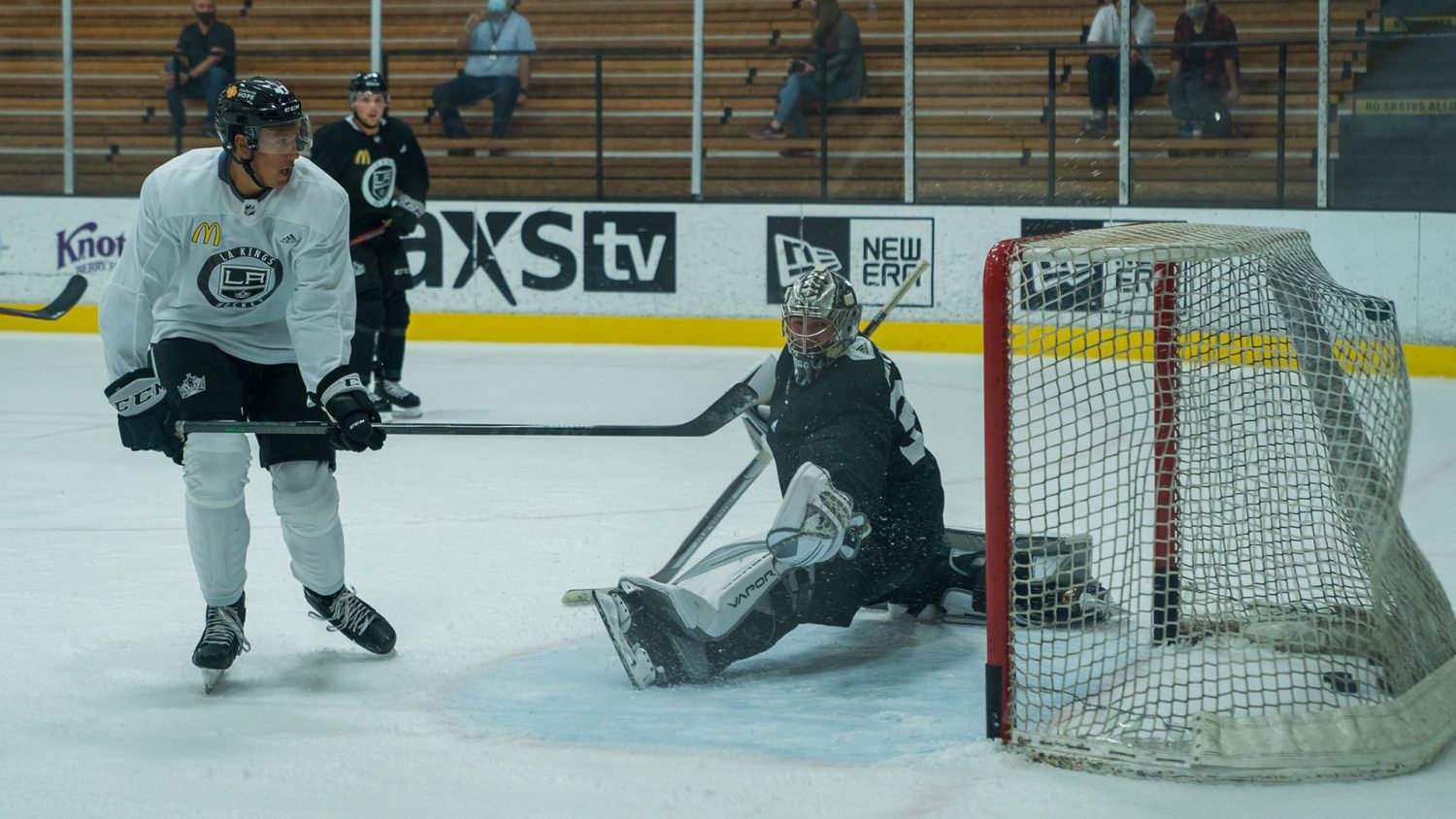 Lead photo/all photos via Trevor Rabone/LA Kings