Announced last week was the news that LA Kings Head Equipment Manager Darren Granger has been selected to represent Team Canada at the 2022 Olympic Winter Games in China. Granger is slated to appear in his second Olympics, after winning a gold medal in 2014 in Sochi.
"I'm very honored again to be asked," Granger said in an interview earlier this week. "I've been lucky enough to work with them a few times, now, and every time you get asked it truly is an honor to work with them."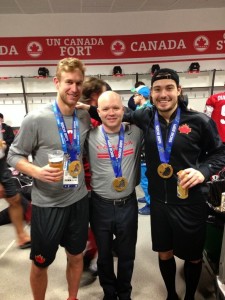 A Manitoba native, Granger has been the Head Equipment Manager with the Kings since 2006, after joining the organization from the Vancouver Canucks. Granger has represented Team Canada on several occasions in addition to the 2014 Olympics, including the World Championships (1999, 2006, 2008, 2010), World Cup of Hockey (1996, 2016), World Junior Championships (1992).
In March 2019, Granger worked his 2000th career NHL game, working in the league since 1992. In 2004, he received the Larry Ashley Award from the British Columbia Hockey Hall of Fame for his dedication and spirit toward the game of hockey.
Now, Granger has been selected to his second Olympic staff, as one of the best in the world at his craft.
"I don't take it lightly," he said. "I haven't counted, but there are 15-20 Canadian [head equipment managers] who do my job in hockey, in the NHL, that could easily be a part of this. All of us that work in the NHL are at the top of our field, so to be considered [now] multiple times, to work these events, I don't take it lightly. It really is an honor."
Always a. special honor to be selected to represent your country, I caught up with Granger yesterday on working his second Olympics, his memories from 2014, having a couple of Kings with him at those games and the unique nature of working an international tournament.
Darren Granger on the special nature of the Olympics, and why that event stands above all others internationally
Yeah, I think so. The Olympics as a whole is just such a big event, something that happens every four years, that everyone watches. When you watch the Olympics, it's not like you're watching luge every day, but everybody watches luge when the Olympics are on. A sport that's not that big, everybody gets hyped up for, no matter where you are in the world. For the international events, it's definitely the top of the field for sure.
On the most memorable moments, aside from the gold medal, from 2014
The Games obviously are pretty special, you get to stay in the village and that's pretty cool. You get to be around the athletes, especially the other Canadian athletes, and you can interact amongst each other with the other athletes and coaches. I think the biggest thing is the people that I'll get to work with, and I got to in 2014. I remember we sat down and did a summer meeting for our staff and we did a picture on a golf course, and I remember looking at it after a going "man, this is the who's who of Canadian hockey at that time." I remember looking at that picture and thinking this is pretty surreal here.
On having Drew Doughty and Jeff Carter with him in 2014 in Sochi
Those guys that are on our team, that's who you're really close to. When you come together for these events, I think the Canadian players and staff become close really quickly and as you go along, you get to know these guys and build good relationships, but when you don't see them every day, it's different. When Carts and Drew could be a part of it, or Jake Muzzin in 2016 at the World Cup, especially when you're winning, it makes it extra special to enjoy it with them. I've been so lucky, I think I've got to watch Drew in every game he's played in professionally and internationally. That's pretty cool, and the other thing is that group from the 2014 games, the core of it, has pretty much stayed together and I think that group is pretty close. You talk about Drew, Crosby, Price, guys like that, that have been around it for so long, hopefully a lot of those guys are back in camp for these Olympics.
On the challenges of working with players you don't see day-to-day during the season, and the unique nature of international tournaments
At times – I think even these [coming Olympics], realistically we're probably going to wind up with more than half that maybe I haven't worked with before. We'll get together with their team, their equipment manager, see what their needs are, what they like. I think the biggest thing is that every guy we get, they're the top guy on their regular NHL team, and coming in with that is maybe a little bit more time consuming because they're used to a certain level of service and we're trying to do whatever we can. That's what probably makes it the most [difficult] is trying to know these guys and what they need, make sure they can perform at the level they're used to.
On where his gold medal from 2014 is now
I have it in a safe actually, I don't really have it anywhere cool [laughs]. I actually pulled it out the other day for the first time in what had to have been a couple of years. It's pretty special to be able to be a part of those things, and I'm lucky that I have such a great staff in LA that allows me to do it. There's going to be times where I'll have to leave the Kings to do these events, or maybe I have to spend some time on the phone, those types of things to prepare for the Games. Without the guys that work around me, with both the Kings and the Reign, I could never do this, that's for sure.