The NHL announced start times for the 2021-22 season, including all 82 LA Kings games. The Kings are slated to begin their 2021-22 campaign on Thursday, October 14 at 7:30 PM against the Vegas Golden Knights at STAPLES Center.
The Kings will play 29 of their 41 home games beginning at 7:30 PM, the most common start time on the schedule. The Kings also have seven, 7:00 PM start times, three 1:00 PM start times, one 6:30 PM start time and one 4:00 PM start time.
The full schedule, now including start times, is shown below –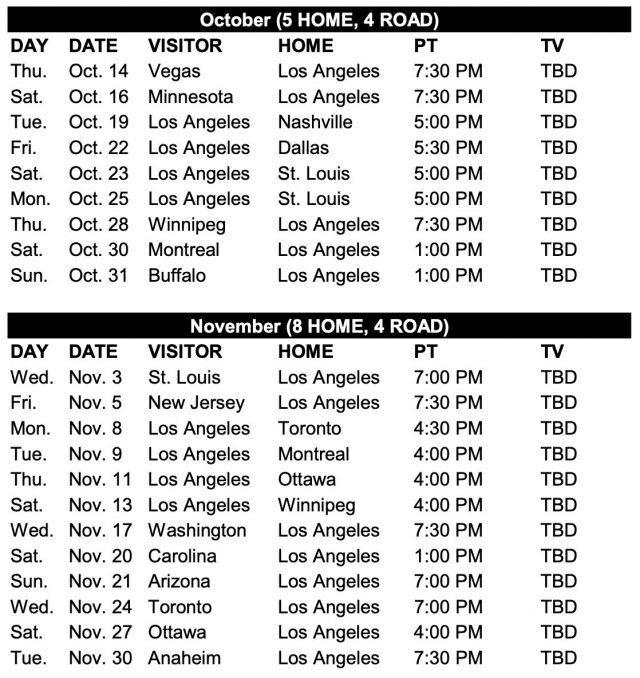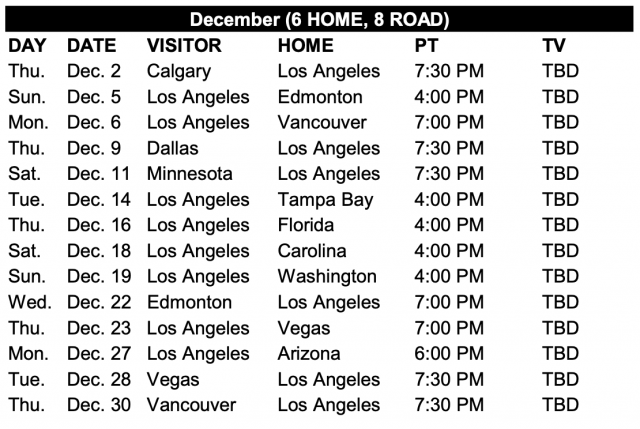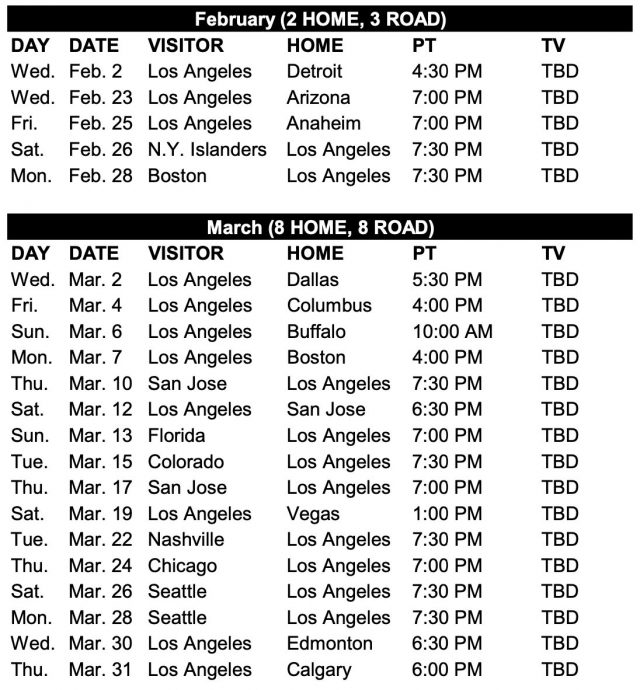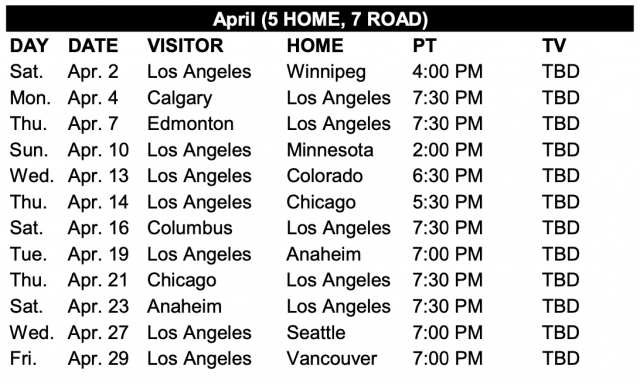 The Kings also announced yesterday that single-game tickets are on-sale now for all 41 regular-season home games. Fans can purchase tickets HERE for all regular-season home games.
Additionally, the Kings play twice at STAPLES Center as part of the club's seven-game preseason schedule, hosting the Arizona Coyotes on October 5 at 7:30 p.m. and the Anaheim Ducks on October 9 at 7:30 p.m.
The Kings will play (approximately) nine matinee games this season, depending on how you view a matinee game. For the purposes of this article, we'll say any time before 3 PM Local. All times listed below are in Pacific time.
Saturday, October 30 vs. Montreal – 1 PM
Sunday, October 31 vs. Buffalo – 1 PM
Saturday, November 20 vs. Carolina – 1 PM
Monday, January 17 @ San Jose – 1 PM
Saturday, January 29 @ Philadelphia – 10 AM
Sunday, January 30 @ Pittsburgh – 10 AM
Sunday, March 6 @ Buffalo – 10 AM
Saturday, March 19 @ Vegas – 1 PM
Sunday, April 10 @ Minnesota – 2 PM
*Note that the game on Sunday, April 10 was originally scheduled for Saturday, April 9 in Minnnesota, the only date-change on the schedule released today.
As always, all times are subject to change. Still to be released are the 2021-22 Promotional Schedule, and the 2021-22 Broadcast schedule. The broadcast schedule will include both local (Bally Sports West) and national (ESPN, Turner Sports, Sportsnet and TVA Sports) television coverage. All games will be available on the LA Kings Audio Network (iHeartRadio) along with select home games aired in Spanish on KWKW 1330 AM TU LIGA.
Both will be released by the club at a later date.
The league also included the following note regarding the 2022 Olympics, which are currently accounted for in the schedule, but not official for NHL players at this time.
Olympic Break: As a reminder, no final agreement or decision has been made to this point regarding the possible participation of NHL Players in the 2022 Beijing Winter Olympics. Talks remain ongoing. Subject to reaching agreement with the NHL Players' Association and the International Ice Hockey Federation on all outstanding issues, including appropriate COVID-19 insurance for NHL Players, the League has agreed, per the Collective Bargaining Agreement, to pause from Feb. 7-22, 2022 to accommodate NHL Player participation in the Olympic Games. The NHL and the NHL Players' Association will retain full authority to decide not to participate should COVID-19 conditions worsen or otherwise pose a threat to the health and safety of NHL Players, or for any other reason that may warrant such decision. In the event NHL Players participate in the 2022 Winter Olympics, the NHL regular season will resume on Wednesday, Feb. 23. If, for whatever reason, there is no NHL Player participation in the Olympics, a revised Regular Season schedule will be released which, to the greatest extent possible, will adopt the dates and games reflected in the schedule contemplating Olympic participation.