As the NHL Draft approaches this weekend, we took a look here on LA Kings Insider over the past couple of weeks at draft-eligible prospects who could be selected at eighth-overall. All eight of those players held media availabilities earlier this month.
Today, with the draft just two days away, we look at six other options for the Kings, with varying degrees of interest and potential availability.
Goaltenders
Jesper Wallstedt
Vitals
Height – 6'3"
Weight – 225 Lbs.
From – Västerås, Sweden
DOB – November 14, 2002
2021-22 Season – Luleå (22 games, 12-10-0, 2.23 GAA, .908 SV%)
Position – Goalie
Summary
The majority of the hockey world has learned about Jesper Wallstedt throughout the course of the season, as the number-one ranked international netminder. Wallstedt represented Sweden at the 2021 World Junior Championships, as an underaged player, and has caught the eyes of scouts across the NHL. Following the WJC, Wallstedt went on to play in Sweden's top league, the SHL, as an 18-year-old (which in itself is astounding) and started 22 games for Luleå.
Wallstedt has been [raised as a goalie for how is quick laterally, strong on his skates, strong technically, and finally, someone who never gives up on a play. He also plays with a calm demeanor, possesses a lightning-quick glove hand, and can handle the puck efficiently outside of his crease. Wallstedt has stout attributes across the board, which gives him the makings of becoming a franchise goalie for many years to come.
Reviews
Danny Tiffany, Dobber Prospects
Wallstedt uses his big frame to his advantage and blends that with really good positioning. However, it's Wallstedt's IQ and understanding of plays before they happen that make him the X-Factor every time he's between the pipes."
Bob McKenzie, TSN
Those who prefer Wallstedt over Cossa cite the Swede's elite hockey sense and more refined technical game.
Potential Fit
If Wallstedt is available when the Kings select eighth, you can make certainly make a case for the Swedish goaltender to be picked by LA. Yes, the Kings do have a number of goalies in their development stage that have promising futures such as Matthew Villalta, Lukas Parik, Jacob Ingham, David Hrenak and Juho Markkanen, but Wallstedt seemingly has the full package. He is a goalie who is projected to ascend into a starting role when he eventually enters the NHL down the road. Wallstedt could make for an enticing pick at eight if Rob Blake, Mark Yannetti and company believe he's the franchise goalie over the next decade.
Sebastian Cossa
Vitals
Height – 6'6"
Weight – 212 Lbs.
From – Hamilton, Ontario, Canada
DOB – November 21, 2002
2021-22 Season – Edmonton Oil Kings (19 games, 17-1-1, 1.57 GAA, .941 SV%)
Position – Goalie
Summary
The first thing that every scout and analyst is going to talk about when it comes to Sebastian Cossa is his size and frame. Cossa is a giant in net that stands 6'6" and weighs over 210 Lbs, the modern-day build desired by many franchises. With his size, Cossa fully uses it to his advantage and maintains control of his body, while also staying agile and aggressive.
Cossa's season, and frankly past two seasons, are very interesting and hard for scouts to analyze. Cossa has played for the Edmonton Oil Kings in the WHL for the past two seasons and has had extreme success. In his two years, Cossa holds a record of 38-7-4 and had a save percentage over .941 this past season. What makes Cossa's numbers so intriguing is how much one can read into them. The Oil Kings were stacked up front, and at times Cossa didn't face the toughest competition because of it.
With that said, scouts still believe Cossa has the makings to not only be a first-round pick, but a goalie that can change a franchise when he takes the net. At 6'6" with mobility, it's hard not to like what you see when you watch him.
Reviews
Danny Tiffany, Dobber Prospects
It's Cossa's raw potential that is so intriguing. At 6'6 Cossa displays really good tracking of the puck and reacts well to first shots. His hands are active and seemingly never drop when he drops, an impressive feat.
Bob McKenzie, TSN
The scouts who like Cossa better than Wallstedt love his combination of size and athletic prowess.
Potential Fit
Although Wallstedt is projected to be the first goalie off the board, analysts have consistently stated that it would not be shocking to see Cossa go ahead of the Swedish goalie. The debate between the two goaltenders all comes down to the drafting team's preference in style. Cossa presents a bigger frame and more aggressive, agile game. Wallstedt presents a cool, calm and collected demeanor with great instincts and high IQ for the game. Take your pick.
Defensemen
Owen Power
Vitals
Height – 6'6"
Weight – 213 Lbs
From – Mississauga, Ontario, Canada
DOB – November 22, 2002
2020-21 Season – University of Michigan (26 games, 3-13=16)
Position – Defenseman
Summary
Owen Power is the presumptive top overall selection by many evaluators in the upcoming NHL Draft, and it is extremely unlikely he'd be available at number eight. Power, who was a part of an impressive freshman class at the University of Michigan, tallied 16 points as a first-year collegiate player and went on to win a gold medal with Team Canada at the IIHF World Championships in Latvia earlier this summer.
Power brings an outstanding combination of size and skill, combining his six-foot-six frame with hockey sense, mobility and an ability to move the puck well, in both ends of the ice. Defensively, Power uses his frame to his advantage, with his hockey sense a touted ability both offensively and defensively. Though he began the World Championships outside of the regular rotation, Power's play earned him a Top-4 role by the end of the tournament, touting his success against men in his draft year. All good signs.
Reviews
Chris Peters, Hockey Sense
I think it's such a unique size profile, with that six-foot-six, 215-pound frame, and he moves so well with it. Today, you can't just be big, you have to be big, smart and be able to move the puck and he does all of those things well. He started the season well and got better and better as the season went on, he was outstanding for Canada at the World Championships.
Tony Ferrari, McKeen's Hockey
A big two-way defender who is an elder statesman for the draft class. Power has the size and skating ability that coach's dream of in the modern day blueliner. Defensively stout, offensively productive.
Potential Fit
Power is really a fit wherever he is selected, and obviously would make a nice addition on the left-side of the Kings defensive prospect pool. Power is expected to be selected well before the Kings are on the clock on Friday, but for argument's sake, adding a 6-6, yet still mobile blueliners into the prospect pool would fill a need in terms of both position and quality. Power is rated so highly for a reason and would be a natural fit wherever he is selected.
Forwards
Chaz Lucius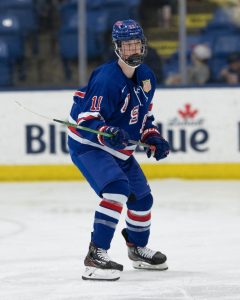 Vitals
Height – 6'0"
Weight – 172 Lbs.
From – Grant, Minnesota
DOB – May 2, 2003
2021-22 Season -USNTDP (25 games, 26-12= 38)
Position – Center
Summary
Chaz Lucius doesn't just hold the best name in the draft, but also holds some of the best offensive abilities. Unfortunately, Lucius didn't have the whole season to showcase them. The Minnesota-native missed the first half of the USNTDP season recovering from a lower-body injury and then also missed the U18 World Championships stemming from COVID-19.
While he was on the ice, Lucius was lethal. Racking up 38 points (26-12=38) in 25 games, the center is another elite goal scorer. Lucius' arsenal consists of the ability to score in any way possible. With the puck, Lucius' hockey IQ is impressive, as he can handle the puck in tight, below the goal line, cycling the puck and around the net. With a solid frame and his skating already under construction, the right-hander is on track to only get more dangerous.
While the major talking points on Lucius are his goalscoring abilities, he's not just a one-trick pony. Lucius also has great instincts without the puck on both ends of the ice.
Reviews
Mike Morreale, NHL.com
Lucius has one of the hardest shots of the 2021 draft class… A mobile and relentless player around the net.
Tony Ferrari, Dobber Prospects
His ability to score in a variety of ways is special whether it's a big one-timer or a cheeky move in front of the net. His hands are flashy and there are moments where the young NTDP star takes you out of your seat.
Potential Fit
Drafting Lucius would give the Kings another sizable center with high-end offensive skill. Scouting reports on Lucius have the center being a potential 30+ goal scorer if he can stay healthy. Who wouldn't want that? If you're looking at the current Kings roster you'd likely see a large collection of centers, though it's always easier to move a player out to the wing, than in from the wing. Lucius presents an interesting profile that will likely slot him somewhere in the top end of the first round of the draft.
Brennan Othmann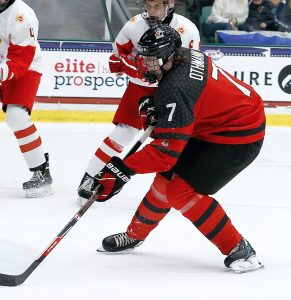 Vitals
Height – 6'0"
Weight – 174 Lbs.
From – Scarborough, Ontario, Canada
DOB – January 5, 2003
2021-22 Season – EHC Olten (34 games, 7-9=16)
Position – Left Wing
Summary
Brennan Othmann was yet another victim of the OHL's season cancellation. The Flint Firebirds forward was forced to find ice elsewhere when the league's season was a no-go. So Othmann, like Mason McTavish, packed his bags and went to Switzerland to join HC Olten of the Swiss League. The all-out, goal-scoring threat did more than hold his own against grown men, putting up 16 points (7-9=16).
Othmann has one of the best shots in the draft and with a combination of a quick release, accuracy and great vision, Othmann has keen-eye for having the puck on his stick in prime goal-scoring situations with a good conversion rate to go along with it. Othmann's offensive mindset isn't just valuable because he can score; he is also a creative and aware playmaker. The wing presents high-end vision, skill and all of the offensive tools to be successful in the NHL.
Reviews
Mike Morreale, NHL.com
Othmann is a two-way difference-maker with very good puck skills and has the ability to make himself available in dangerous scoring areas. In addition to his strong play in the Swiss League, he scored six points (three goals, three assists) in seven games to help Canada win the U-18 World Championship, including a goal and seven shots on goal in a 5-3 win against Russia in the championship game.
Steve Kournianos, The Draft Analyst
A nasty in-your-face competitor with a plus-plus shot, Othmann may not have the measurements to be called a "power forward", but don't tell that to the growing list of victims who he's plastered to the ice.
Potential Fit
Drafting Othmann at eight would likely be earlier than some expect, but he has risen in the draft boards as of late. Othmann's offensive talent is top-notch and at the top of the 2021 draft class. With projections believing his game will transition well into the NHL and be valuable on both ends of the ice, the two-way responsible winger could be a reasonable option around where the Kings are selecting.
Fabian Lysell
Vitals
Height – 5'10"
Weight – 172 Lbs.
From – Göteberg, Sweden
DOB – January 19, 2003
2021-22 Season – Luleå (26 games, 1-2=3) Frolunda J20 (11 games, 3-10=13)
Position – Right Wing
Summary
Don't take Fabian Lysell's stats from this past season seriously, it doesn't tell the whole story. As a 17-year-old, Lysell impressively played in Sweden's top league, the SHL. On the downside, his minutes were restricted with a fourth line role. What you can take away from Lysell's season if that a 17-year-old player against grown men in Sweden, though he didn't match that with raw production.
At 5'10" and a touch over 170 Lbs., Lysell separates himself from the pack with his elusive skating and puck skills. With great vision and the hockey IQ to go along with it, Lysell has the ability to be a game-changer. With a good transition game, Lysell has the ability to both finish and find passing lanes that not many know are there. After watching Lysell play, at times, it can look like he has the puck is on a string.
Defensively, Lysell is also ahead of his class. Though slightly undersized and not the strongest, Lysell makes up for it with his ability to read plays and break up the opposition's possessions with an active stick.
Reviews
Sam Cosentino, Sportsnet
One of the most skilled players in the draft class, but also one of the most inconsistent.
Tony Ferrari, Dobber Prospects
Do you like pace? Lysell is nearly unmatched in that aspect. He has impressive puck skills, a willingness to attack the opposing defense, and a shot that doesn't get the love it probably deserves.
Potential Fit
A Lysell addition to the Kings organization would be interesting because he provides an offensive style, along with some serious wheels, that creates a new type of profile for the Kings. At right wing, the playmaking Swede really has an ability get others the puck in prime scoring opportunities. No organization would be opposed to that addition.
***
The 2021 NHL Draft is scheduled for July 23 and 24. Following the addition of Victor Arvidsson in exchange for a 2021 second-round pick and 2022 third-round pick, the Kings now have seven picks in this year's draft. Over the next few weeks, we'll be showcasing several draft-eligible prospects here on LAKI, beginning with those selected by the NHL for media participation last week.
For more draft-eligible prospect content, you can find that on All The Kings Men as Jack Jablonski is joined by draft experts to break down the 2021 Draft class in segmented groups.
Past Profiles
The Michigan Men – Kent Johnson & Matthew Beiners
Sweden's Finest – Simon Edvinsson & William Ecklund
Great White Northern Production – Dylan Guenther & Mason McTavish
The Boys On The Backend – Brandt Clarke & Luke Hughes