The World Championships began with 10 LA Kings and we're down to nine as we've reached the quarterfinals. The United States, Finland and Canada have all advanced from pool play to the knockout round, while Team Sweden finished fifth in Pool A and did not advance to the knockout stages.
With that, Adrian Kempe's tournament is completed, but the Kings will have nine players across three teams in the hunt for a medal.
First, the knockout round schedule –

Quarterfinals – Thursday, June 3
United States vs. Slovakia
Finland vs. Czech Republic
Canada vs. Russia
Germany vs. Switzerland
Semifinals – Saturday, June 5
Gold & Bronze Medal Games – Sunday, June 6
Pool Play Recap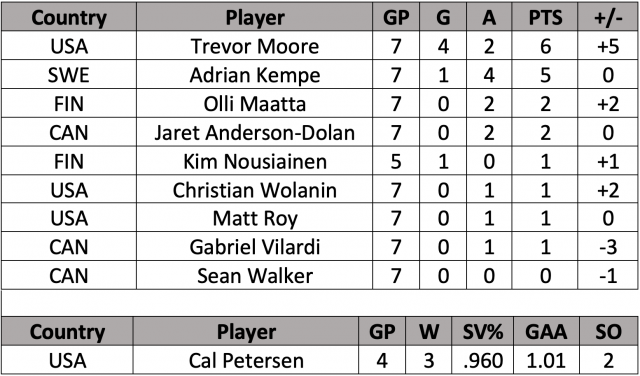 Moore and Petersen are placed within the tournament's leaders, with Moore tied for fourth among all skaters in goals, and Petersen leading the tournament in save percentage and shutouts, while ranking a close second in goals against average. Petersen is the only goaltender thus far with multiple shutouts, after blanking both Kazahkstan and Germany across his two starts. Petersen has allowed just four goals across his four games played.
Petersen posted his second shutout with a 33-save effort against Team Germany, with the Americans outshot by more than a 2-to-1 margin, to help secure a big victory. Petersen was named as his team's player of the game for the second time in the tournament with the victory and appears set to lead Team USA in net during the quarterfinals.
"We knew they were going to push, being down, so that was expected and they're a team that moves the puck really well, they get a lot of guys in front of the net, so I knew they were going to try and do that, clog up the middle, get a lot of screens and rebounds," Petersen said, after the win over Germany. "Just one of those things, team did a really good job of boxing out guys, I saw a lot of shots which is great, and I was able to control those rebounds that I saw. It was a group effort shutting it down and getting the win in a tight game."
Cal Petersen.
That's it. That's the tweet. @usahockey #IIHFWorlds #USAGER @LAKings pic.twitter.com/k3fiicX0nX

— IIHF (@IIHFHockey) May 31, 2021
Kempe finishes his tournament tied for Team Sweden's lead in points and second in assists. Moore ranks third on the United States in total scoring, trailing only his linemates Conor Garland (ARI) and Jason Robertson (DAL).
Though Team Canada has struggled, and the three Kings on the roster have had lower offensive figures, both Jaret Anderson-Dolan and Gabe Vilardi had key assists in helping the team sneak into the knockout round. Anderson-Dolan assisted on the game-winning goal in a must-win over Kazahkstan, earning Player of the Game honors, while Vilardi assisted on the game-opening goal against Finland, helping Canada earn their final point to secure the fourth seed in Group B.
It's Goal Perfetti time, of course! 🚨

Canada takes the lead! 🔥 #KAZCAN #IIHFWorlds @HockeyCanada @NHLJets pic.twitter.com/KmCyndqCZF

— IIHF (@IIHFHockey) May 28, 2021
For Team Finland, Maatta assisted on the overtime game-winning goal against Latvia, with a cross-ice feed to teammate Anton Lundell. Maatta's helper came just four seconds from what would have been a shootout, as Finland locked up a Top 2 position in Group B.
WHAT. A. FINNISH!!! 🇫🇮🔥 #IIHFWorlds #FINLAT @leijonat pic.twitter.com/VdACuuh6ts

— IIHF (@IIHFHockey) May 30, 2021
The United States are back in action tomorrow morning at 6:15 AM Pacific, while Canada and Finland play their respective quarterfinal matchups tomorrow at 10:15 AM Pacific.
Photos