When Yutaka Fukufuji made his Kings debut in 2007, he became the first player born in Japan to play in an NHL game. Some 15 years before that, Jim Paek – who was born in South Korea – skated in 18 games with the Kings as part of his five-year playing career in the league.
As the Kings celebrate Asian American and Pacific Islander Heritage Month throughout May, former Kings goalie Jamie Storr, who is half-Japanese, recently participated in a special panel hosted by AEG celebrating the accomplishments of AAPI athletes.
Storr played in 219 NHL games with the Kings and Carolina Hurricanes and also played professionally in Europe.
Now an El Segundo resident, Storr was selected in the first round of the 1994 NHL Draft by the Kings, seventh overall. He made his debut during the 1994-95 season and with the Kings, he won as many as 19 games in a season and he also registered 16 total shutouts as a member of the organization. Storr also saw action with LA during the Stanley Cup playoffs in three separate seasons.
Overall, Storr ranks fifth all-time with the Kings in games played amongst goaltenders, fifth in wins, third in shutouts, third in goals against average and second (to Jonathan Quick) in save percentage. He was named to the NHL All-Rookie Team twice, in both 1998 and 1999.
Jamie talked about his background during the unique conversation that also featured golf champion Michelle Wie West, tennis star Michael Chang, and Dave Roberts and Scott Akasaki with the World Champion Dodgers.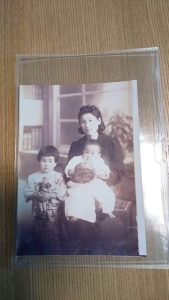 On the design of his mask which features a tribute to his mom and his Japanese heritage
My mother was born and raised in Tokyo, she came to North America when she was 29 years old. She met my father and they had my brother and myself. Having a mother from Japan was a big part of our upbringing, it was pretty rare and it was odd for me as I look more like my father. When I was young, we would travel to Japan and visit family there and stay there for one or two months in the summer. My grandfather spoke little English, but I can remember him saying 'he doesn't look anything like us, he looks more white than Asian. That was a big part of my growth. My mother spoke no English when she came here, she comes here and then suddenly becomes a hockey fan. My dad tells stories of coming home from work and there she is, a little 90-pound Japanese lady sitting on the couch and screaming at the TV. Keep in mind she had never seen a game before in her life, it was a great opportunity for me to embrace my heritage when I was growing up in the sport. I found so many positives that helped make me who I am. My mother's great grandmother was a female samurai and her story dates back to where she successfully fought with a Naginata to suppress the turmoil of a peasant rebellion. My mother would remind me as a kid that I have something special inside me that will allow me to stay strong. For my brother and me, it was part of us believing we had a bright future ahead of us despite being from a small town. Unfortunately, my mother passed away during my second year with the Kings, it was a big shock and I decided to honor her with a flag and her initials on the back of my helmet. The design also included my last name in Japanese lettering and Japanese dragons. I felt it was a way to stay in touch, a way to stay in tune with where I came from. There are a lot of obstacles you must go through to get to where you end up. Canada is diverse, but hockey wasn't when I was growing up. You could feel isolated being a minority. You must overcome obstacles when you don't look like everyone in the dressing room, or when your parents don't. It is part of growing up but honoring the heritage is something I feel proud of. I went back to Japan two years ago and it has been an amazing turnaround.
On working in the Los Angeles community:
As a player with the Kings I was fortunate we had someone in the front office who was also Japanese. Kris Nakamura, who worked for the Kings community relations department, had a good relationship with both myself and my wife who is half Chinese and half German. Kris understood some of the dynamics with how we can connect with the Asian community in Los Angeles. We decided to get Asian-American kids involved, one of the events we hosted featured a lot of kids getting creative painting their own goalie masks. The goal was [for them to] design a mask featuring their heritage and it was a great experience. We hosted another event where they had to research other players in the NHL of Asian descent. Later we brought in a sushi chef and they taught everyone to make sushi. After I retired I was coaching here and one of the kids told me he was at that event in 2001 and showed me pictures. Later, when my son was playing for the Jr Kings and I was coaching, a mom of one of his teammates had a photo of me holding him as a one year old after a Kings practice. You realize you are in the sport, but you don't realize the impact it makes especially if you are of Asian descent. After retiring, you get a chance to look back at all those amazing times that you had playing, some of those memories are the ones you had a small hand in giving someone from your heritage or background hope to follow in your footsteps.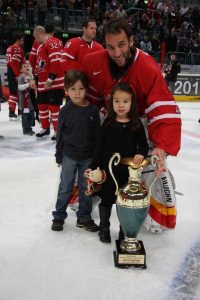 On getting Asian-Americans involved in the game
The Kings and the Ducks for that matter have both done a great job of focusing on youth hockey here. That is the future fan base, so you build the programs you build the facilities. Those are the kids and the families walking around STAPLES Center now. A lot of Asians in Los Angeles, I have found, who have gravitated to hockey have quickly realized to be an effective player you have to put the time and work in. When I was coaching my son's team we had players of Korean descent, of Chinese descent, of Japanese descent, of Pacific Island descent and they all had strong work ethics. I coached large numbers of these kids over the years and it has been positive. I have been in Canada the past two seasons and when I grew up no one played basketball, it snows 8 months of the year, but coming back a couple years ago when the Raptors won the NBA Championship, you can see as many kids playing basketball as you would hockey. Getting the word out in all of the communities helps build relationships and exposure for all sports. They will want to be the next Michael Chang or Dave Roberts or Michelle Wie. They will carry the torch next.
On changing hate sentiment in the Asian community
I think one thing all professional organizations can do is to continue to educate. Educating on what is acceptable and what is not will help people think the next time they say something in front of a teammate or staff member creating a safe environment for everyone to enjoy. I don't think most people are racist; they are more ignorant to what is acceptable and what is not. That is my belief. I came back to Canada two years ago to run a junior program after being gone for over 20 years. I was surprised that not a lot had changed from when I played Junior hockey. Stuff that was tolerated 20 years ago still seems to be tolerated today and that is not right, this should not be happening. In California, I know our kids are better educated regarding diversity now more than we ever were and being educated helps them make better decisions. In today's society with social media, you cannot get away with anything. It can affect your life, it can ruin your life. In hockey, some people will never work again because of past comments. Education is a huge benefit to get rid of this.