WHO: Los Angeles Kings (21-26-6) vs. St. Louis Blues (24-20-9)
WHAT: NHL REGULAR SEASON GAME
WHEN: Monday, May 10 @ 7:00 PM Pacific
WHERE: STAPLES Center – Los Angeles, CA
HOW TO FOLLOW: VIDEO: Bally Sports SoCal – AUDIO – iHeart Radio – TWITTER: @DooleyLAK
TONIGHT'S MATCHUP: The Kings hit the ice tonight for the final time at home this season, as they conclude their season series against the St. Louis Blues.
HEAD-TO-HEAD: The Kings have found more success this season against St. Louis than any other opponent, with a 5-1-1 record versus the Blues entering this evening's action. Forward Anze Kopitar leads all Kings skaters with ten points (4-6-10) from seven head-to-head games to date, his highest total against any opponent this season. For the visitors, forwards David Perron (4-4-8) and Ryan O'Reilly (2-6-8) lead the Blues against the Kings this season, with both over a point-per-game from seven games played.
KINGS VITALS: The Kings returned to the ice this morning for a morning skate, after the team did not practice yesterday after the back-to-back versus St. Louis.
In terms of the goaltenders, Cal Petersen is expected to get the nod again tonight against St. Louis, with Jonathan Quick not skating again today, which hasn't since suffering an upper-body injury last week in Arizona. Petersen made 61 saves on 67 shots across the two games versus Colorado over the weekend, just the second time this season he's started back-to-back nights. The 26-year-old has been quite successful in his NHL career versus the Blues, with a 3-1-1 record, a .941 save percentage and a 1.60 goals against average from five career starts.
McLellan said this morning that the process of seeing how Petersen sets himself in as a number-one goaltender has begun already and will continue here down the stretch.
"I think that started awhile ago," McLellan said. "It's not just these last five games that he'll play, I don't what we'll do in the back-to-back in Colorado, we'll figure that out fatigue wise, but this transition has happened earlier. There were some nights he played well, and some nights I'm sure he'd like to have back, so he's still a goaltender that's evolving."
The first real deviation into that mindset came in early-to-mid April, when Petersen played five consecutive games from 4/12 – 4/24, including starting on back-to-back nights for the first time this season. Those two games were, at the time, close to must wins for the Kings, and Petersen playing both was important in that process. After he and Jonathan Quick split the six games following, Quick's upper-body injury has paved the way for Petersen's showcase to continue, which it sounds like it will in the season's final three games.
McLellan has noted that Petersen is beginning to feel the league out a bit, but at the same time, the league is feeling him out too, something that happens with every goaltender as they grow into a full-time NHL'er. That is true for Petersen as well. The Kings believe that they have a good one in the Iowa native, as he continues to grow into what the organization believes will be a number one.
"We feel we have a really good goaltender there for a lot of years to come," McLellan added. "I think, as you improve, as a forward, defenseman, goaltender, coach, whoever it might be, you grow in increments, and you've got to push through to the next level on a regular basis. Do what you need to in your increment and then move up to the next one, and then move up to the next one. We're trying to push Cal through the next increment and make sure that he can elevate and compete as a number one consistently."
In terms of the group in front of Petersen, McLellan said he does not expect any changes to the lineup from what we saw on Saturday against Colorado, which is detailed below.
Kempe – Kopitar – Athanasiou
Iafallo – Vilardi – Andersson
Moore – Kupari – Wagner
Lemieux – Anderson-Dolan – Grundstrom
Anderson – Doughty
Bjornfot – Roy
Maatta – Walker
Petersen / Grosenick
BLUES VITALS: The Blues officially locked in their playoff fate on Friday, with an overtime loss against Vegas, paired with the Kings losing in regulation to Colorado. St. Louis can climb no further than the fourth seed and will play whichever of Vegas or Colorado earns the top seed in Round 1, currently appearing more likely than not to be Vegas.
As such, the Blues are in preparation mode, getting ready over their own final three regular-season contests for postseason action.
Per Jeremy Rutherford of The Athletic, here is tonight's projected lineup for St. Louis –
Barbashev – O'Reilly – Perron
Schwartz – Bozak – Schenn
Hoffman – Thomas – Kyrou
Clifford – Joshua – Sanford
Krug – Faulk
Scandella – Parayko
Walman – Bortuzzo
Binnington
One More Time At Home
Tonight's game marks the end of the 2020-21 home slate for the LA Kings, with the season's final two games coming in Colorado.
Success at home has been one of the biggest areas of regression from 2019-20, with the Kings entering tonight's action with just 9 wins from 27 home games, one of four teams in the league with single-digit home victories this season. The Kings finished last season with a .588 winning percentage at home, a mark that has fallen to .407 entering tonight's home finale.
Regardless though, the Kings will play one last time tonight in front of their limited capacity crowd at STAPLES Center, with a small opportunity to show their appreciation for the support one last time. The Kings are also expected to have team awards released at some point, voted on by a variety of different groups.
For those who might be there, it's one final opportunity to catch a game before the offseason ahead. For those not, well, it's just the last time to see the dark jerseys.
Awards Season
Two players within the Kings organization were recognized today – Matt Roy with the big club and Alex Turcotte with the Ontario Reign.
Roy was selected as the Kings' nominee for the Bill Masterton Memorial Trophy, awarded to the NHL player who "best exemplifies the qualities of perseverance, sportsmanship, and dedication to ice hockey."
More on Roy's selection HERE, updated from earlier with quotes from the man himself, as well as from Todd McLellan.
Turcotte, on the other hand, has been named as the AHL's Player of the Week for the week ending on May 9.
Turcotte tallied six points (3-3-6) from three games played, with at least one in each game. After an assist on Wednesday and two more on Friday, both Ontario victories over San Diego, Turcotte collected the first hat trick of his professional career yesterday, with three goals in a 7-5 defeat against Colorado.
"A lot of hard work by him and he'd probably be the first one to admit that he was frustrated by some pucks not going in," Ontario Head Coach John Wroblewski said yesterday, of Turcotte. "He's put in the extra work in the shooting room, his practice habits have been very strong lately and I couldn't be happier for him."
Turcotte has now tallied 21 points (6-15-21) over 31 games played during his first professional season and like many of the younger forwards on the team, has seen a dramatic uptick in performance and production during the second half of the season.
The Reign have two games remaining in the 2021 regular season, coming in Tucson this weekend, before they enter the Pacific Division Playoff Tournament next week in Irvine.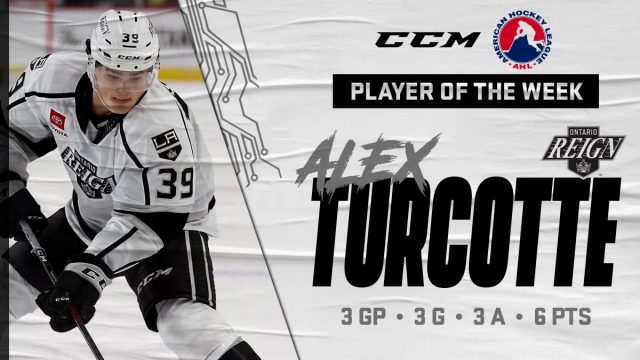 Kings and Blues, coming up tonight at 7!