WHO: Los Angeles Kings (21-25-6) vs. Colorado Avalanche (35-13-4)
WHAT: NHL REGULAR SEASON GAME
WHEN: Saturday, May 8 @ 7:00 PM Pacific
WHERE: STAPLES Center – Los Angeles, CA
HOW TO FOLLOW: VIDEO: Bally Sports West – AUDIO – iHeart Radio – TWITTER: @DooleyLAK
TONIGHT'S MATCHUP: The Kings and Avalanche complete their back-to-back set tonight, with the final game between the two teams at STAPLES Center this season.
HEAD-TO-HEAD: Forward Anze Kopitar leads all Kings skaters with five points (0-5-5) from five head-to-head games played this season against Colorado. Forwards Gabriel Vilardi and Adrian Kempe each have two goals against the Avalanche this season, with Vilardi tallying last night. Colorado forward Mikko Rantanten scored on the power play last night, for his team-leading fourth goal and seventh point against the Kings so far this season.
KINGS VITALS: Following the back-to-back, the Kings did not hold a morning skate today.
Goaltender Cal Petersen made 34 saves on 37 shots last night, as he fell to 0-4-0 versus Colorado this season, despite very solid splits (.932 SV%, 2.55 GAA). Petersen has started games on consecutive days once this season, on April 23 and 24. Goaltender Jonathan Quick is currently considered day-to-day with an upper-body injury, but has not been officially ruled out, while Troy Grosenick is also an option, after serving as the backup yesterday.
On the backend, the Kings seem to have found their preferred group of six, with the six blueliners who dressed last night playing their tenth consecutive game together.
Up front, expect to see at least one change, with yesterday's game against Colorado likely serving as Quinton Byfield's final game in the NHL this season. Byfield's stat line concludes with one assist from six games played, but a very positive impression left on his head coach.
"From a coaching perspective, I think he's a trusting player, and why do I say that about a young, 18-year-old? Because of the way he comprehends things and how he applies them, puts them into the game," Todd McLellan said of Byfield yesterday. "I thought he improved as time went on, it was a big test for him to play tonight. He supported the puck really well on a lot of the breakouts, he won battles, he showed escape skills with the puck. I think he had vision and wanted to make plays, sometimes they were knocked down, but he'll get used to the pace of play and wingers will get in better positions for him over time. He's certainly an NHL player at the age of 18, I can't wait to see him when he's 22."
Byfield's play leaves us wanting to see more, but with a long-term focus on both his development, as well as the organization as a whole, the team is not planning to use a year of his entry-level contract, which limits his involvement to six games in this shortened season.
An option to step in is forward Rasmus Kupari, who was reassigned from the AHL's Ontario Reign to the taxi squad yesterday, with Kupari taking morning skate yesterday. Kupari made his NHL debut in March, and was scoreless from three games played with the big club. Of those who have played at least 30 games with the Reign this season, Kupari's .71 points-per-game is the second-highest rate amongst all skaters. A good opportunity for a young player to get another crack at impressing at the NHL level.
We'll get a better sense of tonight's lineup closer to puck drop.
AVALANCHE VITALS: Despite having several players out of the lineup due to injury, Colorado had one of its most dominant puck-possession nights of the season, controlling nearly 68 percent of the shot attempts at even strength yesterday.
Colorado Head Coach Jared Bednar indicated that the team would likely split the starts in goal this weekend, which points to Jonas Johansson between the pipes for Colorado. Johansson has never faced the Kings in his NHL career, and while he had a difficult start to the season with Buffalo, the Swedish netminder has posted a 3-2-1 record, with a .910 save percentage and a 2.27 goals against average, with one shutout since joining the Avalanche.
Here's how Colorado lined up yesterday at STAPLES Center –
Landeskog – Jost – Rantanen
Nichushkin – Kadri – Donskoi
Burakovsky – Newhook – Compher
Soderberg – Bellemare – Sherwood
Towes – Makar
Graves – Timmins
MacDonald – Nemeth
Grubauer / Johansson
Notes –
– McLellan talked after last night's game about preferring to play a game like that to a "token" game against another non-playoff team. The Avalanche are still fighting for playoff seeding and are taking these games as such, though rest is also a priority for the visitors, at the end of such a condensed season.
Colorado has controlled the puck all season in the five head-to-head matchups with the Kings, with more than 60 percent of the shot attempts at even strength going in their favor in total. McLellan pointed to defensive awareness and game management as being key points of emphasis for his younger players in these types of games, where they don't have as much of the puck.
"A lot of it is our defensive awareness in play and game management. They're so good off the rush and so good off of transition, they do such a good job of drawing players to the puck and finding open people off of it. Makar's goal, their third goal, is a prime example. The player delays, we all migrate to the puck and they hit the late guy. We've talked about it and talked about it and we still have players that have a real tough time not chasing the puck all over the place. Reading the dangerous area of the ice, taking that away, but some of that is experience. Maybe some aren't going to get it, others are going to improve, but that's where we're at right now and we just continue to sort it out."
– Alex Iafallo wore an "A" for the first time in his NHL career last night. Following the Jeff Carter trade, the vacant letter fell to an obvious candidate in Dustin Brown, but with Brown now shut down for the season, Iafallo earned what he described as a huge honor.
"It's definitely a huge honor," he said yesterday. "I saw it when I got into the locker room and I had a big smile on my face. It's a huge honor, we have a lot of leaders on this team and to be a part of that core is very special. I'm just honored to be a part of it."
While Todd McLellan said that he believes the concept of the letter to be overstated in some ways, he commended Iafallo for not changing anything about himself, with or without a letter on his jersey.
"Alex didn't play out of character, he didn't change his character at all, he's been a quiet leader in the locker room," McLellan said last night. "He leads by example on the ice, all the little things that he does, and it was quite easy to put it on him when Dustin couldn't go."
Whether or not Iafallo will continue to wear a letter this evening remains to be seen, but his growth and development as a part of the team's secondary core is apparent, with the letter on his jersey just another step in that process.
– The Ontario Reign won again last night and have now won five straight games, including all three played during the month of May. After a slow start to the season, with several younger players making their professional or North American debuts, the Reign have found their stride at the right time.
After a trio of wins in Colorado, Ontario swept a home and home against San Diego, with wins in both El Segundo and Irvine over the last three days. The Reign have three regular-season games remaining, including the home finale tomorrow afternoon, before participating in the AHL's Pacific Division playoff tournament.
The Reign will begin their playoff adventure on May 18 at FivePoint Arena in Irvine, CA. The Reign will need to win two games in two days in the play-in round to reach the semi-finals, which would be a best-of-three, followed by a potential best-of-three finals, with all games on the road.
Lastly, some photos from last night's ceremony, honoring Kings captain Anze Kopitar on his 1,000th career NHL point.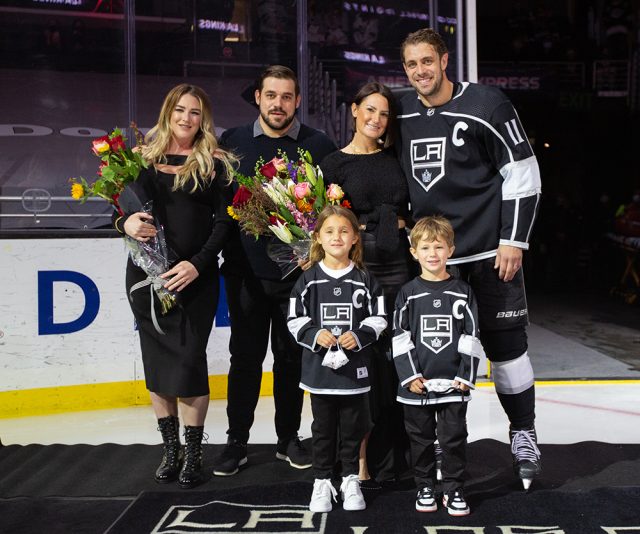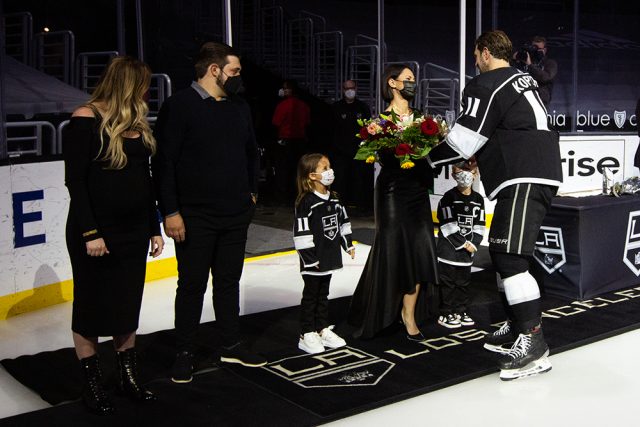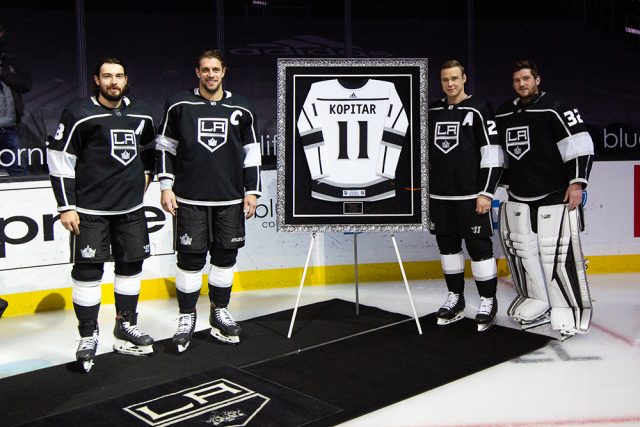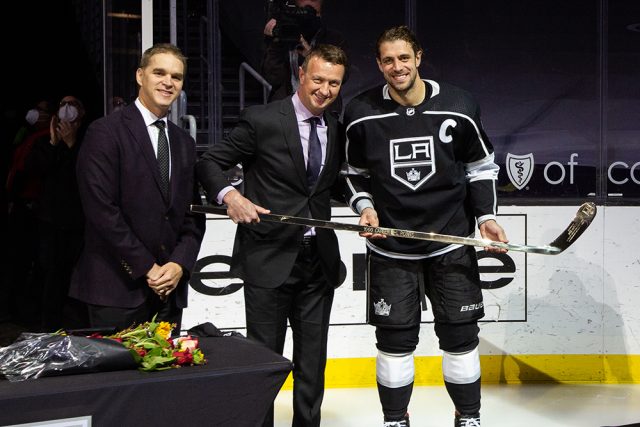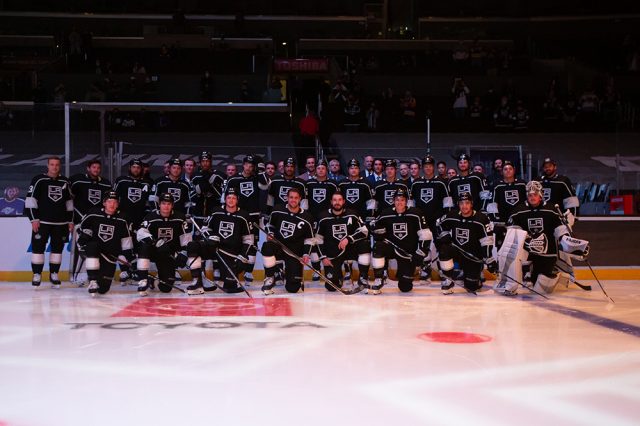 Kings and Avalanche, Pt. 2, tonight at 7!