In professional sports, we celebrate round-numbered milestones as markers for achievement.
In the National Hockey League, playing 1,000 games is thought of as a benchmark of veteran status, of a player who has gotten there. And it deserves to be. Less than five percent of the more than 7,000 players to have played in one NHL game have played in 1,000 or more. 353 in total. Now, add 1,000 points onto that? Absolutely staggering.
With an assist yesterday, Anze Kopitar became the 91st player in NHL history to record 1,000 regular-season points. That's a grand total of just over one percent of players in NHL history, placing Kopitar in one of the most exclusive categories in the league.
"It's remarkable, really, to get 1,000 points in the National Hockey League," Kings Head Coach Todd McLellan said of Kopitar's milestone. "We recognize 1,000 games and make it significant, which it should be, but 1,000 points, it's remarkable."
For Kopitar, the two milestones hit just a bit differently.
1,000 games is straight forward, in that you can circle the date on the calendar, and assuming a clean bill of health, the season builds towards that game. Getting the 1,000 points, though, is a different beast entirely.
Kopitar entered the week sitting at 997. On Monday, he collected a goal and an assist in the second period, and suddenly he was one point away. It could have happened at any time on any play, and as we moved throughout Monday's Kings victory in Arizona, every time Kopitar touched the puck felt like an "edge of the seat" type of moment.
That level of excitement carried into Wednesday and finally came late in the game, as Kopitar won a defensive-zone faceoff to defenseman Sean Walker, who fired the length of the ice into the empty net. It was such a split-second play that it seemed to just hit everyone at the same time with a moment of joy, for an incredible achievement.
"This one, it's a little bit different than 1,000 games, because with 1,000 games, the excitement kind of builds up and when it comes, you're kind of expecting it," Kopitar said yesterday, of the two milestones. "This one, it just kind of hits you. It's very exciting right now, my heart is still racing. I think it's going to set in a little bit more in the next few days, weeks."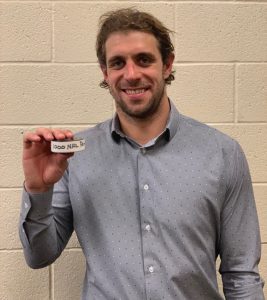 Leading up to the game, Kopitar didn't necessarily have a ton of time to dwell on it, hitting 999 and 1,000 in consecutive games, but that doesn't mean he wasn't thinking about it over the course of the 48 hours in between.
The Kings schedule provided a practice day on Tuesday, giving Kopitar not just the one night in between, but two, just enough time to overthink the situation a little bit.
"I caught myself thinking a few too many times about it, and I told myself to kind of relax a little bit," he admitted after yesterday's game. "Just to play and let it happen when it happens."
Happen it did on Wednesday, in front of a large contingent of Kings fans on the road at Gila River Arena in Glendale. For their part, the Arizona Coyotes did a tremendous job of honoring Kopitar themselves, immediately recognizing the achievement over the PA and awarding number 11 in white the evening's first star.
Fans in black and white, forum blue and gold, stuck around well after the game, giving Kopitar one final sendoff after his television interview on Bally Sports West. Kopitar gave the fans a salute as he went into the locker room to celebrate with his team, an amazing individual accomplishment during a game that featured team success along with it.
"It's incredible for him," McLellan said. "We're along for the ride. I'm certainly proud of him, but I'm honored to be able to coach him. It's a pleasure to have that type of person around your locker room on a daily basis. He makes everybody better, including the coaching staff, and his passion and energy for the game is contagious."
Kopitar's milestone is even more significant for a number of reasons. He became just the fourth player in league history to tally his 1,000th point in an LA Kings jersey, and is the first player born in Slovenia to reach the milestone, 993 points clear of second place on that list.
When Kopitar was drafted in 2005, in the first-round, naturally there were expectations that he would become a fixture of LA Kings hockey. It would have been tough for anyone however, even Kopitar himself, to predict what would have developed in the years following.
"It was very hard to imagine," he said. "Being a kid, you always have a dream, right? To make it to the NHL, to win the Stanley Cup, to have a long career, a successful career. For me, I was almost a little bit naïve to think that, but I guess not, 15 years later, being in this position, it's exciting and I'm very humble, thankful comes to mind."
Ever humble, always quick to dish praise and there to support his teammates, Kopitar has been one of the ultimate team players. It's amazing to think about where Kopitar might be, statistically, had he been in a different situation, or played a different role.
Throughout Kopitar's time with the Kings, the organization finished inside the NHL's Top 10 in goals scored just twice. They never once finished in the Top 5, and were ranked no higher than seventh in any one particular season.
Kopitar never had a teammate score 40 goals in a season. Just once – Mike Cammalleri during Kopitar's rookie season – did he have a teammate total 80 points. As McLellan said after yesterday's game, the Kings "won games 3-2 not 6-4", winning games as a hard, heavy team. Despite that, Kopitar reached 1,000 points.
It's also interesting to consider the offensive statistics considering the energy, effort and ability that Kopitar invested into the defensive end of the rink. Kopitar became the seventh Selke Trophy winner to record 1,000 points, and just the third player to both win two Selkes and reach that offensive milestone.
"To do it while you're one of the best defensive players in the world throughout your career, I think is quite impressive," McLellan said. "For him to be as consistent as he's been, to play as well as he's played on the other side of the puck, to check as well as he's check…I think is an incredible milestone for him."
Kopitar's overall totals, the circumstances in which he achieved them and the strength of his defensive game bring us back to the concept of a round-numbered achievement. Getting point number 1000 isn't what makes Kopitar's career an incredible one. His career would be that, whether he finished with 999 points or somewhere higher in the four figures. It's more of a representation of his success, as one of the greatest two-way forwards in the history of the NHL.
Kopitar's resume, entering the season, listed him as a five-time All-Star, a two-time winner of both the Stanley Cup and Selke Trophy and a Lady Byng recipient, with over 1,000 games played in the NHL. Yesterday in the desert, Kopitar added the elusive 1,000-point scorer to his already extensive list of accomplishments.
You could call it the finishing touch on the resume of a Hall Of Famer, but that would imply that Kopitar is done accomplishing. With 50 points from 51 points this season at the age of 33, Kopitar is, by points-per-game, collecting points at the second-highest rate of his NHL career, behind just the 2017-18 campaign where he was a finalist for the Hart Trophy.
McLellan said yesterday that he can't wait to see the next 500 points in Kopitar's career, which would truly put him amongst elite company. With the consistency that Kopitar plays with, without signs of slowing down, would you want to be the one betting against him?
In this moment though, one of celebration, Kopitar is just thankful for what he's been able to achieve, as an individual and as a part of the Kings franchise.
"It's surreal, it hasn't set in and just being a part of this club, it's very special to me," he said. "Like I said, it brings me back, very thankful right now, and obviously very excited and very happy, all of the above, but very thankful and humbled to be in this position."
A terrific achievement for a professional, humble, hard-working and talented individual.