Insiders, a brief report for you today!
The LA Kings were back on the ice this morning for a short team practice at T-Mobile Arena in Las Vegas.
The Kings had the entire group of players who traveled on the ice, aligned in the following configuration –
Gray: Brown, Carter, Iafallo, Kopitar, Moore, Rymsha, Vilardi
White: Anderson-Dolan, Andersson, Athanasiou, Grundstrom, Kempe, Lizotte, Luff, Wagner
Defensemen: Anderson, Bjornfot, Brickley, Doughty, MacDermid, Roy, Strand, Walker
Goaltenders: Grosenick, Petersen, Quick
After the game yesterday, Todd McLellan said that we could see some personnel changes, as he searches for consistency from the group of forwards behind the regular Iafallo – Kopitar – Brown line. Today's skate did not give us a direct sense of what that could be.
At this stage in the season, the time to work on things is limited, and the time to find what works needs to come almost instantly. With games coming in fast, the Kings will have to take as best advantage of their limited practice time as possible to remain rested for what the group hopes is a stretch run.
Last night's game against Vegas faced the Kings off against one of the NHL's top teams. An opportunistic team like the Golden Knights will make opposing teams pay for their mistakes. There are no givens in hockey, and you'd like to think that the bounces eventually even up, but at the same time, it's tough to beat that team in those types of situations.
"I'm sure that Peter de Boer would say that there are nights where it didn't go our way, but on that one night, in that one game and really for the most part, they take advantage of the other team's mistakes," McLellan said this afternoon. "They force you into situations where you make poor reads, or bad decisions, with or without the puck, and their skill takes over from there. They're able to keep plays alive and they score off of them."
The Golden Knights scored on a power play, a fortunate bounce, a good skill play below the goal line, and a rebound off the rush. The opportunities for both sides were just about even in most facets, but teams like Vegas will make you pay for what feels like every mistake. Another shot at the division leaders comes tomorrow.
Taking a look at Sean Walker's play from last night below, as well as some photos from the Kings in Vegas.
Slide To The Left
Walker ranked third amongst defensemen last night with 19:59 in time on ice, and he did so playing on the left side of his defensive pairing, from the start of the game, for the first time this season.
It's not the preference that the coaching staff has – McLellan noted this morning that he prefers to have defensemen on the side they shoot, though Walker has played the left side before in his professional career.
"We would prefer them to be on their on-hands, you see a lot more of the ice that way, you have a tendency to pivot better to that side, when you're skating backwards to forwards," McLellan said. "It's just way more comfortable for defensemen to play there. Now, there are some individuals who have played their whole careers on their off side, that enjoy it and like it, that are very productive.
Walker has experience on the left side – He skated with Drew Doughty at times on a pairing last season, and slid over for nearly an entire game versus Vegas at home, when Olli Maatta left the game inside the first five minutes with an injury.
Walker said after practice today that he is comfortable on either side of the ice and is ready to play regardless of where he is placed in the lineup.
"It's a little awkward, some of the stuff is a little different for us, but I don't mind it," he explained. "I've done it before, I think in the o-zone it actually helps, it's easier to walk off the wall, and then just kind of regroups, you have to make sure your head is on a swivel. I can see why some people don't really like it a lot, but I'm used to it, I'm comfortable, I don't mind."
The ability to play on both sides of the ice is a benefit for Walker, because it enables him to move up in the lineup late in games, especially in games where the team is trailing.
The Bowling Green alum's calling card is his skating ability, and he has shown an ability to move pucks, and produce offense as well. Those traits are ones that have been called upon by the team at times, and he has slotted in with fellow right-shot defensemen Drew Doughty and Matt Roy at certain times, as the situation dictated it.
"I like to think that I can contribute offensively, and being able to go on the left side sometimes can help me, help them," Walker said. It's obviously nice to be able to do that, but it's at the coach's discretion."
From the bench, his head coach admitted that it is not an ideal situation to have four right-shot defensemen in the lineup at once, he was happy with the way Walker played and handled the situation. Walker, partnered with Austin Strand, was on the ice only for the bad-bounce goal in the second period, and seemed to form a decent tandem in their first game together.
"Fortunately for us, Walks has been one of those that, throughout the minors and a little bit of his time up here, he's experienced that. We take what we have, we try and make it work, and he did a pretty admirable job, as well as Strand coming into the lineup last night."
Lastly, LAKI exclusive photographer Dach Zooley, with the shots from the past two skates in Vegas.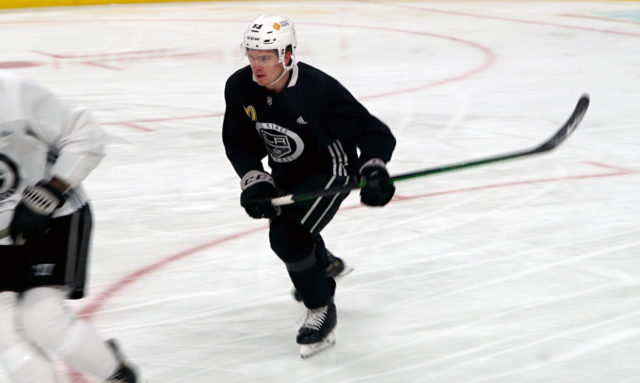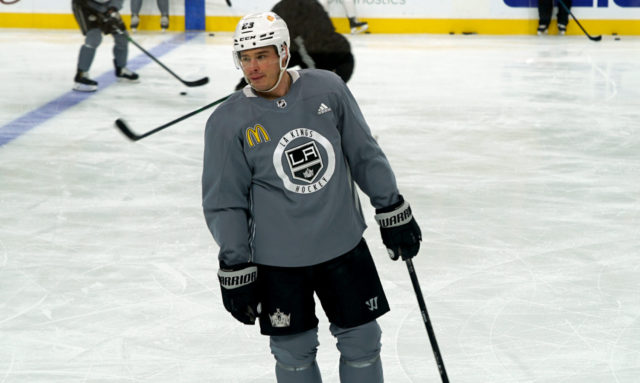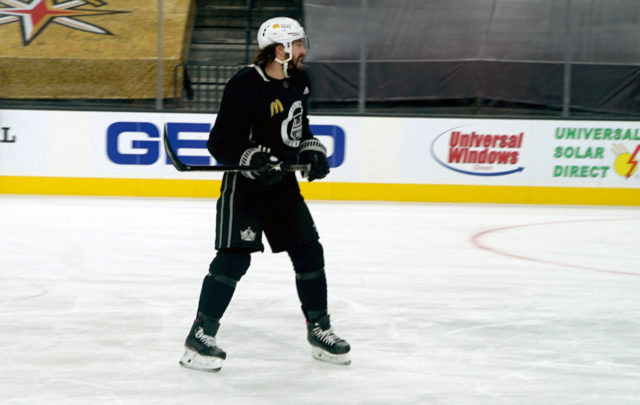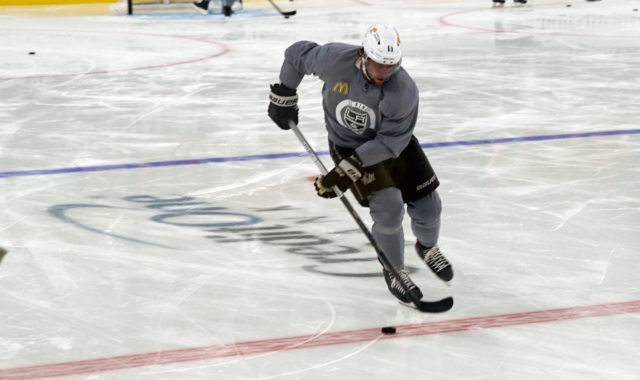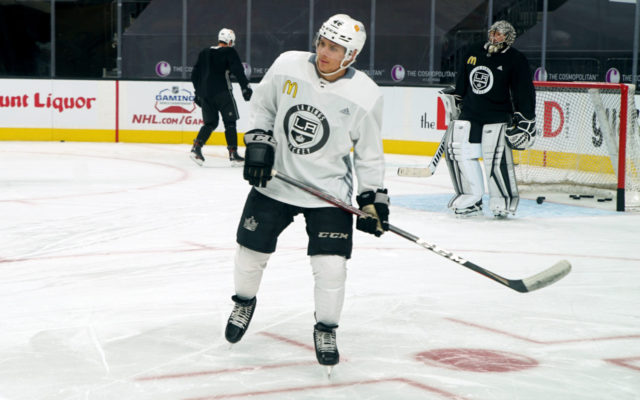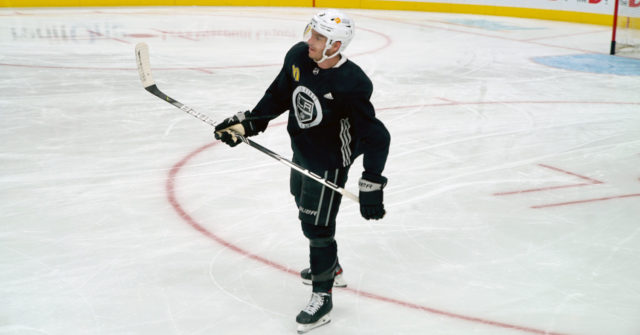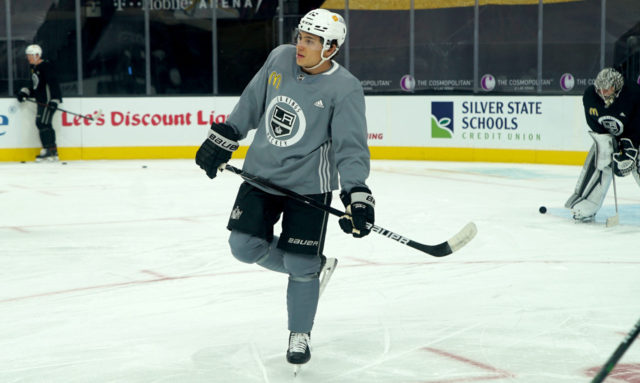 Not bad, DZ.
Kings are back on the ice tomorrow morning at 11 AM at T-Mobile Arena for morning skate, preceding tomorrow evening's rematch against the Golden Knights at 7 PM. A deeper look to come, but after tomorrow's game, the Kings will play 11-of-15 at home, spending most of April at STAPLES Center.