The LA Kings took to the ice this morning for a team practice day at Toyota Sports Performance Center, in between games against St. Louis and Vegas. Here's how the team lined up by jersey color –
Gray: Athanasiou, Brown, Iafallo, Kempe, Kopitar, Vilardi,
White: Anderson-Dolan, Carter, Grundstrom, Lizotte, Moore, Rymsha, Wagner
Purple: Amadio, Andersson, Luff
Black: Anderson, Bjornfot, Brickley, Doughty, Maatta, MacDermid, Roy, Walker
Goalies: Grosenick, Petersen, Quick, Villalta
You can infer a few things from that configuration. Yesterday's morning skate saw the Kings dress seven players in what were then green jerseys (Happy St. Patrick's Day!), today gray jerseys, including Dustin Brown. Brown did not play last night against the Blues, but Todd McLellan had the following to say about his status after the game.
"He's getting closer…there's a good chance he'll play on Friday, but again, I'm going to wait and take my cue from Dustin, I'm going to take it from the medical team, but he was close [yesterday]," McLellan said.
If Brown is not able to go tomorrow against Vegas, the Kings can always revert to how they lined up against St. Louis, an alignment they are familiar with.
McLellan also noted yesterday after the victory over the Blues that he plans to ride the Grundstrom – Anderson-Dolan – Moore line for as long as he can, considering their current production level and chemistry together.
He talked this morning about how certain players can elevate each other when playing together, which is what seems to be happening with this trio. It's not that all three aren't effective players separately, but together, they're even better.
What about that line has clicked so well in their time together? Hear it straight from the horse's mouth –
Anderson-Dolan
Honestly I'm not really sure, I think it's just a good combination of players that play similar games. We can all skate, and are willing to get in on the forecheck, that's kind of been our bread and butter since we've been together. It's working, so we're not looking to change anything. Just keep rolling with it and continue to grow as a line and as a team.
Moore
I think [the forecheck] is something we talk about, three younger guys, we're not going to get too cute out there. We're going to get the puck in and get on the hunt is what we like to say, and then get the puck back. We all skate well, we like to win battles, so we've just got to keep pushing.
Grundstrom
I think all three of us want to play fast. We think kind of the same and we've just hit it off good. I'm enjoying playing with these two for sure……usually, it takes a couple of games to get back to where you were before, but it was ready to go right away.
In their first set of games together, we talked about that line's effectiveness, prior to Anderson' Dolan's injury.
Getting offensive production from players outside of your "usual suspects" is key, and that's what the aforementioned group of forwards has brought. Not only does it aid you in the scoring column, but it also takes some of the offensive burden off of others, especially the Kopitar line.
"The JAD line was very effective in creating chances, especially early in the game," McLellan said earlier today. "It gives the team a little bit of breathing room to make some mistakes, it eats up minutes where we're energized and we're on the attack, so it was essential and very important. You go back to the last time St. Louis was in here, we fell behind, and getting timely or big goals from some of the unusual suspects, Matt Luff's goal that night, they all help and the timing of them is really important as well."
McLellan mentioned Luff's goal against St. Louis, which was one of just two 5-on-5 goals from forwards outside of those usual suspects, which for this exercise consists of the Top 6 from yesterday, plus Dustin Brown. Getting that depth scoring is a huge component, and as we saw last night, those goals can help your team find success beyond just those you usually count on.
With that line likely to remain intact, and Brown returning back, the possibility of an Austin Wagner – Blake Lizotte – Jeff Carter line, which opened training camp together, could be another way to add scoring depth throughout the lineup. Off of the jersey colors listed above, we could see perhaps the most balanced set of four lines the Kings have rolled out all season.
At this point it's all hypothetical, and Brown remains in a day-to-day state. More to be learned tomorrow.
Playmaking Petersen
LA Kings goaltender Cal Petersen earned the first assist of his NHL career last night, as he collected the puck inside the trapezoid behind the net and fed Anze Kopitar, who sent a backhanded attempt the length of the ice and into the empty net for the goal.
What was especially interesting on the play was that Petersen had the primary assist, but not the only assist, with Drew Doughty collecting the secondary helper. Doughty got his stick on the St. Louis dump, which Petersen then collected. That's not to say it doesn't happen more often than you realize, it might, but it felt really rare to me to see a goaltender collect the primary assist on a play that also had a secondary assist.
Petersen touched on his playmaking abilities this morning, saying that if you pass pucks to Anze Kopitar, it's a pretty easy way to collect points. He also talked about what he feels the Kings have done well against St. Louis so far this season, as well as what he's seen from the group in front of him that has given the team more success so far this season, as well how much emphasis and focus he puts into the stats.
Lastly, a few photos from today's practice, courtesy of LAKI photographer Dach Zooley.
My apologies for not sending him to shoot yesterday's morning skate, that featured a lot more color with the Kings wearing green, forum blue and gold jerseys. Rather, today we get the standard arrangement of black, white and gray.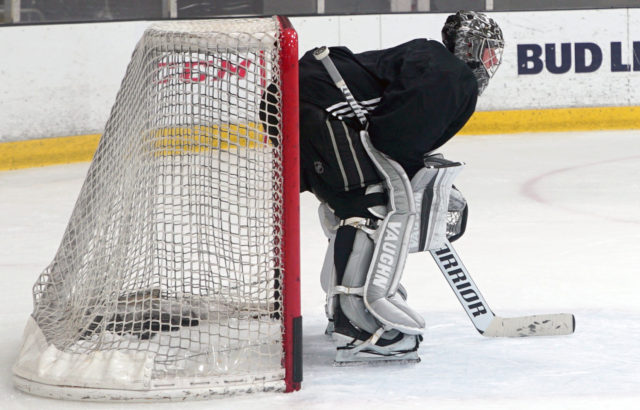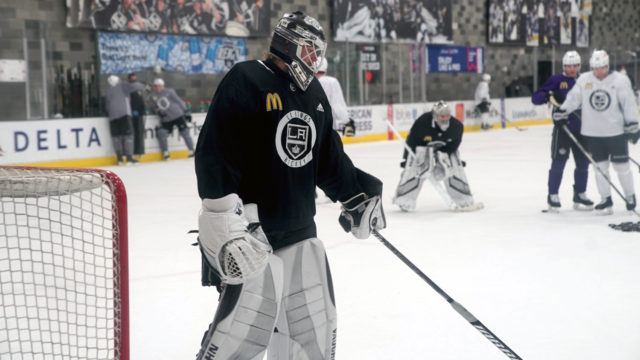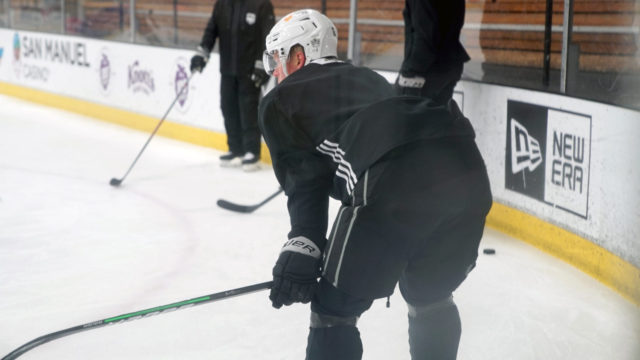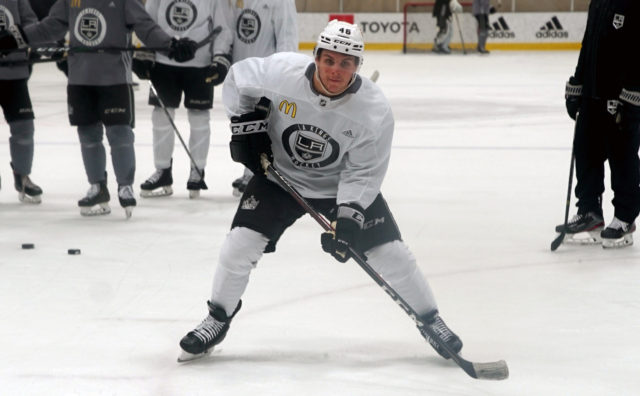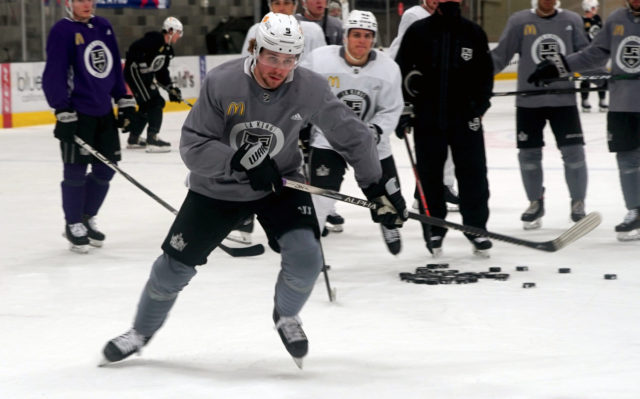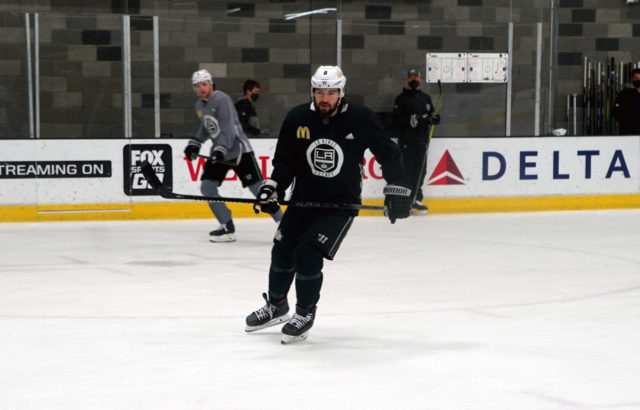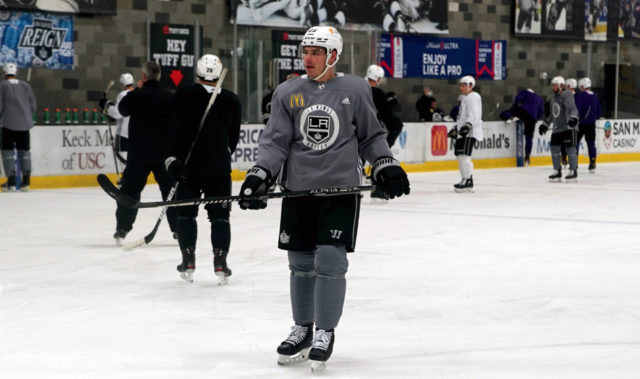 Coming up this evening, we'll take a bit more of a big picture look at where the Kings stand at the halfway point. A look at some of the happenings from the first part of the season, where the Kings sit in a crowded playoff picture, what's to come, plus a bit more. Stay tuned!