The LA Kings returned to the ice here at Toyota Sports Performance Center for their lone practice day amidst a three-games in four days slate.
The team skated today with a few different things in mind, perhaps the largest one being correcting some of the individual mistakes made yesterday. After the game, Todd McLellan was not happy with the number of turnovers that came "off our tape", meaning pucks the Kings had possession of but gave away.
In his media availability today, McLellan said there were many factors in play that led to those mistakes, it wasn't just one specific factor. He did point out, however, that not making reads quick enough, and also not executing in those situations, led to the breakdowns.
"It was a combination of everything," McLellan said this morning. "A lot of it was not making the read quick enough, but also not executing the pass. The simple throwing the ball to the receiver was rather sloppy in some cases, yet really sharp in others."
Sean Walker gave a detailed breakdown after today's morning skate that seemed to fall right in line with that. The Bowling Green product felt that the Kings were sloppy with the puck last night, and that mostly boils down to execution, in a variety of forms.
He felt that today's meetings and video focused on that, and it comes down to executing better in those situations moving forward.
"There were just some breakdowns that cost us some goals," Walker said. "I think, overall, it was just execution and some sloppy play with the puck. That was definitely a focus today in our meetings, cleaning that up, executing and the chances that we shot ourselves in the foot. We had the puck, we didn't make the next play, and they got a really great scoring chance. If we can eliminate those, I think that things will go our way."
Looking ahead from yesterday's game, the Kings had a bit of a different alignment to their groupings today. Here's how the team shook out –
Forwards
Gray: Amadio, Athanasiou, Brown, Carter, Iafallo, Kopitar, Vilardi, Wagner
White: Grundstrom, Kempe, Kupari, Lizotte, Luff, Moore
Defensemen
Anderson, Bjornfot, Doughty, Maatta, MacDermid, Roy, Walker
Goalies
Quick, Petersen, Villalta
Adrian Kempe mentioned today that he's on a line with Rasmus Kupari and Trevor Moore, which, by these colors, would put Blake Lizotte between Carl Grundstrom and Matt Luff. Still a full day to see how things shake out, but gives us a bit of perspective heading into tomorrow.
Kupari (more on him below) was added to the taxi squad today, with defensemen Daniel Brickley and Markus Phillips heading the other way. Defenseman Tobias Bjornfot was also moved from the active roster to the taxi squad, as he has been now several times this season, in a move not likely related to his status on the roster.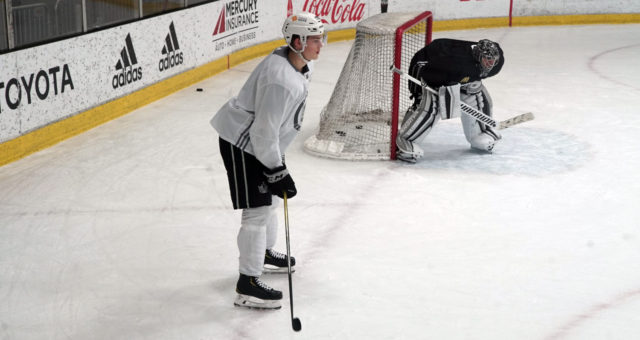 RASpberry Beret
A new, old face, if you will.
Rasmus Kupari joined the Kings in Arizona on their recent six-game road trip, but was only on the taxi squad, and did not factor into game action. This recall, however, feels a bit different.
Todd McLellan said this morning that if Kupari is with the Kings, he will be in the lineup. He did not officially commit to Kupari being in tomorrow's lineup for sure, but he gave a pretty damn strong indication that it's looking likely.
"We had him here for a week on the taxi squad and that didn't do us any good," McLellan said. "It was something we needed to do, in case we needed bodies, but if he's with us now, he'll play."
At the time, McLellan talked about not needing to simply thrust Kupari into the lineup, on the road, against St. Louis, in the middle of a winning streak. Now, as he's continued to light up the AHL, and has a higher comfort level with the NHL club, the timing feels a bit better.
Kupari has taken some pretty big strides from his first season in North America one year ago, with the Ontario Reign, to where he's at now. He collected just eight points from 27 games as a 19-year-old, adjusting to the differences in the style of play between Finland and the AHL.
He has looked like a different man this year, especially when you remember that he's coming off of major knee surgery in December 2019.
"This year, he looks like he's spread his shoulders out a little bit here and held his head high, he's telling everybody that he belongs at the top end of the American League, breaking his way into the National League," McLellan said this morning.
Kupari has been perhaps the brightest light on an extremely young Ontario roster so far this season. At the time he was recalled to the taxi squad back in February, the 2018 first-round selection led all AHL players in scoring. Despite missing some games while up with the big club, he still ranks within the Top-15 leaguewide with nine points (2-7-9) from eight games played.
"He's a brilliant player, he was selected where he was for a reason," Ontario Head Coach John Wroblewski said of Kupari, earlier this season. "I have high expectations for him, with that engine, with that motor, he can blend his power game a little bit more often for me."
Wroblewski called Kupari "solid" after last night's 5-4 overtime defeat against San Diego, in which the Finnish centerman tallied two assists and extended his scoring streak to five games.
After watching Kupari play with the group earlier today, in a full-team practice, McLellan felt that his newest young forward has the structural teachings he needs, from his time with the Reign, and that he seemed to fit right during an NHL practice.
"Today in practice, he kept up, he was clean for the most part," McLellan said. "Structurally, we'd like to think that he got what he needs at the American League level to be able to come here and play and he'll get his opportunity."
Kool-Adrian
Forward Adrian Kempe also spoke with the media today, after he collected an assist for the second consecutive game last night. Kempe has skated on a variety of different lines this season, with perhaps the largest collection of linemates currently on the active roster. He talked today about his role on different lines, his position on the power play, and the team's varying degrees of starting games.
Coming up later on today will be a feature on the play of defenseman Mikey Anderson, and how he's adapted to playing top-pairing minutes alongside Drew Doughty in his first full NHL season.