Good morning, Insiders!
We asked both sets of Kings broadcasters – the TV team of Alex Faust and Jim Fox, and the radio team of Nick Nickson and Daryl Evans – about the life of broadcasting games in 2021's NHL. It's been different for sure. Broadcast crews are not traveling with their NHL clubs this season, and are calling all road games remotely. All four broadcasters have experience with calling games off of monitors and have rolled with the punches, and the challenges that this season has presented.
Hear from Faust, Evans, Nickson and Fox on a variety of questions below!
Is this the first time you have experienced this type of set-up in your career as a broadcaster? If so where and when?
Faust: It's not my first time calling games off a monitor, but it's always a challenge to recreate the experience of being there. Last summer when the NHL held the playoffs in Edmonton and Toronto, Jim and I called games on radio for Westwood One from a studio in Culver City, and we had a lot of fun with the experience. Beyond hockey, I've regularly called sports "off tube," so the experience isn't that unusual. Other than the Grand Slams, most of my work at Tennis Channel is done off-site, given the global nature of the sport. Years ago when I was at ESPN, I did a few college basketball games out of a studio, and this season I've been very fortunate to work college football and basketball games for FOX and FS1 from their studios here in LA.
Evans: No, not the first time Nick and I did some games many years ago at a studio in a small booth with a tiny monitor and the games were in Europe. Camera angles were tough, I couldn't pick up the names and numbers on the jerseys as easily. Much better experience this time around.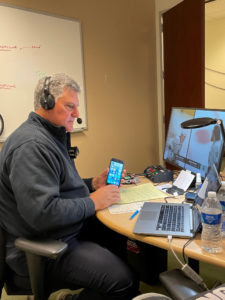 Nickson: I have called games before off monitors before. Like Daryl said, about 12 years ago we did the World Championships in a studio in LA and we did two games a day on occasion.
Fox: I have called games off monitors on a few different occasions. I worked World Championship games for NBC Universal and that was the most difficult because many of the European teams had quite a few non-NHL players, so I was not as familiar with them as I am with NHL players. I also worked a Kings game with Bob Miller when the Kings opened their season in Sweden and the TV crew did not travel to those games. This past summer, I worked games with Alex and Dave Goucher for NHL Radio during the "Return to Play" through the Western Conference Final. So, I guess I have more experience than most doing games from a remote location?
What would you say is your biggest challenge actually calling a game in this manner?
Faust: Other than my glasses constantly fogging up when we're on camera? The biggest challenge, no doubt, is identifying players at full speed. As a result, you can't anticipate plays nearly as well. The NHL has done an outstanding job working with the regional sports networks to give us high-quality feeds and camera angles when the Kings are on the road. Without a doubt, our ability to tell the story of the game is impacted negatively by not being there, but my hope is that there's as little drop-off in quality as possible.
Evans: Not having a clear view of the entire ice surface makes it a bit more challenging, normally we can anticipate the play as it develops and see where everyone on the ice is. Feeds from Arena to Arena are a bit different so we have to adjust. All in all, everyone involved has done a great job providing us with everything we have to work with. Team effort on a constantly changing landscape.
Nickson: The biggest challenge for me in doing the PBP is identifying players on the ice that the camera isn't necessarily covering. We all, as broadcasters, have our different nuances that we feel comfortable with. For instance, when a team is setting up for a faceoff, I like to scan the ice to see who all the players are. Now I don't always have this luxury. So on occasion "the Kings dump the puck in from the left wing instead of Doughty dumps the puck in from the left wing."
Fox: The biggest challenge is not seeing what is happening on the entire ice surface and only seeing the viewing angle captured by the game camera. So, it is more difficult to recognize things like penalties that happen behind the play, plays that take place just outside of the TV frame, referees raising their hands on a delayed penalty, line changes that happen on the fly or when goaltenders leave the net for a delayed penalty or an end-game extra attacker situation. For some of our games, but not all, we do get a fixed-frame feed of the entire ice on another monitor and this makes it easier to pick up things like goalies going to the bench or delayed penalties. Another thing that makes it more challenging is to being able to talk in person with coaches and players and other broadcasters and media members. A conversation with someone is almost always better than an "interview" type of meeting, where you don't get to "chit-chat", as well as get answers about what's happening with the player, coach or G.M. A specific area that has been affected is, during road games, we don't have as much control over replays and such, so I need to "follow" the broadcast more than "lead" the broadcast. A positive is since I have a mask on, I use way less makeup! It goes without saying that the energy in a building is missed by everyone. The intensity of covering a game has a lot to do with the fans in attendance, so you have to find other ways to get "pumped-up".
Is there anything – good or bad – that has come of this experience so far that has surprised you?
Faust: I'm surprised by how normal the home games feel when the puck is in play. The weirdest part is not interacting with our fans before and after the game. It's eerie before puck drop and quiet during intermission. But once the game gets going, the sounds of skates, sticks, and of course that deafening goal horn at STAPLES Center all feel normal (and comforting). I hope it comes across that way on TV.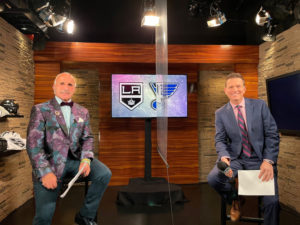 Evans: For me, it's given us a greater appreciation of how important our fans are to our game. Pregame fanfests, all the buzz around the game, the community appearances, camps and clinics. Miss all the people around our game. Once the puck is in play I've been pleasantly surprised to see how normal it seems. Also great to hear some of the communication between players on the ice.
Nickson: At home we broadcast from our regular booth at Staples. Doing the game is much the same as it always has been. Doing a road game from a conference room in downtown LA off monitors is different. The worst part of all of this is you don't get the excitement of being at a game with fans. The fans bring energy, life and a sense of urgency to the event. I miss the fans the most.
Fox: Think I have covered most of the challenges, but a positive is the lack of "wear down" effect of traveling. This comes with a sacrifice too because the camaraderie of traveling, staying in beautiful hotels, visiting great cities and going to dinner on the road is something that is extremely enjoyable and I miss that immensely, but I do have to admit, less travel is easier on the body and means more time spent with family.
You have not physically seen or talked to a player or coach in-person since March, or watched a practice. How has that affected the way you do your job?
Faust: Being an announcer in the NHL means experiencing the same 82-game grind as the team, building camaraderie with the broadcast crew, developing a rapport with the players, coaches, and hockey operations staff. That experience leaves you better equipped to understand the highs and lows of the season through the team's eyes. The hockey and the nuts and bolts of play-by-play don't change very much, but being able to humanize our coworkers becomes far more difficult.
Evans: It's made it more challenging for sure especially with the new players coming in building relationships and trust is so important. You get a much better feel when you see body language, how players carry themselves on and off the ice. The casual one-on-one times in the locker room. The conversations with the coaches, trainers and management are greatly missed. Not traveling and being with our group on the road, whether it's going for a meal a workout or exploring, I miss all these experiences. All these things that can be mentioned in a broadcast or story to connect ourselves and our fans to our team. Definitely more of a challenge.
Nickson: Obviously we can't interview players or coaches in person. Although there is daily access to two or three every day, sometimes there is a storyline that we would like to do that we can't because that person is not available. This holds more for our opponents than Kings personnel. From the technical side, audio quality for interviews isn't the same as doing it in person. We adapt. After a couple of weeks of going through all of the "new norm" we're all adjusting to make it sound as clean, smooth and normal as possible.
Fox: First of all, you just have to accept the new protocols and work with them, not against them. Zoom calls are great, but as I mentioned earlier, it is not like having a conversation, so when asking questions on Zoom calls, I feel that I have to be more direct and blunt, because you can't take the time to "chit-chat" first and you have to get right to the point. So, my questions are more direct and to the point. I find myself relying more on statistics than I have in the past, because these types of facts are readily available.