For the third consecutive day, the Kings took to the ice at Toyota Sports Performance Center in El Segundo, with today's skate being the final practice day before tomorrow's game against Minnesota.
The Kings were without forward Gabriel Vilardi today, with what Todd McLellan deemed a "maintenance day". McLellan added that he expects to have Vilardi in the lineup tomorrow against the Wild.
Additionally, the Kings made a pair of roster moves today, swapping goaltenders Troy Grosenick and Jacob Ingham. Grosenick was recalled from the AHL's Ontario Reign, and assigned to the taxi squad, while goaltender Jacob Ingham was reassigned from the taxi squad to Ontario.
Grosenick was initially slotted as the team's taxi squad goaltender entering the season, but was claimed by the Edmonton Oilers in January as the Kings attempted to pass him through waivers. After spending some time in quarantine, and more time on Edmonton's active roster, Grosenick was reclaimed by the Kings on February 6 and has been on Ontario's roster ever since. Grosenick was on the ice this morning with the Kings for the first time since January 15.
Here's how the group lined up today –
Forwards
Gray: Athanasiou, Brown, Carter, Iafallo, Kempe, Kopitar, Lizotte
White: Amadio, Anderson-Dolan, Andersson, Grundstrom, Luff, Moore, Wagner
Defensemen
Black: Anderson, Bjornfot, Clague, Doughty, Maatta, MacDermid, Roy, Strand
Red: Walker
Goaltenders
Grosenick, Petersen, Quick
As noted above, the group of Sean Walker, Matt Roy, Blake Lizotte and Andreas Athanasiou continued to skate with the team. Roy has now skated in a full-contact jersey for four consecutive practices, while Lizotte completed his third straight day with the team, and Athanasiou completed his second. Walker remains in a non-contact jersey, and a full cage, in his third straight practice with the team. All good signs, folks. We'll get a better sense tomorrow of if any of the four might be available against Minnesota.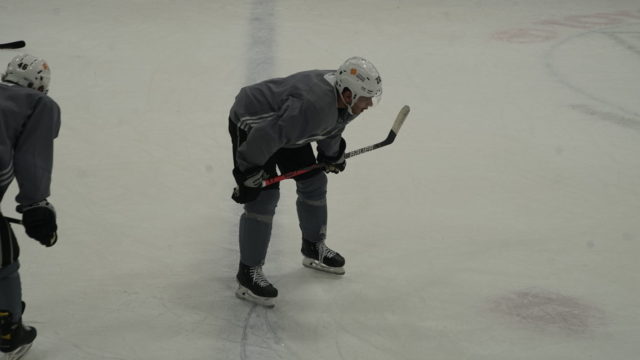 Layoff No Excuse To Laydown
The last time the Kings had an extended break in between games was after their four-game road trip concluded in Minnesota, before a one-off home game against Anaheim.
The 3-1 loss against the Ducks was the Kings' worst effort of the season. Could the layoff here present any similar challenges, against a team that will be playing games for the first time in approximately two weeks? According to McLellan, the layoff will not be talked about as any form of an excuse heading into tomorrow's game.
"The three-day layoff will not be an excuse for our team tomorrow," he said earlier today. "None of us should be talking about being rusty or anything like that, players and you guys as well, because we've had three practices, we've been able to maintain our game pace, whereas Minnesota's been off for two weeks. If anybody should be talking about the break causing issues, it'll be their team. Let's get that out of the way right off the bat."
Tomorrow's opponent, the Minnesota Wild, has not played since February 2, due to the team's abundance of positive COVID tests and other players being added to the league's COVID-19 Protocol list. A look here at the Minnesota group we should expect to see tomorrow, consisting of some inexperience on the backend.
McLellan said that he was happy with the intensity level of the practices during this spell, heading into the game tomorrow, and that he's not expecting a similar outcome as to what happened against Anaheim. He did note, however, that he's expecting the players to prepare a bit differently heading into tomorrow's showdown.
"Our practices have had the same levels of intensity," McLellan said. "I expect the players to prepare differently and apply themselves a little bit differently than they did in the Anaheim game. We were beaten in every facet of that game, and when that happens, you get that type of result. If we compete hard, we win our share of competitive situations and it doesn't go our way, we have to live with that, but that was not the case against Anaheim. I do not expect that to happen tomorrow."
In terms of the practices themselves, McLellan felt that the team had "three pretty good days" of practice. He went on to explain that, especially this season, you don't expect to have this extended run of practice time, and that it was important to first recover and re-energize, before getting into some of the finer points he wanted to work on.
"It varied from anything that goes on defensively in our end, net play, all that types of stuff, into neutral zone and obviously we've got to continue to work on offensive play, forechecking, creating some offensive off of that, plus special teams," McLellan said. "As I mentioned earlier, a lot of our gatherings we have, we have the whole package to work on, we didn't concentrate in one area, but we tried to tap a little bit of everything."
Zig Zag Wag
If you look at certain individual plays, those moments of magic, you'll see some highlight reel stuff from Austin Wagner.
His goal on Wednesday against San Jose, where he exited the penalty box, took a stretch pass from Tobias Bjornfot and beat Sharks netminder Martin Jones with a deke to the backhand was a prime example.
"The play was in our end, so coming out of the box I've got to come back into our zone and try to help out," Wagner said. "I was fortunate enough that Toby got the puck, and I noticed that he had it and he held it for a second and put it right on my tape. I knew I had a lot of time, so I could slow things down and keep it simple, I've been working on that, just keeping it simple."
We've certainly seen those moments from Wagner, and when he's been playing his game – point to February 5 against Vegas as a prime example – he has been effective.
The next step has been consistency, though, and that is where McLellan feels that Wagner needs to offer more.
"We expect more from him on a night-in, night-out basis, with his speed, his tenacity, the forecheck has to be a part of his game and he has to create turnovers for himself and for his teammates too," McLellan said. "There's not a lot of talk about those 'magic moments' as you call them, that's the icing on the cake, we need all the other ingredients from him. There's been a few times this year where he's been out of the lineup, just to be reminded of that. Let's see that first, and the goals and all the extra will come."
For his part, Wagner knows the parts of his game that make him effective, and it's the same areas that McLellan pointed out. It's the forecheck, it's creating turnovers by using his speed and it's generating things by using those tools. Moving forward, it'll just be a matter of whether or not he can consistently do so and remain as a regular in the Kings lineup.
"I think using my speed, forechecking hard, that's a big part of my game," Wagner said, of what he can do to create more consistency. "Whenever I can get on pucks, forecheck hard and get pucks out of my zone, that's when I'm effective. I think just continue skating, creating time and space for my linemates when I can."
Olli Maatta
Hear from defenseman Olli Maatta today – The veteran blueliner talks playing with Austin Strand, his adjustments after returning to the Kings lineup, the team's successful penalty kill to date and more.
The Kings are scheduled for their usual 10:30 AM morning skate tomorrow, before they face the Minnesota Wild later in the evening, at 7 PM at STAPLES Center.