The Ontario Reign play their first home game of the season tonight at Toyota Sports Performance Center against the Tucson Roadrunners. There are plenty of new faces behind the bench and on the ice, so consider this your formal introduction to your 2021 Ontario Reign.
Fowards
Brett Sutter – The only player to skate with the Reign in each of their six AHL seasons, Sutter is now entering his sixth campaign with the team, his fourth as team captain. Sutter is Ontario's all-time leader in goals, assists and points, and tallied the team's first shorthanded goal of the season, Ontario's only goal in total, on Wednesday against San Diego.

Rasmus Kupari – The Kings first round pick at the 2018 NHL Entry Draft, Kupari has speed and skill to spare. The Finnish prospect can play center or wing and has loads of experience playing on the biggest international stages. His first season with the Reign was cut short due to an injury sustained at the 2020 World Junior Championship, but his strong start to the 2021 Season should have fans feeling good about his return.
Samuel Fagemo – The third member of the Reign drafted in 2019, Samuel Fagemo was taken 50th overall in the second round. While this is Fagemo's first season with the Reign, it's not his first season as a professional. The right shooting winger spent the past two seasons with Frolunda of the SHL, where he helped his team win the 2019 Le Mat Trophy (SHL championship) and the 2019 European Trophy (CHL Tournament).
Blaine Byron – Acquired from Springfield in December 2019, Blaine Byron led all Ontario players in scoring from then time he joined the team through the end of the 2019-20 season. Byron tallied 21 points (7-14-21) from 29 games played with the Reign, as he carved out an important role for himself with his new team. Byron, now a veteran of four seasons, has worn an "A" in the teams first three games to date.
Akil Thomas – Taken with the 51st overall pick in the second round of the 2018 NHL Entry Draft, Akil Thomas already has an impressive highlight reel. Thomas scored the gold medal winning goal for Team Canada at the 2020 World Junior Championship and scored 102 points in 64 games for the Niagara Ice Dogs during the 2018-19 OHL season. Thomas can play center or wing and has already shown off his offensive flair in a Reign jersey.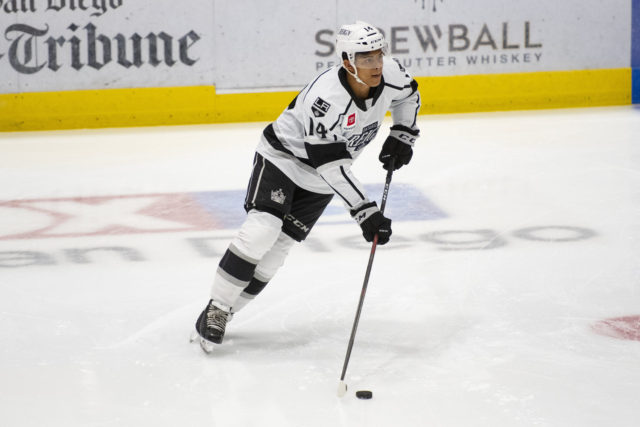 Boko Imama – Imama signed a contract extension with the Kings in the offseason, and has split the 2020-21 campaign to date between the NHL Taxi Squad and the Reign roster. Imama has skated in all three games Ontario has played to date, and has participated in a couple of dust-ups, including on Wednesday against San Diego. Imama set personal AHL highs in goals, assists and points during the 2019-20 season.
Mikey Eyssimont – Mikey Eyssimont has been earning loads of praise from his coaching staff, teammates and commentators. Drafted 142nd overall in the fifth round of the 2017 NHL Entry Draft, Eyssimont can play any forward position and has carved out a spot for himself with an impressive work ethic and a willingness to go to the dangerous parts of the ice. A veteran of the USHL, NCAA and AHL, Eyssimont's experience and hustle should help the younger players on the Reign reach their potential.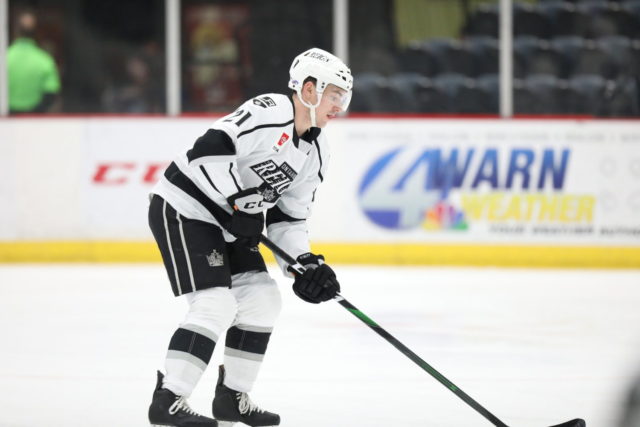 Jack Poehling – Jack Poehling, 24, posted a collegiate career-high 20 points (9-11=20) during his senior season in 2019-20, and was named was named the team's Sam LoPresti Award winner, for most-determined player. Poehling collected 61 points (28-33-61) from 144 career games played at St. Cloud State.
Nick Poehling – Jack's twin brother, Nick, led all St. Cloud State players with 18 assists during the 2019-20 season, and was second on the team in points with 26 (8-18-26). Across four seasons with the Huskies, Poehling amassed 66 points (25-41-66) across 133 games played.
Tyler Madden – Acquired from the Vancouver Canucks in a trade deadline deal in 2020, Madden has looked impressive in an Ontario Reign jersey. Drafted in the third round of the 2018 NHL Entry Draft and named to the 2018-19 All-Rookie Team and 2019-20 First All-Star Team for the Hockey East Association (NCAA), Madden has improved year over year. The son of former NHLer and Stanley Cup champion, John Madden, Tyler has had success on the international and collegiate stages and hopes to continue that tradition in his professional career.
Tyler Madden scores his second goal of the game to make it 3-2!#LAKings #Reign pic.twitter.com/WzotbHQRiA

— Eric (@Kingsgifs) January 31, 2021
Nick Halloran – Halloran was Ontario's first AHL signing of the summer, as he begins his professional career after four seasons of collegiate hockey with Colorado College. Halloran, a speedy, right-shot forward, collected 40 goals and 97 points during his NCAA career, and led his team in both offensive categories during his sophomore season, during which he was selected as a CCM/AHCA Second Team West All-American.
Arthur Kaliyev –A second-round pick in the 2019 NHL Entry Draft, Kaliyev speaks softly but carries a big stick. Known for his accurate and powerful shot, the sniper from Staten Island has already proven an adept puck mover and board battler. As if winning a gold medal at the World Junior Championship wasn't enough to pique the interest of Kings fans, Kaliyev has already kicked off an Arty Party with his first NHL goal against Anaheim last week.

Jacob Doty – Doty returns to the Reign for his second season with the organization. The bruising forward skated in 18 games a season ago, as he made the team out of camp on a PTO, earned an AHL contract midseason, and an extension with the team this offseason. Doty brings a protective presence, strong work ethic and leadership qualities to the team, as well as the ability to play an effective bottom-six role.
Alex Turcotte –Selected fifth overall at the 2019 NHL Entry Draft, Turcotte has been described as the perfect combination of "sandpaper and silk." The son of former first-round pick Alfie Turcotte, 17th overall in 1983, Alex teamed up with his Reign teammate Arthur Kaliyev to score some of the biggest goals for Team USA on their way to the goal medal at the 2021 World Junior Championship. Turcotte spent the 2019-20 season with the Wisconsin Badgers (NCAA) where he was coached by former LA King Tony Granato and scored 26 points in 29 games.
Aidan Dudas – Dudas returns to Ontario for his first full season as a professional. The 20-year-old forward made his AHL debut in 2019, as he skated in six games with the Reign on an ATO. Dudas is a gold-medal winner at the World Juniors level, and scored at around a point-per-game pace in the OHL over the last three seasons with the Owen Sound Attack, where he served as team captain in the 2019-20 campaign.
Quinton Byfield – The second overall pick in the 2020 NHL Entry Draft, Byfield has already scored his first professional point, an assist against the Henderson Silver Knights. The pivot spent the previous two seasons with Sudbury Wolves, of the Ontario Hockey League, where he scored an eyebrow raising 143 points in just 109 games. If Byfield fulfills just a fraction of his potential, he'll be a fan favorite in no time.
Defensemen
Cole Hults – A rookie defenseman who has yet to make his professional debut, Hults signed his entry-level contract with the LA Kings this offseason and joined the organization from Penn St. University. Hults, 21, was named as the Big 10 Player of the Year during the 2019-20 season, as he collected 30 points (8-22-30) from 34 games played during his junior year last year.
Mark Alt – Alt brings a steady, veteran presence to the Reign blueline, with NHL games to his name and vast AHL experience. Alt has skated in two NHL games with the Kings so far this season, and has played in the AHL with Adirondack, Lehigh Valley and Colorado. Reign fans may remember Alt from the 2018-19 season, when the right-shot defenseman scored a hat trick in Ontario as an opponent.
Sean Durzi – Durzi returns for his second season with the Reign, after he skated in 39 games a season ago as a rookie. Durzi tallied 14 points (2-12-14) last season and the puck-moving defenseman figures to factor into a larger role with Ontario this season. The right-shot defenseman is one of just three right-handed defenseman prospects under NHL contracts in the Kings system, along with Austin Strand and Jordan Spence.
Daniel Brickley – Brickley begins his third full season with the organization, and scored the team's first goal of the season on Opening Night in Henderson. The 6-3 blueliner has five career NHL games to his name with the Kings in 2018 and is looking to string together his first full season as a pro, after he missed substantial time due to injuries in each of the past two campaigns.
Cameron Gaunce – The elder statesman of the Reign group on the blueline, Gaunce has worn an "A" for the Reign over the first three games of the season. Gaunce brings vast AHL experience to the organization, including a Calder Cup with Texas in 2014, and an AHL All-Star appearance with Syracuse in 2020. Tonight's game will be Gaunce's 650th in the AHL, and he brings a stabilizing presence to a young group of defensemen.
Markus Phillips – Phillips made his professional debut in October 2020 with Ontario, one of five AHL games he skated in a season ago. Phillips also spent time in the ECHL with Fort Wayne, and in the OHL with London, and is now slated to continue his professional career on a full-time basis. Phillips, an OHL-Champion in 2019 with Guelph, has appeared in two of Ontario's first three games so far this season on the blueline.
Jack Sadek – One of two AHL-contracted players on the Ontario blueline, along with Gaunce, Sadek made his AHL debut on opening night in Henderson. Sadek has skated in two of Ontario's three games to date, with a +1 rating. A former Minnesota Wild draft pick, Sadek collected 32 points (6-26-32) with the ECHL's Allen Americans a season ago, his first full campaign at the professional level.
Jacob Moverare – A veteran of the professional game in Sweden, the 23-year-old defenseman joins Ontario for his first season of pro hockey in North America. Moverare played in the Reign's first two games, including his AHL debut on February 6 against Henderson. With Frolunda HC in Sweden, Moverare has won the Champions Hockey League in back-to-back seasons, as well as an SHL championship in Sweden in 2019.
Goaltenders
Matthew Villalta – The fourth goalie selected in the 2017 NHL Entry Draft, Villalta spent three seasons backstopping the Soo Greyhounds of the Ontario Hockey League. Villalta won the 2016 Dinty Moore Trophy (for best Rookie Goalie in the OHL) and followed it up by earning the lowest Goals Against Average in the OHL the following season. Last year he split time between Ontario (AHL) and Fort Wayne (ECHL) compiling a 10-6-2 record for the Reign.
J-F Berube – Berube is the veteran goaltender currently paired with Matthew Villalta in the early goings. Berube started his first game with Ontario at the AHL level on February 8, but also played 61 games with the ECHL edition of the Reign to begin his professional career. Berube brings championship experience to the group, having won a Calder Cup with Manchester in 2015.
You can follow along with today's Reign home opener on AHLTV (video) or Mixlr (audio only).