The LA Kings were back on the ice this morning at Toyota Sports Performance Center.
Joining the group today was defenseman Matt Roy, who skated for the first time since he suffered an injury last month in Minnesota, wearing a non-contact, red jersey. Not a part of the group was defenseman Drew Doughty, who suffered an injury in last night's game against San Jose, and was deemed "day-to-day" earlier this morning.
For Roy, his involvement was a big positive. McLellan said that he has progressed well after he was boarded violently from behind by Minnesota's Kevin Fiala, a hit that resulted in a three-game suspension from the NHL. He added that Roy's return brought a bit of life to the team and that despite a non-contact jersey, he was still able to participate in most parts of practice.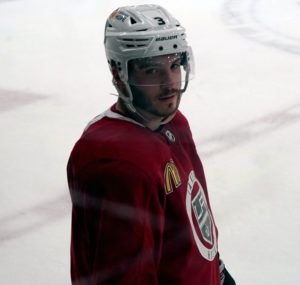 "He was wearing a non-contact jersey, but there were still some gentle battles if you will, body positioning, things like that," McLellan said, of Roy. "Talked to him after, he was excited and happy to be out there with his teammates, I think that sparked a little life in us right now, as a team, and we can always use that."
Regarding Doughty, the picture is less clear. The Kings' alternate captain blocked a shot midway through the third period last night and did not return to the game, nor did he skate with the team today. When asked, however, McLellan said that he considered today as more of a maintenance day for Doughty than anything, and said he is expecting to see #8 on the board in tomorrow's lineup.
"With Drew, for me, it's a maintenance day," McLellan said. "He doesn't miss many games, and I think that I'm going to have his number up on the board tomorrow, and he's going to be ready to play. It's probably what I expected, and I'm excited about getting him back."
How exactly it shakes out is unclear, but what we do know, is that this weekend's game cancellation against Minnesota could serve as a blessing in disguise regarding getting players back in the lineup.
For players like Doughty and Roy, who are in the day-to-day phase, having four days in between games can only help with regards to having them healthy and ready to go. The same can be said for Andreas Athanasiou and Blake Lizotte on the COVID-19 Protocol list, though their timing is less certain, considering the unknown natures of being on that list.
Regardless, though, tomorrow's game presents one challenge, and the slightly longer outlook presents another. McLellan definitely saw the bright side in having Saturday's game postponed.
"The cancellation of the game against Minnesota is going to help our team get healthier and hopefully by next week, we have some healthy bodies to inject into the lineup," McLellan added.
Lineup, Moves & Notes
The Kings had 13 forwards, seven defensemen and three goaltenders on the ice today.
Prior to the skate, Lias Anderson, Tobias Bjornfot and Austin Strand were moved to the taxi squad, while Markus Phillips, Boko Imama and Mark Alt were loaned to the Ontario Reign, in advance of Ontario's game tonight in Irvine against the San Diego Gulls.
We saw McLellan make some line adjustments during last night's game, as Jeff Carter moved alongside Gabe Vilardi and Adrian Kempe, in a combination we could see stay together on Thursday. That leaves the trio of Carl Grundstrom – Jaret Anderson-Dolan – Trevor Moore, which was praised by McLellan after yesterday's game, plus Michael Amadio, Lias Andersson, Matt Luff and Austin Wagner as the four others who were dressed today. More on the Anderson-Dolan line below.
As always, things are subject to change. It's no guarantee that either of the aforementioned lines that played together last night – and kept rolling when the Kings condensed down to three lines – will stay together. But there was no indication otherwise, either.
On defense, all six, healthy defensemen skated today – Mikey Anderson, Tobias Bjornfot, Kale Clague, Olli Maatta, Kurtis MacDermid and Austin Strand. With Roy in that mix, the seven defensemen interchanged amongst themselves during drills, not giving us a great idea of set pairings, plus there's the whole Doughty situation to factor in, which will create a ripple effect one way or the other.
A clearer picture to come tomorrow.
That Grundstrom – Anderson-Dolan – Moore Line….
I sat here for 30 seconds, trying to come up with more of a clever headline, but I think that a line needs to be together for more than three games to get a cool name.
Regardless, though, that trio has drawn praise from McLellan after each of the last two games. When the bench was shortened yesterday, that trio continued to play as the team's de-facto third line, and McLellan praised their energy and work ethic as the reason that it was the case.
"That line has been effective since we've put them together, all three games," McLellan said, last night. "They've worked real hard, they've been very conscientious defensively, they haven't given up very much. They play a simple, straightforward game and they deserved to be out there."
McLellan also talked about bottom-six players, or #4, 5, 6 defensemen, needing to do something to "provide a spark" when they're on the ice. He's looking for solid, consistent play from his big guns, but from guys playing smaller minutes, he's expecting them to do something to bring energy to the team.
Anderson-Dolan, and his line, feels that they have the ability to do that.
"I think the past couple of games, it's just been the forecheck, and creating energy off of that," he said. "We've gotten some o-zone time, and some physicality, just off of putting pucks behind their D and getting in there. We can all skate, we all know that, we know that's what's going to give us success. I think that physicality that comes with being on the forecheck, can turn the tide of the hockey game pretty quick."
Moore and Grundstrom have both had a number of linemates so far this season. Grundstrom has been moved throughout the lineup, while Moore has lined up with pretty much center in the lineup, including Anze Kopitar.
The now second-year LA King said he's been comfortable with everyone he's been able to play with so far and has settled in nicely playing with Anderson-Dolan and Grundstrom.
"I think it's gone pretty well. I told JAD his first game I was looking forward to playing with him. He's a guy who works hard, he's direct and he's responsible and Carl the same thing, I've played with him for a while now. I think that's a good foundation to build on."
The next step for that line is to create more on the offensive end. The hard work and energy have been noticeable to date, and both Moore and Anderson-Dolan feel that turning some that into offensive execution is what the group needs to do more of moving forward.
"As far as moving forward, we've got to do a better job of creating more offense, myself included," Moore said. "Just got to keep more plays alive, get more pucks back on the forecheck, and I think that's going to come from the hard work and all that stuff."
More to come on LAKI between now and tomorrow's game, including a look at the slow starts to games the Kings have had so far this season.