Insiders! The Kings were back in action on the ice this morning at Toyota Sports Performance Center, after off-days each of the last two days. The two days off followed the travel home from Minnesota that spilled into the early hours of Friday morning, and the team choosing to stay away from the facility yesterday after two players entered the NHL's COVID-19 protocol.
With forwards Andreas Athanasiou and Blake Lizotte added to the NHL's COVID-19 Protocol list over the weekend, as well as injuries sustained by defensemen Matt Roy and Sean Walker on Thursday against Minnesota, the Kings were forced to reshuffle their lines a bit for today's skate.
Here's a look at how the Kings set up today, in their lovely new set of gear featured throughout this article –
Iafallo – Kopitar – Frk
Grundstrom – Vilardi – Brown
Wagner – Amadio – Carter
Moore – Andersson – Kaliyev
Anderson-Dolan, Luff
Anderson – Doughty
MacDermid – Clague
Maatta – Alt
Strand
Quick / Petersen / Villalta
First, we've got a lot of roster moves to go over.
– Arthur Kaliyev and Austin Strand were added to the taxi squad earlier today, with Boko Imama and Samuel Fagemo assigned to the AHL's Ontario Reign. The former two skated with the Kings today, while the latter two are set to join the Reign at tomorrow's practice. The team also announced that Arthur Kaliyev has switched his number from 52 to 34, effective today.
– On the injury front, Martin Frk skated with the Kings for the first time since January 9, while Matt Luff joined the practice midway through, wearing a non-contact jersey. Adrian Kempe did not practice today.
With regards to Kempe, McLellan indicated that his absence was not related to COVID-19 protocol, but noted that he was not feeling well today, and thus was held out of practice.
"Kempe wasn't feeling good today – he's not in COVID protocol at all – he just didn't feel good," McLellan said.
The positive news was with regards to Frk and Luff, who both rejoined the group in some capacity for the first time since their respective injuries. Frk suffered what was clarified as a groin injury during the Black – White scrimmage on January 9 at STAPLES Center, was labeled as "week-to-week" and had not participated in a practice until today. Luff was labeled "day-to-day" following the second game of the regular season against Minnesota. Both forwards are currently on injured reserve and would need to be activated in order to play.
With regards to Walker and Roy, McLellan indicated that both players are expected to be out for "an extended period" and that an update on those players should come later in the week. Lizotte and Athanasiou remain on the NHL's COVID-19 Protocol List and are not able to participate in practices or games until they come off that list.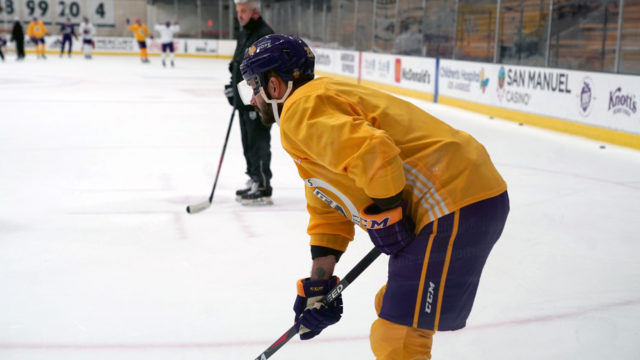 The Lines They Are A-Changing
In spurts, the Kings saw success from all four forward lines on their trip, with all four units going at times, especially in St. Louis. Despite a split in Minnesota, we didn't see the same level of consistent production, especially at 5-on-5, against the Wild.
One line that was particularly effective on this road trip was the fourth line, consisting of Carl Grundstrom, Michael Amadio and Trevor Moore. When your fourth line is playing well, it creates an interesting dynamic. Do you not tinker with that unit, and let a successful line be a successful line? Or do you give those players the bumps in the lineup that they perhaps merit through their own play?
In this case, circumstances necessitated a switch.
"If we have four lines rolling, it's quite simple, we just keep rolling them out," McLellan said. "When you look at our fourth line, I thought it was quite productive on the road, I thought it was effective, but we lost a couple of key players, in some important positions, so we've got to shuffle things around. I think circumstances can dictate the shuffling, and level of play [can dictate the shuffling], and in this case it's more circumstantial than anything."
With Lizotte and Athanasiou out – members of the Kings' usual second line – and Kempe out today as well, alterations were needed. Frk re-joining the group made an easy swap with Kempe, as #29 slotted in alongside Kopitar and Iafallo on the top line. McLellan confirmed that Frk's injury was a groin injury, and thought that Frk skated well today in his first practice back. The anticipation is that Frk could re-enter the lineup by the weekend.
McLellan said that he has never dealt with such a shuffle of roster moves throughout his time in the NHL, though he knows that there are 30 other coaches around the league who have dealt with, or will deal with, the same issues. He gave a very in-depth response when asked if he had dealt with anything like this so far in his coaching lifetime.
"It's so unpredictable because we don't know what's coming," McLellan said. "I almost feel guilty answering that question because I know there's 30 other coaches right now who are answering it the same way. We had a zoom call over the weekend, where we went through our roster, our lineup, who would we have and who wouldn't we have, yet, when we got here this morning, it took some time to sort everything out, who is officially cleared and who isn't. Then, the injuries, when you look at two COVID-protocol people being out, they're unavailable, two defensemen, two forwards going down and we're six players short, eight games in. I don't like our numbers when we're averaging almost one per night. We'll work our way through, that's why we have depth. There's guys that are practicing hard, waiting for their opportunity to come in and I think that's a real healthy thing. When they get a chance, they've got to take advantage of it and odds are, they're going to get that chance."
If I have learned one thing watching this season unfold, it's that today, on Sunday, there's not much to be gained by projecting out what Tuesday will look like. As we've seen, things will change this season on a day-to-day basis, and we've all got to be ready to adjust on the fly.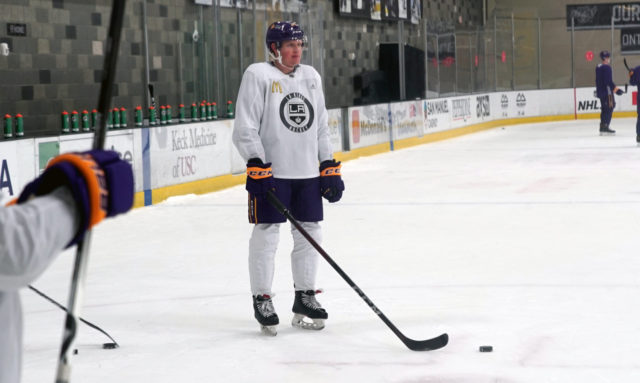 Opportunity Beckons on the Blueline
No one wants to get their opportunity through injury, but that is the situation at hand right now for the Kings.
As McLellan noted, Matt Roy and Sean Walker are expected to have "extended" absences from the lineup, which creates two voids on the right side of the blueline.
One such opportunity falls to Kale Clague, who has vaulted himself from the roster bubble entering training camp to a steady role in the lineup over the last few games. Clague partnered with Roy over the last four games and was earning more and more responsibility alongside his steady defensive partner.
Now, with the two injuries, Clague has an opportunity for himself to cement his place in the Kings lineup moving forward.
"This is going to be a big opportunity for myself and the other guys in the room," Clague said. "Obviously Walks and Royzie are two huge pieces of this team, and we're going to be missing them dearly, but this is a massive opportunity to step in, show that I'm ready to play full-time and continue to grow and progress my game. There are going to be key minutes to be had, and I've just got to be ready."
After skating on the left side so far this season, Clague returned to the right-side today in practice, where he is quite familiar from his time in Ontario. Clague regularly played on the right side in the AHL, including with his current defensive partner in Kurtis MacDermid.
After Sean Walker made the jump to the NHL in late-2018, Clague stepped into a top-pairing role with the Reign, alongside the steady MacDermid. He pointed to that familiarity today, as a benefit to the situation at hand.
"Dermy and I are comfortable," Clague said. "I'm moving back to the right side and I'm comfortable there. We played together a little bit in Ontario, we have that familiarity, that chemistry, so it'll be a smooth transition for the most part, I think. It felt good in practice, just got to make sure we're talking a lot and I think it'll be good."
Defenseman Olli Maatta also has an opportunity in front of him.
Maatta, acquired from Chicago in the offseason, began the season on the top defensive pairing, alongside Drew Doughty, but after McLellan moved the units around in the fourth game of the season against Colorado, Maatta found himself out of the lineup over the past four games.
Today, McLellan felt that the Finnish blueliner has now had the chance to reset himself, and is looking to Maatta to push past the tough start he had with a new organization.
"Olli had a chance to reset," McLellan said. "Coming to a new organization isn't easy, he got off to a bit of a rough start, and had a chance to settle in, watch some games, be in some more meetings, understand his positional role. He's a veteran player and he knows how to do it. At times, I think he's trying too hard to impress his new teammates and coaches and as a result, he can be over or under aggressive, depending on the situation. It's there, and it will come."
For the veteran bench boss, he points to Maatta's character as a big reason why he feels confident in a bounce-back. Going off of the impression Maatta has made so far in his time with the Kings, and the track record he brought to the organization in terms of character, McLellan believes that when Maatta checks back in, he will provide positive minutes for the club.
"He's an outstanding human being, we believe in him, so there's so many positives for him," McLellan added. "If he wasn't that type of person, or had that type of track record, we'd be concerned, but I think he's going to come back in and give us good minutes."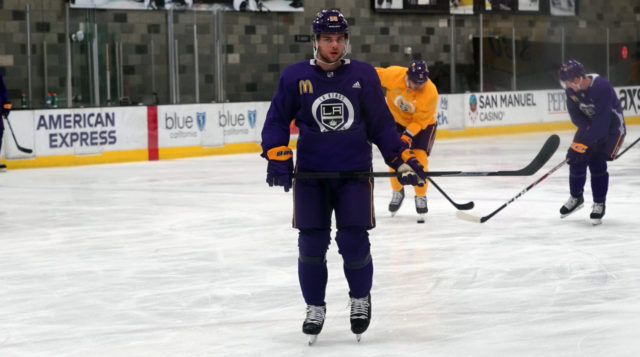 Lastly, we also spoke with Arthur Kaliyev today, after he joined the taxi squad earlier this morning. Kaliyev has found some success thus far this season with the Ontario Reign in preseason play, and discussed his transition to professional hockey, learning the Kings systems in Ontario, playing with Tyler Madden and more!
The Kings are scheduled to practice again tomorrow at 11 AM, in advance of Tuesday's Freeway Faceoff against Anaheim.