Morris Lukowich enjoyed an eight-year career in the NHL playing for four clubs. He played two seasons, his final two in the League, with the Kings and netted 25 goals from 1985-87.
LA Kings Insider caught up with Morris on several things, as the Kings alum gave us many, many thoughts to share!
HERE AND NOW
LAKI – How would you describe your life after hockey?
ML – Life after hockey has many challenges, many interesting learning experiences and lots of fun. When I am asked "how is life?" I answer it is an adventure and a miracle, and it is! I have not found anything that replaces the thrill of scoring an NHL goal and the excitement and fun that goes with it. Life after hockey has had many challenges, finding a new purpose, actually experiencing the simple emotion of feeling good.
LAKI – What have you been up to?
ML – I have loved coaching hockey and I had my Maximum Goal Scoring business run from 1995 to 2015, super fun teaching goal-scoring to kids and adults, men and women. I have moved into sales with a couple of different companies…one is called Livebarn, unmanned camera systems for minor hockey arenas. I handle Alberta, Saskatchewan and Manitoba installations. It is enjoyable and leaves arenas in better shape than I found them!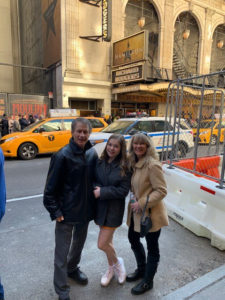 LAKI – On the personal side, how is your family, and what do you do outside of work?
ML – Being a Dad, we have a beautiful daughter Zoe who is now 16. She loves singing and dancing and staying up late on school nights! I play lots of sports – hockey, tennis, squash, badminton, pickleball, golf, biking, cross country skiing, some strength training. I love my sports and I love the competition and winning a pickleball game can be fun and exciting and comes close to scoring an NHL goal……well not that close.
I enjoy public speaking and tell many stories of my time with Gordie Howe, Bobby Hull, Tiger Williams and Luc Robitaille. My story with Luc is how he (as a Kings Rookie) taught me (an 11-year veteran) how to catch a pass the right way and how to shoot it quickly. I was very blessed to be able to play in the NHL and I am now very blessed to live a fun and challenging life after hockey.
MY FAVORITE MEMORY – December 31, 1986, Bruins vs Kings
In November of 1985, I had been released on waivers by the Boston Bruins and the LA Kings had picked me up, so on December 31, 1986 I was very motivated to play a good game and beat the Big Bad Bruins!
Pat Quinn was our Head Coach and at the start of the season Coach Pat had asked me to work with Jimmy Carson (a very talented rookie centreman) and teach Jimmy about how to play defensive hockey as well as being an offensive scoring threat. We were blessed with three amazing rookies that year, with Luc Robitaille (left wing rookie scoring machine) and Steve Duchesne (outstanding rookie d-man) being the others.
Jimmy and I were having good offensive years and we were also the two top plus/minus players on the Kings at the time of this game (I was very happy with this as Jimmy cared far more about scoring than defense so our positive plus/minus showed that Pat's faith in me as a mentor to Jimmy was paying off!)
After 60 minutes of tough hockey we were tied at 1-1 and going into OT. Billy Ranford was the Bruin goalie and Rollie Melanson was our Kings goalie, both playing terrific in goal. Playing in an NHL overtime game is one of the most exciting things in hockey for me, every moment counts because any small mistake can result in the game being over, and there is the opportunity to be the hero!
Ray Bourque got the puck in his own zone and started out of the Bruins end up the middle of the ice. I decided to do a "Gretzky" and follow up the play and look for a fast break pass. Someone put pressure on Bourque at the center red line from the side and he lost control of the puck and it went directly to Jimmy Carson.
I got really excited as I was behind everybody and all I required was the puck and I was gone on a breakaway!. I was going to scream for a pass yet that can attract coverage so I waited a moment and sure enough Jimmy saw me. Jimmy was an incredible goal scorer (born in Detroit) and he was even a better passer. He threw me a perfect pass just in front of the Bruins blueline and I was gone on a breakaway.
Something incredible happened then…time slowed down and the next few moments happened in minutes and in extreme slow motion for me. Quite incredible!
As I skated in, it was almost like I was watching myself from above and viewing the play happening as it happened. I knew Billy Ranford, as he was a Bruin Rookie when I was with the Bruins in 1985. Billy is an amazing goalie, fantastic and quick glove and blocker yet every goalie has a weakness and Billy's one weakness was to give him a little "fake shot" and then deke and he would open up his legs and I could drive a semi-trailer through that 5-hole between his pads!
I faked the shot, went slightly to my left and fired a perfect forehand wrist shot through his 5-hole! What an explosive and exciting moment to celebrate!
I turned to my left and our entire Kings Team was coming over the boards. Centreman Bob Bourne was the first to "hit" me (like a truck) and kaboom I was suddenly at the bottom of a huge LA Kings dogpile, which for as much fun as it is can be quite suffocating. It is an amazing feeling to get congratulations, hugs, high fives, helmet bumps from an entire team.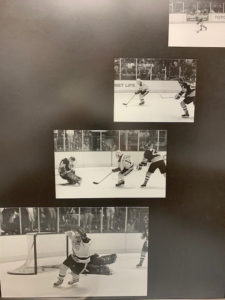 Our Kings photographer took these photos of the sequence leading up to the goal and then the celebration afterwards. He said it was one of the best Kings pictures he had ever photographed as he caught my excitement, the goalie completely blocked out and the puck rolling out of the net on its side. A Dad took his daughter (in the white pants above the left goal post) and threw her into the air and she is still three feet up in the air to this day in the picture. The Kings photographer put the pictures in a frame and gave it to me for a keepsake. The picture hangs in my basement in Calgary, right beside my Gordie Howe picture!
After the game, we went for a Kings New Year's celebration to the home of the first Tarzan, Johnny Weissmuller, (then staged as a rental party home) and had a tremendous party. Winning is so much fun – That was my favorite moment as an LA King!!
MY TEAMMATES –
Bernie Nicholls: Classy, big stick blade, good hands, opportunist, fun to be with, super golfer…and a bad loser!
Marcel Dionne: Quiet and focused before a game, incredibly determined, a general, amazing smile, loves a good joke, incredibly talented!
Dave Taylor: A Thoroughbred (fast) when skating, team player bigtime, incredible corner man, really loves a good joke, trustworthy.
Tiger Williams: Incredibly. incredibly determined, a "Man's Man", opinionated, comes to anyone's rescue, makes things happen, dangerous to play against!
Jim Fox: Very shifty, super shot, legs like tree trunks, calculating and smart. Loves to stir the pot and then watch the fireworks. Good tennis player too!
Luc Robitaille: Best laugh in pro sports. in top 5 best quick wrists shots in hockey history (Bossy, Sakic, Hedberg, Selanne). A scoring intellect/smarts, always get to a loose puck first a natural goal scorer…Why would anyone want to trade this guy?
Jimmy Carson: Linemate, great smile, innocent, a thinker, coachable and a good listener, incredible passer, extremely fast on a breakaway, loved to eat supper together. I loved Jimmy!
A special aside from from Luc Robitaille on "Luke and Lucky Luc"
"While we had a lot of young guys back when I was breaking in, we also had veteran guys, and they were each very memorable. Dave "Tiger" Williams was the one who have me the nickname of Lucky. I was always scared of him as I heard that he did not like French guys. He must have seen something in me, though as he always treated me great. The reason why he gave me my nickname is that we had a guy on our team named Morris Lukowich and everyone called him Luke. So, every time I heard someone say Luke, I'd turn around. I think it was after Opening Night the next day when Tiger came in the dressing room and called my Lucky. Lukowich asked, 'Why are you calling him Lucky?' Tiger said "Geez, he comes from the biggest house on the team – I was living with Marcel – he comes to practice in a Mercedes – I was driving with Marcel – and he comes on the ice and sore his first shot on his first shift. That is Lucky to me!' The nickname just stuck. Bernie Nicholls, who always treated me great, from the get go, wanted to play with me and always took care of me on and off the ice. He kept calling me Lucky because it was easier for the guys. One was Luke and one was Lucky, and Lucky Luc just stayed forever."
Special Thanks – Gabe Gelbard