We are two……TWO days away from the NHL season!
The Kings got a welcomed addition back to the group in Gabriel Vilardi, who stepped onto a line with Adrian Kempe and Austin Wagner on the wings after he was deemed unfit to play on Saturday. The three players who joined the group yesterday – Quinton Byfield, Arthur Kaliyev, Tobias Bjornfot – remained with the Kings for this morning's skate.
Here's how the Kings lined up today –
Iafallo – Kopitar – Brown
Athanasiou – Lizotte – Carter
Kempe – Vilardi – Wagner
Moore – Amadio – Luff
Grundstrom – Byfield – Kaliyev
Maatta – Doughty
Anderson – Roy
Clague – Alt
Bjornfot – Strand
Quick / Grosenick
The Kings spent time today working on a number of things, including neutral-zone play, zone entries and defensive zone coverage. You know, all that stuff that's really boring to write about but is actually really important when it relates to the success of the LA Kings.
In the more open parts of today's skate, Matt Luff and Michael Amadio combined on a nice goal on a 2-on-1 rush, with Amadio passing across the slot to Luff for a one-timer goal from the left-hand circle.
Later in practice, the group worked on 2-on-2 and 3-on-3 play in tight spaces. Wagner connected with Vilardi and Kempe for a nice goal, as did the Andreas Athanasiou – Blake Lizotte – Jeff Carter trio.
The teams also worked on special teams, with defenseman Kale Clague factoring in amongst the participants on the blueline in place of Sean Walker, who is still unfit to play.
3 Key Takeaways –
Good To See Gabe
The biggest story of the day was the return of Gabriel Vilardi to the lineup, after he was considered unfit to play during yesterday's practice and Saturday's scrimmage.
McLellan explained today that Vilardi has cleared the necessary protocols to be able to return, while Walker, Cal Petersen and Kurtis MacDermid have not yet done so. Thus, Vilardi returned to the ice today with the Kings. Additionally, goaltender Matthew Villalta returned to the ice this afternoon with the Ontario Reign.
"It was exciting to get [Vilardi] back out there and he was excited to be out there himself," McLellan said. "He makes a difference when he's out there, and that's what we need from him."
Vilardi worked on the power-play during that portion of practice and connected with Michael Amadio for a power-play goal. Vilardi, stationed at the right point, took a cross-point feed from Clague, moved down the right-hand wall and hit Amadio with a feed through the slot for a one-timer goal. Nice looking play.
All-on-all, a good day back in the office for Gabriel Vilardi.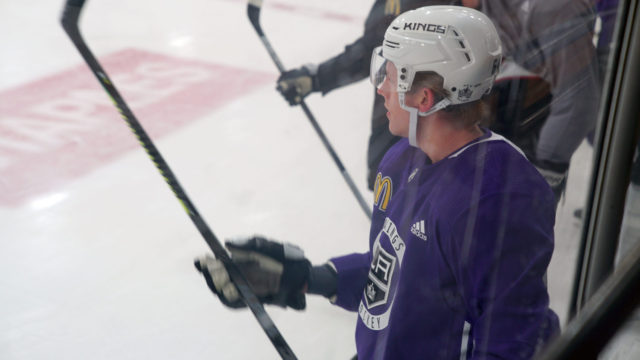 Things We Luff To See
One training camp ago, Matt Luff's name was on the list of the first players assigned to the American Hockey League, despite playing nearly half of the season before in the NHL.
Fast forward to 2021, and the game has changed for Luff. His production during camp has been noticeably different, and from the point of view of his head coach, the Oakville, ONT native is far ahead of where he was a season ago.
"If you compare the two camps, it's not even close," McLellan said. "This year, he was noticeable, he had an impact on every scrimmage. It's not always about scoring goals, but he did a lot of hard work to create for others, grasp the systems. I think it's night and day from where he was last year at this point until now. With him, he's got to maintain the momentum he's created throughout training camp and put it into play during the regular season."
For Luff, who was a bright spot on the 2018-19 Kings team as a midseason callup, he continued to produce in the AHL last season but struggled to replicate that form in 18 games with the Kings.
Fast forward to camp this year and Luff's name has come up a few times now, garnering praise from McLellan. He was one of two players, along with Carl Grundstrom, to be singled out for their performance during the Black – White scrimmage this weekend. With just two days to go until Opening Night, Luff currently sits as one of the forwards in position to make the Opening Night lineup.
"My goal is to play Thursday night and every night after that," Luff said. "Just keep working and keep giving them reasons why they have to put me in the lineup."
He agreed with McLellan that this has been his best camp to date, also using the phrase "night and day" compared to a season ago. He feels he has more confidence on the ice at this season's camp, which has allowed him to showcase his game during camp.
Over the extended break, the 6-3 winger pointed out that he took the time to work specifically on goalscoring, as well as the strength and conditioning side of his game, in addition to the mental side of his game. The extra time was beneficial to many, and Luff was no exception.
"It helped me to work on a lot," Luff said of his offseason. "I got a new goalscoring coach (Josh Wrobel in Oakville) and he helped me find my confidence again. We kind of worked on certain areas of shooting and scoring, and it came into play with a couple of my goals here. I owe a lot to Matt Nichol and his crew for the offseason. Guys have pointed out that I look bigger, faster, stronger, so with those added months I just prepared every day like I was trying to make the Kings. Having those 8-9 months was huge."
Whether he will be a part of the Opening Night roster, the Opening Night 18, or both still remains to be seen, but regardless of where things shake out, Luff has put in the work to be ready for this season.
NHL announces camp COVID testing results
The National Hockey League released this afternoon that, across the league's 31 teams, 27 players tested positive for COVID-19 throughout the entirety of training camp.
The Dallas Stars alone accounted for 17 of those 27 positive tests, meaning the other 30 teams combined for just 10 positive tests. No further details were given by the league, but that's……encouraging?
During the two-week period from December 30 to January 11, NHL players were tested on a daily basis with a total of approximately 12,000 tests administered to in excess of 1,200 Players.
As previously announced for training camps across the league, the plan was for the NHL to announce a total positive-test number, which is this information today. Moving forward, the protocols will be different, and the NHL will provide regular updates on the results of these tests, including confirming players who have tested positive.
This is all in line with what was spelled out with the league's return to play notes in December.
BONUS VIDEO – Hear from Tobias Bjornfot for the first time since he joined Kings camp on Monday. Toby!
Between today and Thursday's home opener, we will get clarity on the Kings opening-night roster, as well as the makeup of the taxi squad. Tomorrow is the final practice day before the regular season. Buckle Up!