Insiders, we've got a lot going on today.
We saw that the LA Kings moved from two training camp skates to one training camp skate. We saw that the five players deemed "unfit to play" on Saturday were not a part of that group. We learned that Martin Frk and Alex Turcotte have "lower-body injuries", did not skate today and both are unlikely to be ready to go for Thursday's regular-season opener, per Todd McLellan. We also saw three new faces – Quinton Byfield, Arthur Kaliyev and Tobias Bjornfot – skate with the team for the first time after clearing their protocols after returning from the World Juniors.
And, exhale.
Big day. Here's how the Kings lined up this morning –
Group A
Iafallo – Kopitar – Brown
Athanasiou – Lizotte – Carter
Kempe – Amadio – Wagner
Moore – Byfield – Luff
Grundstrom – Andersson – Kaliyev – Anderson-Dolan
Maatta – Doughty
Anderson – Roy
Clague – Alt
Bjornfot – Strand
Quick / Grosenick
Due to those unavailable, the lines were shuffled in the bottom half of the lineup, while some players rose up and could assume larger roles if in fact other players are not able to play on Thursday. Frk's absence will open up one roster spot regardless.
McLellan, at this time, was unable to commit to anything further regarding the opening-night roster. That information is expected to come later this week.
3 Key Takeaways
The New Guys
As noted above, three players from the World Junior Championships were cleared to join the Kings roster, as they skated for the first time with the group today. Quinton Byfield, Arthur Kaliyev and Tobias Bjornfot each took part in their first camp skate of 2020, and for Byfield his first-ever Kings practice.
"They cleared protocol, so they were allowed into the practice facility and able to skate," McLellan said. "Bjornfot, Kaliyev and Quinton Byfield all skated and they were fine, they were excited. I think they were probably a little bit nervous. Usually, they get to step into training camp with a lot of other junior faces, maybe some younger players they're familiar with, but here it's right in with Kopitar, Brown, Doughty, veterans like that. I'm sure there were some nerves, but they handled it very well."
For Byfield, today marked his inaugural skate with the franchise that selected him second-overall just a few months prior. He expressed a high excitement level during his first media availability, about joining the pro ranks.
"I think it was pretty exciting to be out there with all the guys, it was a good practice," Byfield said. "When it got underway, it was quite a bit of fun. It's an exciting time, stepping out there for your first pro skate and just getting to know all the guys. The excitement level was pretty high today."
Byfield skated on a line at center, between Matt Luff on the right and Trevor Moore on the left. He described today's skate as "high-tempo" as he transitioned from playing with Team Canada to the National Hockey League.
The final destination for Byfield during the 2020-21 season is up in the air at this stage. Making the NHL roster is still within his grasp while being assigned to either the AHL or the taxi squad, or eventually returning to the OHL, are still in play as well. Regardless of where he ends up, Byfield plans to make the most of the opportunities that he is given.
"Honestly, it's pretty crazy, everything's just kind of up in the air right now, you don't know what's going on with anything," he said. "You've got to be prepared, if it's a situation that you're put in you've just got to make the best of the opportunity. If that's playing in the NHL, hopefully, I just want to make the best of my opportunity. If not, wherever I go, make the best of my opportunity there and be the best player of myself and make an impact either way."
Kaliyev joined Byfield amongst the forwards today, skating on a four-man line with Lias Andersson, Jaret Anderson-Dolan and Carl Grundstrom.
Kaliyev was excited to get into his first NHL skate of the season and to be back here in Southern California. He noted that the pace of the skate was fast, though he felt that the pace of play at the World Juniors Tournament was pretty fast in itself, and prepared him well for today.
"I thought it was a pretty good pace," Kaliyev said of practice today. "I thought the pace at the World Juniors was pretty high, the last game against Canada [especially], and today was high as well. Today's may have been the best, because I didn't skate for a couple of days, but I think they were both a really high speed."
What Kaliyev had under his belt that Byfield did not was a full training camp with the Kings last year. While it was a short stay, before he returned to the OHL, Kaliyev did get to play in a preseason game and felt that experience benefitted him as he adjusted today.
"I think it really did actually," Kaliyev said, when asked if being at camp last season helped him out today. "Last year, I didn't know what to expect, didn't know what was going to happen, or the pace. This year, I feel more comfortable being here, and knowing what to expect and what to do."
The final member of the trio, Bjornfot, is the most experienced of the group. The 19-year-old defenseman spent the entire 2019-20 season in the Kings organization. He made his NHL debut with the Kings in October 2019 and went on to play a prominent role on last season's Ontario Reign squad, skating the bulk of the season with veteran Paul LaDue on the team's top defensive pairing.
Entering today's practice, McLellan agreed that Bjornfot's experience perhaps gave him a different comfort level compared to Byfield and Kaliyev heading into today's skate.
"Certainly he does, he's more comfortable with us, he knows his environment, he knows where he's going in the locker room," McLellan said. "I would think from a comfort level, he's further ahead than the others. He plays a different position than the others that just entered, so he's not necessarily competing with the other players, he's competing with ones who have been here in training camp for two weeks now. I see it in him…it's hard to believe they're all relatively the same age, because Toby does carry himself like he has been around for a year, and he certainly has."
Bjornfot partnered today with defenseman Austin Strand during practice. With Bjornfot's success in the AHL a season ago, it's not surprising to hear McLellan talk about him in the way that he did.
Clarifying The Roster
With the Kings condensing from two groups to one, they made a series of roster moves in advance of tomorrow's roster-submission deadline for the NHL.
Right now, here's what we know:
The Kings assigned the following 14 players to the Ontario Reign today –
Forwards (7): Aidan Dudas, Mikey Eyssimont, Samuel Fagemo, Boko Imama, Rasmus Kupari, Tyler Madden, Akil Thomas
Defensemen (5): Daniel Brickley, Sean Durzi, Cole Hults Jacob Moverare, Markus Phillips
Goaltenders (2): Jacob Ingham, Matthew Villalta
This led to the condensed camp schedule today, with just the one skate.
Opening Night rosters are due to the NHL by 5 PM tomorrow afternoon, and today was the last day to place players on waivers in advance of that roster submission deadline. As noted below, Mark Alt and Troy Grosenick were not placed on waivers today, and therefore were not assigned to Ontario in that group.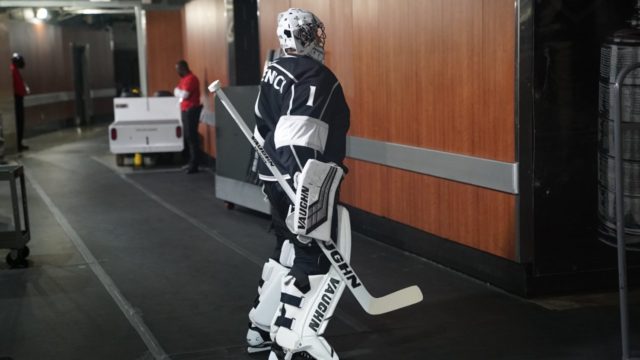 Don't Sleep On The Vets
The focus and much of the attention at this camp has been spent on first and second-year pros who are joining the organization or those entering the professional ranks for the first time.
Two veteran free-agent signings in the offseason, however, may wind up being a part of the Kings moving forward into the home opener. Defenseman Mark Alt and goaltender Troy Grosenick have remained with the main group at training camp with the Kings entering the final week of training camp.
Both have vast professional experience, mostly at the AHL level, but offer an option to McLellan and the Kings when filling in for players who are unavailable at the moment. Neither player will be overwhelmed by entering an NHL season, and both are professionals, having been around the pro game for many years.
With the circumstances in place, both could now be on the Opening Night roster for the Kings on Thursday. Whether that happens is unclear at this point, but both players are firmly in contention for spots if the opportunity presents itself.
McLellan on Alt
If you're one of the eight or nine [defensemen] that are in consideration, we feel comfortable with all of them. The one thing that Alt has is some experience in the league. He has a low panic point, he defends fairly well, he's been used to playing in the [NHL], going up and down. His experience gives him some cache with the group, and I found him to be very coachable, asking some important questions. That lends a little confidence to the situation.
McLellan on Grosenick
Going back to the San Jose days, I was there when he played his first game in Carolina. Our team was not very good that night and the goaltender was outstanding. I recall him being the first star, his parents were at the game, I think it was a shutout. He was really good. He didn't spend a lot of time with us with the Sharks, he was in Worcester with the farm team a little bit more, but he's mature and a solid goaltender. He knows where he's at, there's no nerves or anxiousness coming into a pro camp. He's a perfect number 3 right now.
The Kings are back on the ice tomorrow, for their penultimate practice before the real deal on Thursday!