Insiders!
Another busy day in El Segundo. The Kings took the ice today an hour earlier than usual – Group A skated at 10 AM, Group B followed at noon. Today's skate was the final practice day before tomorrow's Black – White scrimmage, after which McLellan alluded that he should have a better sense of the opening night 18, the NHL roster in full and the makeup of the taxi squad.
Group A aligned in an identical manner to yesterday – LINES HERE – while group B, a smaller size, continued to focus on small-area games without set lines per say.
Today's skate had a focus on the penalty kill, continuing on the theme of special teams from throughout the week. Defensemen involved on the PK included Doughty, Maatta, MacDermid, Roy and Anderson, while the forwards used were Lizotte, Carter, Kopitar, Iafallo and Kempe.
When he spoke earlier in camp, Maatta indicated that he was always a part of the penalty-killing unit in Pittsburgh, where he spent the first six seasons of his career. I asked Todd McLellan about Maatta's presence on the Kings penalty kill, and what the newest member of the blueline adds to that unit.
"When you think of [Pittsburgh & Chicago], they've had a lot of success in the time that he was there," McLellan said. "He had a prominent role on those special teams and we think he'll do that here. His ability to adapt to the new way, or to the way that we want to do it, has been impressive. He's confident and he has good anticipation skills, good legs, things that you need on a penalty kill."
Pittsburgh ranked in the Top 5 across the NHL in penalty killing in three of Maatta's six seasons there, and never ranked lower than twelfth.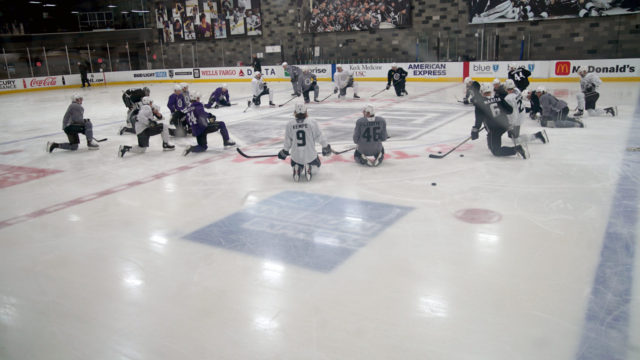 Group B, as has been the case over the last few days, has put an emphasis on skill development and making plays in smaller situations. Highlights from that skate are below –
Some highlights from Group B Today –

– A nice give-and-go between Rasmus Kupari & Aidan Dudas led to a Kupari finish
– Jaret Anderson-Dolan won a notable net-front battle, edging out a defenseman and scoring on a deke
– Faceoffs & net-front battles a theme of the skate

— Zach Dooley (@ReignInsider) January 8, 2021
3 Key Takeaways
Let The Boys Play!
McLellan indicated that tomorrow's Black – White scrimmage will be a drop the puck and let them play event, rather than the controlled scrimmage, as we've seen at times during training camp.
"It will be 'drop the puck and play' and they will create their own situations," McLellan said. "We need that right now, so it will be that kind of scenario, where line changes will be important, shift length will be important, stuff that you can't always control in practice."
Though training camp to date has provided opportunities to assess the team in a scrimmage setting, it has not necessarily been able to mimic the feeling of playing in a game.
One main reason behind holding an event like this at STAPLES Center is to give the group a feel for playing in that building again, in an empty capacity. Most other teams around the league played games in the empty bubble, but the Kings were not a part of the summer's return to play. Saturday's event gives them a first look at what awaits them on January 14.
"There's things that we've worked on during camp, and the thing that will come out of this is that we'll have the big building, there won't be any noise, the whole environment we're going to experience for the first time," McLellan said.
Additionally, the plan is for players to approach this as if it was an actual game. The Kings will warm up like normal, take TV timeouts like normal, scrape the ice like normal and, hopefully, play like normal.
"We'll definitely go the full regular-season game routine," McLellan said. "We're going to warm up, we're coming off, we're going to scrape the ice. I want our guys to get back to feeling what the whole rhythm is to a game. We're not just going there to play 30 minutes of straight, we can do that here in our own building."
Don't Sleep On Dermy
Kings defenseman Kurtis MacDermid earned the first one-way extension of his professional career this offseason. And he deserves to have it talked about.
It's a big step for a player who has played in the American Hockey League and graduated to the NHL to earn that one-way deal. It's a sign of belonging on a full-time basis and through his play over the last two seasons, MacDermid has proven himself to be a capable NHL defenseman.
"That was obviously a big goal of mine, when I came into pro [hockey], so to get that, it was pretty special to me," MacDermid said. "It just shows that I need to keep working and make it a smart decision on the organization's part, so I think that just lights more of a fire under me. I'm just going to keep working hard and getting better every day."
MacDermid always seems to fly under the radar, which is a little ironic. How could a 6-5, 233-pound man possibly fly under the radar?
McLellan adamantly noted that what his hulking defenseman brings to the table does not go unnoticed by anyone in the locker room. MacDermid's presence is felt by the coaches and his teammates, and his contributions are valued by those within the organization.
"He's not overlooked by anyone in the locker room or in the coaches room, not one bit," McLellan said. "He's front and center, he's a real glue guy on our team, I can't stress that enough. He looks after players, he's got an intensity to him that's really important off the ice and in the gym. On the ice, he works on his game as hard as anybody. He's the type of player that everybody cheers for, and appreciates what he does."
As indicated above, MacDermid was part of the group of defenseman that rotated in and out on the penalty kill in today's drills.
The Sauble Beach, ONT native averaged just over a minute of shorthanded time-on-ice last season, but with Ben Hutton and Joakim Ryan departing in the offseason, an average of three minutes per night, from the games they played, on the penalty kill is up for grabs. MacDermid feels that the PK is tailored to his game and that he is hopeful to earn additional responsibilities on the man-down unit.
"Having a long reach, that goes a long way with taking away passing lanes on the penalty kill," MacDermid said. "I got a bit of PK time last year and I just want to continue to grow that because, in the second half, we were doing a really good job of shutting teams down. It's good to see when we're put in those positions that we were getting rewarded with our penalty-killing percentage going up by the end of the season."
Rest In Peace, Tommy Lasorda
Lastly, a somber note from the Los Angeles sports community this morning as Tommy Lasorda passed away. McLellan spoke about the impact he saw Lasorda make on the community here in Southern California after today's practice.
"Well, significant to say the least," McLellan said of Lasorda. "I remember growing up and watching the Dodgers play and Tommy and how he carried himself, how he represented the Dodgers organization, the city of LA, he'll be sorely missed. I'm sure that for a lot of us in the sporting world, there's some mentorship that he can hand out to us, and we'll see more of the Tommy Lasorda memories over the next few days on TV and we should all be paying attention. He found a way to win in a lot of different ways, not only on the field but a really classy guy. He has a lot that he can pass down to all of us in the sporting world."
BONUS VIDEO – Carl! Good To See You! Hear from Kings forward Carl Grundstrom from today's skate.
Scrimmage information to come here on LAKI tomorrow morning. Until then!