Insiders, Welcome Back!
Some news today, which we'll cover below. As far as the skates looked, both groups looked very similar to what we saw yesterday. Here's how the two groups lined up –
Group A
Iafallo – Kopitar – Brown
Kempe – Vilardi – Frk
Athanasiou – Lizotte – Carter
Moore – Amadio – Wagner
Grundstrom – Andersson – Luff
Maatta – Doughty
Anderson – Roy
MacDermid – Walker
Durzi – Alt
Quick / Petersen
Group B
Forwards: Anderson-Dolan, Dudas, Eyssimont, Fagemo, Imama, Kupari, Madden, Thomas
Defensemen: Brickley, Moverare, Phillips, Strand
Goaltenders: Grosenick, Ingham, Villalta
Perhaps the best goal in today's Group A skate came from defenseman Olli Maatta, who popped a bar-down wrist shot from the left side, off the rush, drawing some stick taps from the group.
Offensively, the Kempe – Vilardi – Frk trio was successful in transitioning into the offensive zone, and Frk set up Kempe for a one-timer goal past Cal Petersen on the glove side. On the defensive end, the Athanasiou – Lizotte – Carter line broke up some opposing pressure in their own zone, and Lizotte set up Athanasiou for a goal at the other end.
Group B largely focused on skill development during their skate. They began with variations of 2-on-0, 2-on-1 & 3-on-2 situations, in addition to some individual drills that separated forwards from defensemen. Forwards worked on small-area situations, pulling pucks off the wall, and quick shots from passes. Defensemen worked on getting pucks on net from the point, as well as keeping the blueline and holding the zone.
Overall, while speaking after only Group A had skated, Head Coach Todd McLellan expressed perhaps his first critical assessment of camp. He emphasized that today served as a reminder that the team needs to keep the level of play up, and that the skate served as a good reminder of that.
"I thought today we let our guard down a little bit," McLellan said. "We got a little bit sloppy, and we needed to be reminded that every minute of practice time is really important to us, and we can't take anything for granted, we're not in that situation at all. Today was a reminder day, that our standards aren't going to slip."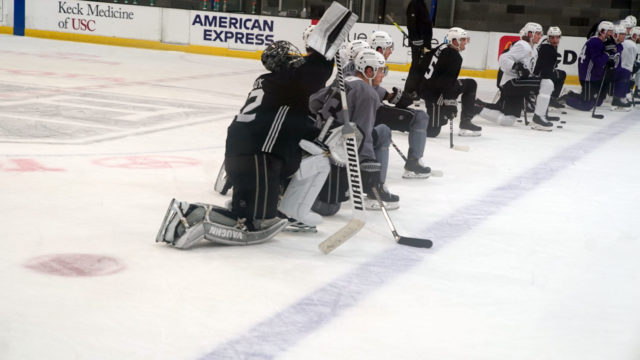 3 Key Takeaways
Not So Fast……
Take everything you read yesterday on LA Kings Insider Dot Com about the players from the World Juniors joining Kings camp this week and throw it out the window.
The Kings were hopeful to be able to add the quartet of players to their roster, potentially as soon as tomorrow, but due to issues related to health protocols, those four individuals will need to go through the standard eight-day quarantining period.
"[Those four players] aren't going to be joining us as quick as we thought they would, they're going to have to go through their long-term health protocols, it's going to take, I think, seven or eight days for us to get them in," Todd McLellan said today. "We thought we could hurry the process, but we have to follow what's correct and what's right and that's what's going to happen, so it will be a little while before they join our team."
While the initial reaction may be disappointing, health and safety concerns and protocols will always dominate this season.
When asked for further clarification, McLellan indicated that it was a health-directed delay for those players, rather than an NHL mandate. It simply came down to the organization originally thinking they may be able to speed up the process, seeing as the players came from a bubble setting in Edmonton, but it turned out to not be the case.
"[It] would be a customary health directive, where they need so many days of testing," he added. "We thought there was a chance to hurry that up because they came from a bubble and they flew private, which was nice for them. We thought we could speed the process up but we can't, and we understand that, we accept it. We're going to do whatever we can to protect those individuals and the rest of the group that's here. We'll be patient, we'll wait for them, and they'll eventually join our group."
Assuming that the process for those players began on Wednesday, when they arrived in Los Angeles, the earliest we could possibly see them would be the day before Opening Night.
G̶a̶b̶e̶ ̶V̶i̶l̶a̶r̶d̶i̶:̶ ̶B̶o̶y̶ Gabe Vilardi – Man
For the first time as a professional player, Gabe Vilardi had a true offseason to prepare.
No longer was his focus on rehabbing, no longer was his focus on recovering from an injury that limited him the season before. Vilardi's primary focus was on getting stronger, improving his conditioning and preparing for his first full training camp with the Kings. So far, the results have shown through the eyes of his head coach.
"Gabe looks like a different man right now, physically," McLellan said. "He looks stronger, I think his engine is much better, we're going to find out in the games. The fact that he did all the work should make him feel comfortable and confident in what he can or can't do on the ice, and having that confidence is a real big thing."
From his point of view, Vilardi agreed that having the summer to focus on preparing for a season, rather than recovering from the season before, was huge for him.
His training regimen, both at home in Ontario and here in Los Angeles when he came back, has brought him to a much better place and readiness heading into camp.
"It's really big for me," Vilardi said. "It's the first time in three years now that I actually got to spend the summer working on getting better, and not focusing on getting my body back playing again. I thought it was really good for me. I put a lot of work in with the guys here, Pricer, Trent and those guys, they helped me out a lot."
While much has been made of his strength – Dustin Brown estimated that Vilardi added 15 pounds of muscle over the summer – Vilardi feels it's in his conditioning that he's improved the most.
Throughout his season in both the AHL and NHL, he felt that while he started shifts strong, his play would drop off around the 15-second mark through the end of the shift. He feels that the work he put in over the summer will help to rectify that, and game-type situations will be the true test when the time comes.
"I think the biggest thing for me was conditioning," he said. "Both in the AHL and the NHL, my shifts would kind of fall off when I hit the 15-second mark I would start to feel it, my legs would start to feel it. Obviously I haven't played a game yet, but I think my conditioning is so much more improved and that comes with a summer of actually being able to train. I'm excited to see how I feel, I'm excited to see how my legs feel."
If what he did this summer doesn't pay off, then Vilardi isn't sure what will.
"I think I'm in pretty good shape right now – If I'm not in good shape, I don't know what else I can do to get in good shape."
Let's Scrimmage!
McLellan announced today that the Kings will hold a scrimmage at STAPLES Center on Saturday, as an added part of training camp.
"We'll practice again tomorrow, and we plan on going to STAPLES Center to have an inner-squad [scrimmage], a Black-White game on Saturday," McLellan said.
He indicated that tomorrow will be a normal practice, Saturday will follow with the Black-White game, and Sunday will be a group off-day. Following that three-day stretch, he believes that the Kings will have a better look at the regular-season opening roster.
"By the time we get to Monday, we'll have a better idea of the direction of the organization, how many guys we want to keep initially," he said. "By that time, we'll be in discussions to clarify the taxi squad and perhaps how we're going to use it. That doesn't mean we'll have final decisions made, but we'll have a better and clearer picture in and around that time."
More details to follow on the scrimmage.
Bonus Takeaway – How the Frk are ya?

Kings are back on the ice tomorrow morning at 10 AM, beginning with Group A. Until then!