The LA Kings were back at it this afternoon at Toyota Sports Performance Center, as they picked up after a day off.
Group A consisted of 16 forwards, eight defensemen and two goaltenders, listed here in this morning's article. The first half of the skate consisted of a variation on 2-on-1, 2-on-2 and 3-on-2 rushes, in different situations.
Following an ice-cut, the group worked in more of an instruction-first mode, with McLellan walking the players through different systems and situations with regards to special teams. Playing in a controlled scrimmage environment, the group worked on power play and penalty kill, with lots of instruction in between.
Highlights from Group A included a Martin Frk one-timer in PP/PK play – a classic Martin Frk goal if you're familiar with last season's Ontario Reign. Gabe Vilardi created a couple of chances throughout the day, including a wrist-shot goal early on in the first-half of practice. With more of a focus on instruction and smaller situations, there were less "highlights" per-say.
Group B (roster here), consisted of lots of small-area games. Tyler Madden and Aidan Dudas combined for the highlight of the session, with Madden executing a drop pass on a 2-on-1 rush, and Dudas carrying in for a backhanded, top-shelf goal. Nice work by the Berlin boys!
backhand top 🧀? Sure! pic.twitter.com/EfnbMmg5Xu

— LA Kings (@LAKings) January 4, 2021
Rasmus Kupari scored a notable goal as well, as he curled the puck around Matthew Villalta to tuck home a rebound. Overall, the focus on the day was working on different things in small areas of the ice, led by Ontario Reign Head Coach John Wroblewski, who orchestrated similar, instruction-style drills in the second half with Group B as McLellan did in Group A.
3 Key Takeaways –
A Wrinkle In (Start) Time
The NHL and LA Kings announced a couple of schedule-related pieces of information this afternoon. Included in that release was the start times for all 56 of the Kings games this season, as well as one schedule change.
The game against Anaheim, originally scheduled for February 3, has been moved up a day to February 2.
As far as start times, the bulk of the games played at STAPLES Center this season will begin at 7 PM (23-of-28). The lone outliers will be three games that will start at 6 PM (1/16, 3/5 and 3/6) in addition to the 3/21 game starting at 3 PM and the 4/14 game starting at 5 PM.
A full and updated schedule can be found here.
Last week, it was announced that the Kings will have three games played on NBC. Expect to see more information regarding Fox Sports West's television coverage, as well as a radio broadcast schedule, in the coming days.
My Name Is Jeff
Jeff Carter is healthy and ready to go. Good news for the LA Kings.
After hearing several members of the team's veteran core speak to the benefits of the added time off, that sentiment is perhaps the most true for Carter.
Carter missed the final 10 games of the 2019-20 regular-season with an injury. After he had surgery in May, the London, ONT native was able to use the extended time off to rehab his body and entered training camp as a full participant from Day 1.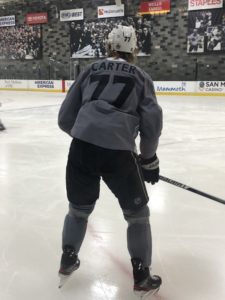 "For sure it has," Carter said of the time off being a benefit. "I just turned 36, so as much time as I can get to heal up and be ready to go is definitely going to help me in the long run."
The veteran forward, who was also bothered by an ankle injury that originally occurred in October 2017, followed by the hip-related injury last season, believes that he is as healthy as he's been in recent memory as he enters this season.
"You go back to the ankle there, and that kind of lingered for a few years and then getting fixed up this summer, I feel good," Carter said. "I feel strong, we had a good summer of rehab and workouts and whatnot. I've had an extended period of time to skate, where I didn't have to jump back into it at full speed. I was able to ease my way into it and work my way up to full speed going into camp, I think that really helped me."
Todd McLellan has been happy with Carter's camp to date. It's always an unknown, when a player first gets back into the swing of things coming off of an injury, but so far, there's been nothing that suggests anything but Carter being ready to contribute.
"He looked really good, considering what he's been through and the amount of time he's been off," McLellan said of Carter earlier in camp. "I just think that Carts is such a smart player, he's a big man, he skates so well, he's always going to look good."
Despite the circumstances, the veteran forward said his mindset is the same as any other year. Perhaps in a normal season, with camp in September versus December, he may have had to take a different approach, but he believes with the extra time, he's entering camp, and the regular season, at full systems go.
"I had surgery [at the] end of May, so I've had plenty of time to rehab and work my way back into skating," he said. "At this point, I feel perfectly fine. Maybe in normal circumstances, when we didn't have as much time I would, but for this year I feel good and ready to go."
Open Mikey Night
When Mikey Anderson earned a recall to the LA Kings back in February 2020, he got his first taste of NHL action. Anderson played six games with the Kings, on the heels of what was a successful start to his professional career in the AHL with the Ontario Reign.
Through four days of camp, Anderson has continued to impress and doesn't appear to be showing any signs of returning to the AHL any time soon.
"Mikey, in my mind, has worked his way into our lineup and in camp, it looks like he's going to stay there," McLellan said. "The amount of poise, and the type of plays he makes, not only offensively but defensively is pretty rewarding."
Anderson showed he belonged at the pro level, as he played the first five months of last season with the Ontario Reign. The Minnesota Duluth product partnered primarily with Kale Clague with the Reign, skating on the left while the versatile Clague played on the right.
Anderson was never overwhelmed by the adjustment to the AHL, despite some first-game "jitters" as he described them. He did, however, point out that when you make that next jump, from the AHL to the NHL, you have to do things that much quicker and it's something he plans to work on heading into this season.
"The biggest thing for me that I noticed was that half-second you get in the AHL to make a play, and you come to the NHL and that half-second is gone and you've got to make the play a little quicker," Anderson said. "For me, I'd like to be able to improve that and be able to make more clean plays consistently. Be a strong defender, and take everything from there."
Anderson feels that the time he did get with the Kings last winter was beneficial to him as he prepares for what could be his first full NHL campaign.
Having some stability – he's partnered with Matt Roy both last season and here in training camp – has been a big thing for him as well with regards to coming in this season ready to go.
"The six games at the end of the year, I thought me and [Matt Roy] did a good job of defending together," Anderson said today. "He's a really good player, very steady and reliable, knowing what he's going to do game in and game out. I thought the two of us together, we did a good job defending, playing against some of the top players around the league."