Day 3 of Camp is in the books!
Same format as Days 1 and 2, rinse and repeat, yada yada.
Group A began today's session with the opening skate, that featured some typical flow drills and instruction from Todd McLellan and the coaching staff.
Both teams then took the ice for the scrimmage, won today by Group A by a 5-0 margin. Unlike the last two days, Matthew Villalta and Troy Grosenick started the game, and played much of the controlled portion of the first half, with Grosenick and Jacob Ingham splitting for Group B.
Alex Iafallo and Samuel Fagemo scored the goals for Group A in the first half. Iafallo's goal coming off the rush, with a wrist shot from the left-hand circle, while Fagemo buried a Carl Grundstrom centering pass for the second tally.
Jonathan Quick and Cal Petersen stepped in for the entire second half, played exclusively as regular 5-on-5 play. Iafallo tallied his second of the game, with a spinning, backhanded effort from the low-slot. Grundstrom and forward Mikey Eyssimont added the other goals, completing the victory for Group A. Villalta and Petersen combined for the shutout, though the crew of off-ice officials in the building missed the final save count.
As far as the fatigue factor that McLellan touched on yesterday, he felt that it was noticeable at times, but was happy overall with how the guys powered through it.
"I think you could see a level of fatigue in the group today," he said. "It doesn't matter what you do in the summer, until you get out there, skating, playing 5-on-5 and get put through drills and game situations, where people are leaning on you…your body isn't quite ready for it. I thought they battled through it really well."
As McLellan confirmed, tomorrow will be an off day, before they get back at it on Monday, with Group A currently scheduled for 11 AM. McLellan said that groups will likely be shuffled between now and then, allowing the team to work on more specialized situations with power-play / penalty-kill units together. Will follow up here on LAKI with more information regarding Monday's skate, in terms of times, groups, lines, etc.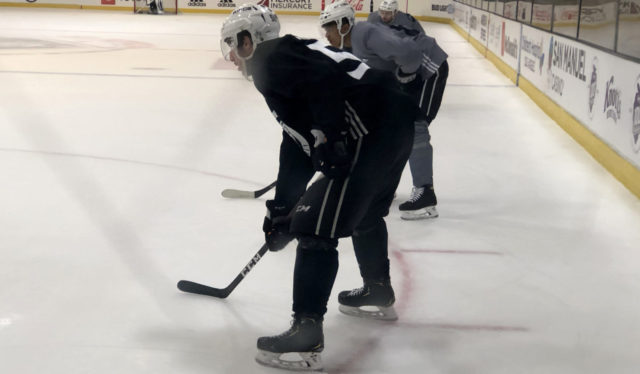 3 Key Takeaways –
AI, A1
"I thought he was perhaps our best player on the ice today, the way he managed himself, the way he skated."
That was McLellan's verdict of Alex Iafallo today. The top-line left winger tallied twice in the scrimmage, with two very different goals, and as his Head Coach said, he was noticeable during today's skate.
Iafallo noted in his media availability this afternoon that getting more shots, and quicker shots from high-quality areas, has been an area of emphasis entering this season.
"I feel like this year coming up, I need to shoot more, keep getting better in the offensive zone," Iafallo said. "It's simple things like shooting extra pucks after or before practice, there's a shooting room around too. I've been focusing on that, and trying to get a quick release from really anywhere in the zone. I'm working on that, and hopefully it pays off."
The 2019-20 campaign was a breakout season in many ways for Iafallo. The Minnesota Duluth product set career highs in goals, assists and points, and ranked second on the Kings in points, and tied for third in both goals and assists.
"I thought Alex had a tremendous season last year, especially the second half," McLellan said. "If he can build on that part of his game, the offensive part, he'll compliment the guys that he's playing with," McLellan said. "We trust him in every situation – power play, penalty kill, 5-on-5. He might not be the fancy guy, he may not be the top scoring winger in the league, but he's certainly a trustworthy player who the coaches really appreciate, and I know his teammates really appreciate him too and that goes a long way."
Iafallo is entering the final year of his contract before unrestricted free agency. In a call earlier this week, Kings General Manger Rob Blake said that negotiations had not yet begun, due to the uncertainty surrounding the season until recent weeks, but that he expects them to start as the season moves forward.
Swedish Fish
A lot of interest has been generated through the first three days of camp about the all-Swede forward line of Carl Grundstrom – Lias Andersson – Samuel Fagemo. All three players have flashed production in the scrimmage sessions. Andersson scored on each of the first two days, Grundstrom had a goal and an assist today, with Fagemo burying Grundstrom's helper, plus he rang a shot off the post yesterday, that beat the goaltender clean,
Fellow Swedish forward Adrian Kempe had high praise for the trio.
"That line has been buzzing so far, in the scrimmages for sure," he said. "They all know each other very well from before, so they definitely have some chemistry going."
While Grundstrom and Fagemo have been with the organization since 2019, this is Lias Andersson's first opportunity with the Kings. The 22-year-old forward was acquired from the New York Rangers at the 2020 NHL Draft, and brings with him 66 games of NHL experience, as well as several seasons of professional hockey in the AHL and in Sweden.
Andersson got off to a strong start, with a silky, no-look goal on Day 1, and followed it up with a grind-it-out finish yesterday. His play, in a very small sample size, has caught the eyes of the Kings coaching staff early on.
"The goals from Lias are nice," McLellan said. "It's everything that goes into the goal that we've come to appreciate after two days. He's got a feistiness to him. That line, of those three Swedes, has created a lot of turnovers and Lias is a big part of it. He's playing with pieces of the game of how we want to play, he hasn't received all the information yet. Once he gets it, I think he's going to be even better."
For his part, Andersson has expressed his excitement for a fresh start here with the Kings organization. He confirmed today that his original plan was to spend this season entirely playing in the Swedish Hockey League, but his trade to Los Angeles changed those plans. He now says that his plan is to spend the entire season in North America, the the ultimate goal being to make the LA Kings roster and play in the NHL.
For Andersson, the new opportunity has been a jolt of energy for him, and he's been very excited to get going.
"Super excited," he said. "I've just been here for a couple of weeks now, but everything is awesome here and I'm very, very happy here. It's such a first-class organization from top-to-bottom, and I'm super happy and super excited to be here."
Like many of his fellow Europeans, Andersson has the added benefit of entering this season with competitive games under his belt. Andersson played in 19 regular-season games with HV71 Jonkoping, as well as games with the Sweden National Team in the Karjala Cup. While he admitted the first few days on the ice in North America were tough, after the mandatory quarantine, he feels that his time in the SHL early on this season has set him up nicely for camp.
"I think the first couple of days, when we were skating after being in quarantine, that was pretty tough, I felt like I started all over again," Andersson said. "I'm feeling better now, I've been skating for awhile and playing some games too, so I feel great. I think that may help me to have the pace up and the game shape up."
What About The Goalies?
Frankly, it can be tough to truly evaluate where goaltenders are at during a training camp setting. Most practice drills are either designed to give the goalies work, longer, outside shots, or stacked against them in odd-man situations, sometimes with no defensemen in front.
Therefore, it's not as easy to see where they're at in their preparation, as opposed to the skaters. And this applies to every year. What adds a further wrinkle this season is the fact that these netminders, outside of Jacob Ingham, haven't played in a hockey game since March of last year.
Jonathan Quick has felt that battle, and has seen both sides of the extended layoff. As many of the Kings veterans have discussed, the layoff was beneficial for them in getting their bodies where they want to be. Quick agreed, but also saw the other side of things, with the fact that so long away from playing games puts him in a place where he's trying to get into game shape in a shortened time to do so.
"I think with anything there's positives and negatives," Quick said. "Some of the older guys who have played this long in the league, you're going to have some things bugging you here and there, so you had plenty of time to heal up and get it all figured out. At the same time, it's also 10 months since you've played a hockey game. While you're grateful that you're healthy and you feel good, you're also trying to ramp it back up and get in game shape."
McLellan felt that to put a true evaluation on the goaltenders at this stage would be unfair, to them and to the players around them. He's felt that his goaltenders are currently at a "pretty good level" so far, and he's encouraged to continue to work with them as camp moves on.
"They're probably the ones that have the most gap to close," he said. "That's not because they're not sharp, or didn't do their homework, it's just that once you get in the net and the pucks start coming at you for real and there's traffic and you've got to read plays, they've got the most work to do. We're going to work hard with them, we're going to be patient with them and we've got to make sure that we've got four of them up and running by the time the season starts."
Compounding the shortened training camp is a lack of exhibition games in advance of the 2020-21 season. Quick feels that not having those preseason games, the only opportunities to tune up against other teams in a game situation – is the biggest test that teams will face in getting ready to go.
While this is not unique to the Kings, or to goaltenders, it's something that he and his teammates will have to work to overcome as January 14 approaches.
"I would think around the league [not having exhibition games] is the biggest challenge for everybody," Quick said. "Even in a normal year, you play preseason games and that first game feels fast. I think everyone, all 31 teams, they're going to feel that a little bit. I think the way we've broken down camp so far, getting into scrimmages right away and trying to get you making those game decisions and realizing you don't have as much time as you do in the summer skates. Hammering that home right away is sending a message to everyone in the locker room that we've got to get ready here."