Good Afternoon, Insiders!
Day 2 here at LA Kings training camp brought much of the same from what we saw yesterday. The format was identical, minus the order, with Group B leading us off, followed by a scrimmage, and Group A finishing things up with their practice session.
Lines & Pairings also looked identical to yesterday, as there were no changes to either the players in each group, or the line combinations, and all 41 participants were on the ice.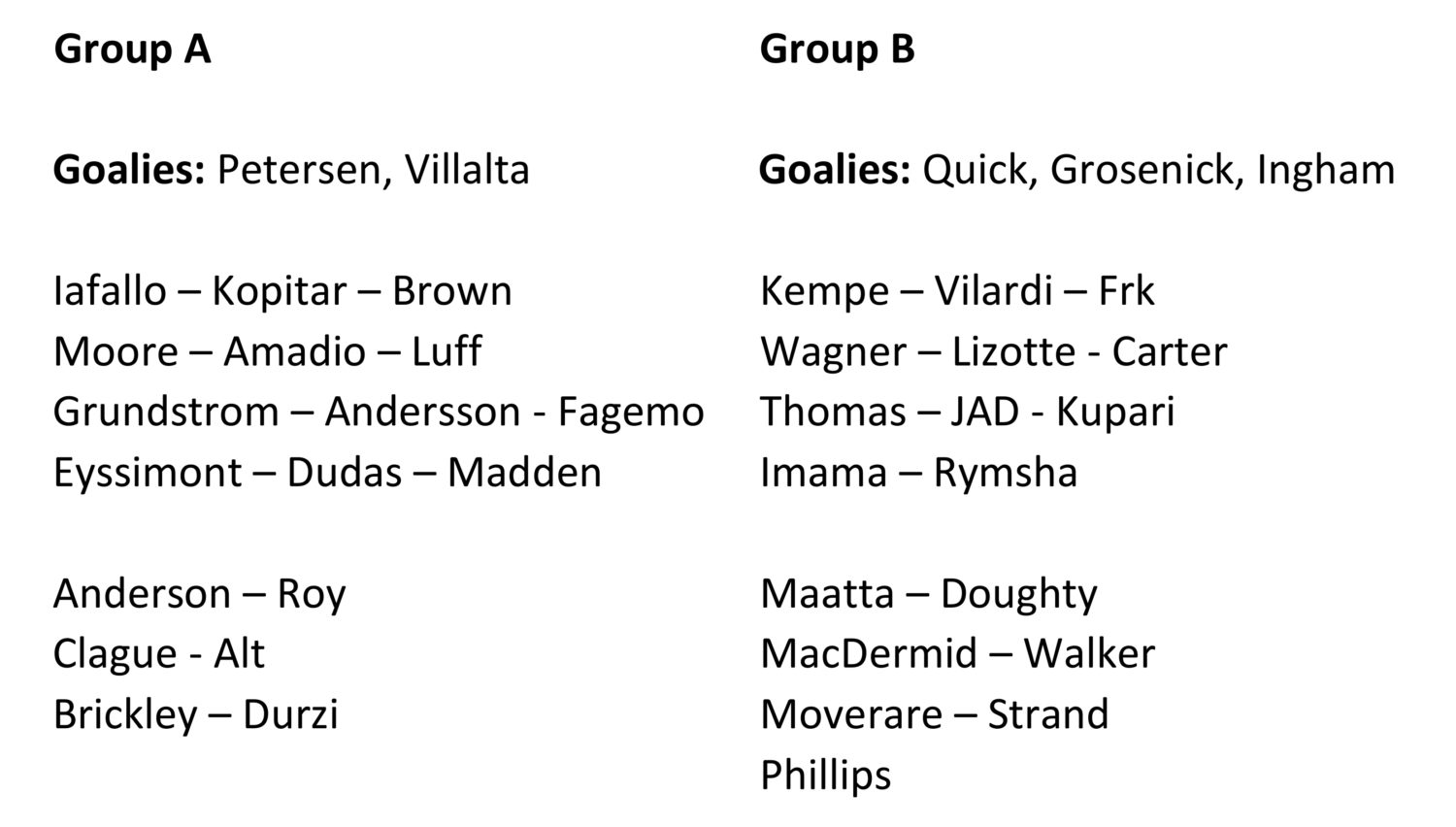 In today's scrimmage, the format was similar to yesterday, with a controlled segment for approximately the first one-third of the time, followed by straight up hockey.
Group A skated to a 4-2 victory over Group B in the internal scrimmage. Dustin Brown, Kale Clague, Sean Durzi and Lias Andersson scored for Group A, while forward Jeff Carter netted both goals for Group B. Carter's first goal came on a breakaway, which he snapped past Matthew Villalta on the stick side, before a rebound goal from in tight later in the scrimmage. Cal Petersen did not allow a goal during his time in net for Group A, while Andersson's goal gave him tallies on back-to-back days.
"Another good day for our group," Head Coach Todd McLellan said. "They're going hard, so by the end of the day there's a bit of a fatigue factor, but nothing we can't overcome. I thought the scrimmage had a little bit more structure to it, there were more plays made today, which is a good sign…lot of good things."
McLellan indicated he was pleased with the play of Andersson, who has skated at center on a line with Carl Grundstrom and Samuel Fagemo through the first two days. Don't expect to see much change to that line, or the combinations in general, here at the start. McLellan talked about the importance of consistency as the players assimilate back to every-day practices throughout training camp.
"You'll see a lot of familiarity with our lines, I think it would be crazy to throw them in the blender right now and start all over," McLellan said. "There are some tendencies that certain individual have and they're able to read off each other. Let's give the familiarity of linemates a chance. If it goes well, it'll stay there, and if it doesn't go well, then we'll think about shuffling some individuals around.
3 Key Takeaways –
Roy The Rep
When Alec Martinez was traded to Vegas last season, he approached his usual defensive partner, Matt Roy, about replacing him as the team's NHLPA rep. While at first, everything was pretty straightforward, what followed was anything but.
In an offseason that was filled with firsts, considering the COVID-related delays to the season, Roy was at the center of the discussions surrounding any potential information on a return to play. While still being a younger player himself, Roy took on the role and found himself in a position he never really envisioned himself in before.
"It was very interesting to say the least, I never thought I'd be in a position like that before," he said. "It was really cool, being a part of the discussions and trying to work around all of the different things being thrown at us all summer. I was grateful to be in that position, being a younger guy, I think it was pretty cool to be a part of."
While there was a lot discussed, at a lot of different levels, at some points it seemed as though the players didn't know all that much more than we did. From getting information in droves, to times of silence and everything in between, it was certainly a whirlwind summer for the 26-year-old blueliner on the NHLPA front.
"Some weeks there would be a lot of information thrown at us and other weeks it would be kind of quiet," Roy said. "Sometimes things would be certain and sometimes there would be some tentative plans. I just tried to keep the guys in the loop as much as I could, and once things were more certain, I was communicating a bit more."
Don't Undersell Drew
For the second straight day, McLellan made it clear the appreciation that he and the Kings coaching staff has for #8. Doughty has been the unquestioned number one defenseman in LA for nearly his entire career, since he was selected second overall in the 2008 NHL Entry Draft. The Kings' Head Coach made clear that he still has nothing but confidence in Doughty's game, and appreciation for the contributions he makes to the team.
"With Drew, I said this yesterday, right now he's under-appreciated, maybe because he's not producing as many points," McLellan said. "When you sit in our locker room, when you sit in our office, the appreciation level for what he does is quite high. You look at the amount of minutes he plays, the type of competition he plays against, the zone starts at times and the amount of game he can control from back there. We're very fortunate to have him."
Yesterday, Doughty spoke about how he's felt slighted at times by criticisms about his play by the national media.
"A lot of people had me written off as not even a good player anymore, and all of that becomes personal and all that drives me to be better this year and to make our team better," Doughty said.
From his media availability yesterday, it's abundantly clear that Doughty is fired up for the upcoming season. He spoke about the optimism he has in the younger guys coming in, and his faith in the veterans to hold up their end of the bargain as well.
A motivated Drew Doughty, a passionate Drew Doughty, and an appreciated Drew Doughty. All good signs for the LA Kings.
Hakuna Maatta
Olli Maatta was the biggest offseason acquisition by General Manager Rob Blake, joining the Kings from the Chicago Blackhawks in the fall.
Maatta, a two-time Stanley Cup champion from his time with Pittsburgh, has partnered with Doughty through the first two days of camp. He and Doughty have a prior relationship – they've skated together in London over the summer, with Doughty a London native and Maatta a London Knights alum – and the left-shot blueliner was extremely excited for his new opportunity here on the West Coast.
"I'm just excited, I think it's a great opportunity for myself, and for the team. Looking at the guys we have, we have a lot of established, older guy who know how to win, and I think the young guys look good and are pushing to get better."
Both Maatta and Doughty alluded to a building chemistry between the two. Both defensemen said that they think the game the same way as the other, and having a past relationship has only helped matters so far.
More to come on Maatta this weekend, as he continues through his first training camp with the Kings.
Expect tomorrow's practice to have a similar look and feel, before an off-day for the group on Sunday. Following tomorrow's skate, the scheduled scrimmages are no longer a part of the practices, per the latest update that was shared. Group A and Group B will skate in longer individual sessions beginning on Monday, and we will update you here if anything changes.