LA Kings General Manager Rob Blake spoke to the media this afternoon for the first time since October's NHL Draft. Included in the list of topics he addressed were the Kings training camp roster, player availability, the World Juniors, the 2021 AHL season, his expectations for this year's Kings and more.
With regards to this morning's training-camp roster announcement, Blake confirmed that forward Johan Sodergran (back) and defenseman Cole Hults (hip) were excluded from the camp-opening roster due to injury. Everyone named on the list of 41 is expected to be ready to go for camp tomorrow, including forward Jeff Carter, who had offseason surgery. Prospects Tyler Madden (hand) and Rasmus Kupari (ACL) are also expected to be at full go, after recovering from their own injuries.
Not included in that group of 41 is forward Andreas Athanasiou, who signed a one-year contract with the Kings on Tuesday.
"Andreas will be the only one who has to go through the quarantine process," Blake said. "He arrived on Monday night, and our protocol right now is eight days, with four negative tests during those eight days, and then you can enter into the facility. He tested yesterday for the first time."
The 26-year-old forward is expected to compete for a job on the Kings opening-night roster, and brings a 30-goal pedigree from just two seasons prior into the mix. Blake said that the Kings and Athanasiou have been in negotiations for the past month or so and agreed to terms this week.
"The number one thing is his speed, and the goalscoring ability," Blake said. "It wasn't as great a year last year, but the year before he put up a lot of goals. The ability to play both wings, a guy who's played some games in the NHL also. Once we knew the rosters, what you can carry, and what you can carry on the taxi squad, I think it makes a competitive group of young forwards that are vying for jobs here."
Also not included in that list of 41 are any of the nine Kings prospects currently competing at the World Junior Championships in Edmonton. Each of the nine players is expected to qualify for at least the quarterfinals, scheduled for January 2. Players who reach the gold-medal game would be in Western Canada until January 5. When you factor in that timeframe, plus the what currently stands as the mandatory eight-day quarantine Blake referenced above, you're looking at probably January 11 – just three days before opening night – as the earliest possible date one of those players could join the group under current policies.
Blake did allude, however, that there could be an expedited timeline for those players that is still being worked on with the NHL and health officials.
"We're looking at different options, because they are coming from a bubble situation, being tested every day," he said. "There's a possibility they can be brought back in, depending on how they travel from the World Juniors to here, so we're discussing that with the league and health officials."
Included in that group are forward Alex Turcotte and defenseman Tobias Bjornfot, who were both expected to be a part of the Kings organization at the processional level, either in the NHL or in the AHL with the Ontario Reign.
Also included in that group are five players from the CHL, which currently has all three of its leagues on pause or yet to start. Players such as Lukas Parik and Martin Chromiak have already played games in Europe this season, while Jordan Spence has played in what was the start to a QMJHL campaign. Quinton Byfield and Arthur Kaliyev, however, who could have the opportunity to compete for jobs during camp, are currently without a place to play games.
Blake said that players in that boat would be eligible to skate in an AHL training camp – the agreement in place with regards to assignment of CHL players to the AHL doesn't apply to a training camp – or possibly on the taxi squad in place for this season. What remains to be seen currently is, if the CHL does not start their 2021 season, will those players be eligible to be assigned to the AHL.
"What we're exploring, especially with the leagues that haven't started, is whether or not the American League is participating in training camp by then, you have the availability of that, or the taxi squad, until the CHL formally announces their return to play," he noted.
Speaking of the AHL, the league announced today that the framework for a 2020-21 season, beginning on February 5, was agreed upon by the league's Board of Governors.
While there are still outstanding questions regarding a potential AHL slate, today marked a solid step forward for the league as a whole. The Reign expect to play this season, and more information could be ironed out for the league as a whole in the coming days.
"There are ongoing conversations right now with the American League, on proposed schedules, start dates and they have calls again tomorrow and the next day. It hasn't been explained to us when training camp could start for the American League, so we're going to wait and see on that. I think it will coincide with them returning from the World Juniors, and whatever protocol is to get back into our facility."
One additional detail that Blake shared is that the Ontario Reign will begin their season at Toyota Sports Performance Center in El Segundo, where the team currently practices. With a full training facility already there, and no fans currently allowed in the building, the move makes sense to play AHL games at TSPC. If things change, and spectators would be allowed to attend, then that move will be re-evaluated, but all systems are currently a go to play in El Segundo.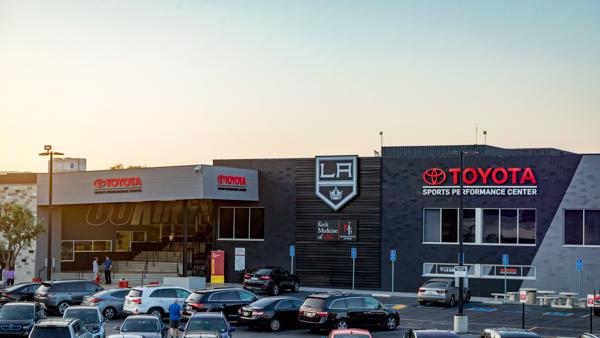 Back to the topic at hand though – the 2020-21 Kings – Blake said that the Kings are expecting to see better results in 2021. He didn't say this is a make or break season, he didn't say that making the playoffs is a must, but he reinforced that while last season was important to lay the foundation, seeing steps of progress in Year 2 under Todd McLellan is expected.
"That's what we expect to do, it's a results oriented business and results are wins," Blake said. "You want to keep building on that. You need the foundation in place and then you need the process that the players trust and buy in to. Like I said, I think we developed that last year and now we need to take that another step forward, and that is results. You need wins to get that result."
ODDS & ENDS –
Cap Space Aplenty
With regards to additional roster moves, Blake said that the team has explored the possibility of using the team's available cap space to acquire assets, a la the Ottawa – Tampa Bay trade from earlier this week.
"We've looked at different options there, we do have that availability of cap space, and we've looked at different options there. It's just another way to acquire an asset, if things would work."
Per CapFriendly, the Kings currently have $12.4 million available, the NHL's second most salary cap space, behind only New Jersey, and several teams sit above the cap.
Ia-fallo The Leader
In terms of contracts, forward Alex Iafallo is an unrestricted free agent following the 2020-21 season. Blake said that conversations haven't started yet, mostly due to what was uncertainty surrounding the upcoming season until recent weeks, but now that things are firmly in place, he expects negotiations to come as the season rolls on.
"We haven't really gone into any discussions with him on that yet. We like Alex, we obviously like his progress here over the last couple of years and feel like he's becoming [a part of] that leadership group moving forward with our team. I envision those talks going as the season gets going."
Property Tax-i Squad
Lastly, regarding the taxi squad, Blake noted that he's not sure yet how the Kings will utilize their allotment of traveling reserves. He said that teams are required to carry a minimum of four, but the Kings are allowed to up as high as six. He called it a "fluid situation" at this stage and that the status of the AHL will help to determine things a bit better.
"The more we've done it, and the different mockups we've done with Todd, we're always around five of six on the taxi squad, and they would travel. They will participate, 28, 29 skaters on the ice in practice throughout. Little different handling of players than we've seen in the past."
More to come from Blake as we get into camp this week. Expect to hear from Todd McLellan for the first time tomorrow, as well as three players as camp begins.