Happy December, Insiders.
One year ago today, we were on the middle day between a pair of Kings games, a 2-1 victory over Winnipeg on 11/30 and a 4-2 defeat in Anaheim on 12/2. Today, it's much quieter.
Overall, it's been a quiet time for many. I'm hopeful that everyone was able to spend Thanksgiving with some loved ones, as safely as possible, and I'm thankful that this platform is still up and running as we hit a December with still no firm dates for the return of hockey. LAKI didn't have a new story up this week, which I was disappointed in, so I'd like to get a new thread up with some odds and ends, Kings-related, from the last little while.
First off, World Juniors season is underway……well was underway……well is quarantined……well is still kind of under way.
On the still underway side, Team USA announced yesterday that a trio of LA Kings prospects earned invitations the preliminary roster, as a part of a group of 29 players named to that group. Included are returning forwards Alex Turcotte and Arthur Kaliyev, as well as 2020 second-round selection, defenseman Brock Faber.
Also included in yesterday's announcement were FIVE California natives – Ryan Johnson, Dustin Wolf, Nick Robertson, Cam York and Brendan Brisson.
The three Kings hopefuls will look to make an expanded roster of 25 players heading to Edmonton. Faber was one of nine defensemen named to the preliminary roster, while Turcotte and Kaliyev were part of a group of 17 forwards invited. As returning players, you'd expect Turcotte and Kaliyev to be heavily considered for the final roster, while Faber being named as one of nine blueliners is a big step towards his inclusion. Team USA will likely select eight defensemen to the final roster, and Faber is one of just two right-shot players named to the preliminary camp roster.
Expect to see a final Team USA roster named in mid-December, prior to the December 25 start to the tournament.
Just north of the border, Team Canada, including Kings prospects Quinton Byfield and Jordan Spence, began it's once lengthy, pre-tournament schedule with a camp in Red Deer, but after a pair of red and white scrimmages, the entire camp entered into a 14-day quarantine due to positive COVID tests. The quarantine began on November 23, putting the earliest possible return date on Sunday, December 6.
The pair combined for a goal in one of the scrimmages that was ultimately ruled off due to a kicking motion from Byfield, but frankly that feels like semantics. Prior to the stoppage, Team Canada provided a couple of photos of Spence and Byfield with the maple leaf on their chests, proof that the camp did at one time exist.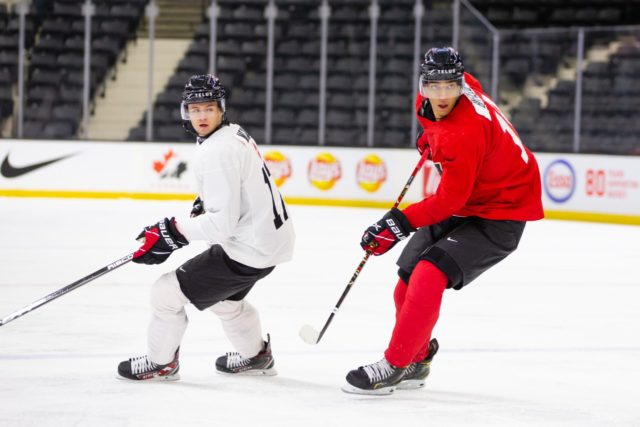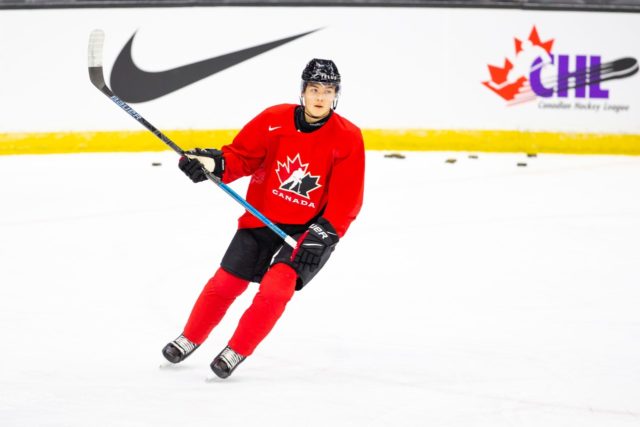 Outside of North America, forward Martin Chromiak has been skating in Slovakia's pre-tournament camp, which began on November 30 in Zvolen, Slovakia. Goaltender Lukas Parik was a part of a U-20 camp earlier this month, and skated with the Czech Republic senior team at the Karjala Cup.
Sweden (Tobias Bjornfot and Helge Grans) and Finland (Juho Markkanen and Kasper Simontaival) have yet to announce their camp rosters, though Team Sweden is expected to announce a camp roster this week. The Kings could see a double-digit representation at the tournament depending on how things shake out.
Teams are allowed to enter the Edmonton Bubble on December 13, with the tournament beginning in full on December 25 and pre-tournament exhibitions starting before that. Lots of time to go between now and then and there's potential for a record-setting number of Kings prospects to participate, depending on how the rosters shakeout.
More on WJC-Eligible players here.
On the NHL front, we continue to wait for an updated timeline as we now enter the month of December.
The NHL still hopes to drop the puck in early January, which is a month away. A league source said this morning the target date hasn't shifted and that talks with the NHLPA continue. But my own two cents, given the Covid numbers, is that season may be further delayed. We'll see.

— Pierre LeBrun (@PierreVLeBrun) December 1, 2020
LeBrun also reported that the players' Return to Play committee is scheduled to meet again this afternoon, and that the group has been meeting regularly. We will continue to monitor and update when we get one.
Expect at least one more story here on LAKI later this week. Until then, Insiders, stay safe and stay tuned.