As we approach the 2020 NHL Draft, which of course begins Tuesday, the bulk of the attention paid to the LA Kings will be surrounding their selection in the first round — second overall.
Don't get me wrong, that's a massively important pick, the most important of the many selections that the Kings will enter the two-day draft with. However, it's still just one of 11 picks at the disposal of the Kings, meaning L.A. will still take as many as 10 more players throughout the event…all with a chance at becoming NHL contributors.
The most sustainable way to build a team in the salary-cap era has been through the draft. By drafting and developing players, instead of paying a premium for players at a later stage in their career, teams can have players at a more cost-controlled price for a longer period. That's where there is value to be found in not just hitting on first-round selections, but hitting throughout the seven rounds, an area the Kings have had some success over the years.
"For us to look at a player from round four on, he needs to have an attribute that stands out," Kings Director of Amateur Scouting Mark Yannetti said. "Now, we know we're not getting a five-tool, four-tool or three-tool player, but you might get a two or one, so you're looking for a guy who starts moving the needle above the average, or someone who distinguishes themselves in one area, something obvious like skating, compete, hockey sense."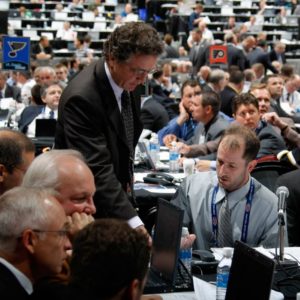 Over the 10-year span from 2008-17, the Kings have drafted 70 players, which averages out to exactly seven picks per season. Yet the organization ranks either first, or tied for first, in both number of drafted players to reach the NHL and percentage of players to reach the NHL. Considering that the Kings were without their first-round pick four times in that span, the team has indeed found success in those later rounds.
Now, you can make a "quantity versus quality" argument here – in this context, Drew Doughty's 919 games count the same as anyone else who reached the NHL – but Los Angeles also ranks fifth in total number of games played, proving it's not simply a compilation of random callups but a pattern of drafting contributors beyond the first round.
Much of that credit goes to the Kings scouting department, led by Yannetti, in identifying players who stand out from the fourth round and on. Yannetti described many players available in that range as "vanilla," meaning that they are good players but lack anything that sets them apart from their peers.
"If I go to the ice cream store, I'm not picking vanilla, and if I do, I'm putting hot fudge, walnuts on it," he said. "Vanilla is fine, but you don't want to draft fine."
If you break those stats down even further, looking more at the later rounds only, the stats continue to favor the Kings. From the 2007 through 2012 NHL Drafts, just three teams across the league drafted players with more NHL games played from late-round picks (Rounds 4-7) than the Kings have. From 2013 through the most recent draft, no team in the NHL has had more players drafted in the same rounds that have reached the NHL than the Kings (who have had eight).
That's where the Kings system comes in. Yannetti and his team identify players who have one or two tools that stand out amongst draft-eligible players, to go along with the reports that they get from their scouts. Starting with the "tools," Yannetti indicated that five-tool prospects sometimes don't extend past the first three picks in a draft. It's finding players ranked much later on who still have at least one tool at that top of the draft level.
"For us to look at a guy in the late rounds, and really consider him, he has to separate himself from the other guys in a certain area," Yannetti said. "Dwight King had size, hockey sense and toughness. If you look at Jordan Nolan, he had toughness. If you look at a guy like Nic Dowd, he had hockey sense, and if you're looking at Alec Martinez, he had the skating."
And that's just to name a few, and three of those players now have their name on the Stanley Cup.
Once those tools are identified, that's step one in the process. Yannetti said that the next step, but more of a 1A than a step 2 was to get an emotional reaction from a scout. That emotional reaction can't be just a one-off either, or something that came from watching a player in, say, one tournament. It must be one that extends throughout an entire cycle of scouting, and when it does, that's a player who makes his way onto the club's radar.
"Emotion from a scout that carries over for a full year is good," Yannetti said. "He's no longer following a recency bias, it's no longer a spur of the moment decision. We often poll our scouts, and ask them if they could come out with one guy in the fourth through seventh rounds — you get one guy — who's the guy you want and why do you want them?"
Take Martinez as a prime example.
Playing at Miami (Ohio) in the NCAA, Martinez wasn't even originally on the team's draft board through their initial meetings, until Kings amateur scout Tony Gasparini had that emotional reaction to look at him. From there, they watched tape on Martinez, saw him play in person and immediately knew they had a player worth looking at.
Using the two key steps in the process, Martinez's skating ability was his tool that separated him from his peers, resulting in his selection by Los Angeles in the fourth-round in 2007. More than 600 games played, two Stanley Cups and one use of 'jazz hands' later, the process clearly paid off.
"He's a guy who I might not have seen, he's gone through the draft, but Tony said that's a guy I have an emotional response to," Yannetti said. "I go and look at him, and we get the video on him, and then we want him and think how is guy not on our list? Now he goes from not on our list, to flying up our list, and that's when the second part of the checks and balances comes in – we really like this guy, now show me an area that he is better than his peer group in, and that's where the skating comes in."
The unsung hero in the process, if you will, is the analytical component.
It's no secret that analytics have an increasing role in how hockey teams are managed, and the Kings have built a strong presence within the field, led by the work of Rob Vollman within their hockey operations team.
When the analytics and scouts come to the same conclusion, you're made in the shade.
"A scouting opinion doesn't factor into the analytics, and the analytics don't factor into the scouts," Yannetti said. "If they jive and we mesh, there's not really another step of the process after that. If our analytics and our scouting tell us the same thing, we feel very confident and the success rate when those two things happen is quite good."
When they don't say the same thing, however, it's perhaps just as beneficial, because it forces Yannetti and his team to pause and take a deeper dive into why there is a difference of opinion between the two.
Sometimes, it's because analytics isn't able to identify an elite trait, such as skating, through the numbers. Sometimes, however, it's the opposite way in surfacing that scouting reports haven't seen a player enough, or seen a player in a wide enough variety of settings
"We look and say why are the analytics saying something that the scouting side isn't," Yannetti explained. "You can usually see where the disconnect is, you can usually see where further work is needed, or a bias popped in. Sometimes it can be something as simple as the analytics didn't factor in skating, because it can't, or as simple as the scout didn't see the games against his peer group. It could be simple things like that."
No matter the stats, the NHL Draft is an inexact science, though it's fair to say that the Kings seem to have figured out the logistics better than most. Development of these players does not end at the draft, rather it only starts there, but it is the ever important first step towards building a strong base for your NHL organization, and the Kings have proven success drafting across the seven-round spectacle.
Time will tell whether what looks good on paper will lead to on-ice success. The Kings are entering the second full season of "The Plan" towards rebuilding a contender in Southern California, and the 2020 NHL Draft, now just a day away from kicking-off, is the next step in the big puzzle.