This is the first in a multi-part series featuring various members of the LA Kings broadcast crew.
Hey Insiders! Over the next few months, I'll be catching up a number of Kings broadcasters to get an inside look of what it's been like to navigate the world during the pandemic from a media perspective.
For this initial article, I chatted with FOX Sports West's Carrlyn Bathe. We got the chance to talk about what's she's been up to in quarantine, her unusual career path, her work with the Kings and Angels, and her hopes for the future of hockey during such an uncertain time.
When we first got on the call, Bathe joked about how difficult it is to be the interviewee.
"I'm so bad at being interviewed, I love being the one to ask the questions," she said.
Quarantine, for Bathe, has been the same for a lot of us and has included a ton of time at home.
"Quarantine in a nutshell has just been adjusting to a new way of life, but not being alone in doing so," she said. "It's been nice to be home and hang out with my pets, who are having the time of their lives right now."
Like others, Bathe has taken this time to develop a new hobby: video games.
"A lot of video games," said Bathe, who recently took up the hobby of streaming her gaming on Twitch. "I've always been interested in video games and just never have had the time to sit down and play through any. When quarantine started, I was watching a lot of Twitch. I fell in love with watching, and then Call of Duty came out and everyone and their mom was playing that game. So, I was like alright, let's try this thing out. First it started with Animal Crossing on my Twitch channel. It took a good month of teaching myself how to set everything up."
The quarantine time hasn't all been fun and games, as Bathe has maintained different, unique ways to continue her work with the Kings and remain connected with fans.
"The Kings have been putting out a ton of online content and figuring out how to keep fans engaged, putting out interviews and fun social media content with the players," Bathe said.
In the early stage of quarantine, that included the Kings live-simulating their remaining regular-season games on Twitch. To supplement traditional in-game interviews, Bathe would do Skype check-ins with Kings players and staff. Most recently, the Kings turned All the Kings Men show into a live, weekly program.
"It's Jesse Cohen and myself," Bathe explained. "We'll talk about current events in the hockey world and then usually have a special guest that we interview. That's been a fun project, getting to team up with Jesse and Chris Wohlers from the Kings' production department. We're making something fun for fans to stay involved with us and still get their Kings hockey fix during the offseason."
While Bathe has previous experience working with the Los Angeles Angels, this is her first year getting to report live on the team broadcasts. "With the Angels, this is my first season doing a few live broadcasts. I'd only ever done Angels Weekly features, which were pre-recorded. This year, I was put on the schedule for nine games and it was amazing. It's been a way for me to exercise that reporter muscle while hockey isn't in season. So that's been on my schedule and then I'm still covering events and shooting and editing features for Angels Weekly. It's definitely keeping me busy while we wait for hockey."
Bathe laughed about no longer needing her space heater that she used 24/7 at the rink and now needing to invest in a fan to tote around in the summer heat at Angel Stadium.
What a memorable night for @joadell0 🤩@CarrlynBathe | @Angels pic.twitter.com/aPDM25cpN8

— FOX Sports West (@FoxSportsWest) August 30, 2020
Now embedded in the FOX Sports Family, the path she took to get here was anything but conventional.
"I started on the Kings Ice Crew when I was 19 years old," Bathe recalled. "I had recently moved to California and saw auditions on a website. I didn't read the directions and I showed up in jeans and a t-shirt. I stuck out like a sore thumb."
Despite the miscue, Bathe made the crew, and carved out a spot on the team for the next five years. While with the crew, a budding interest in sports broadcasting grew.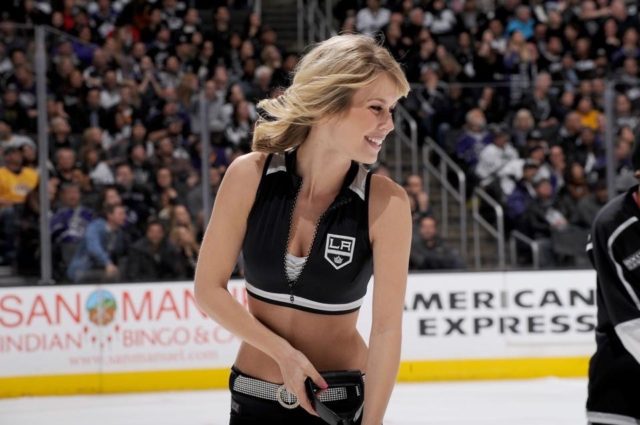 "I saw Heidi Androl, who at the time was reporting for Kings Vision and FOX Sports West, and I thought I'd love to get into sports broadcasting," she said. "I was on the Ice Crew for five years, and during that time I took four years of comedy and improv training at the Groundlings, which is always something I recommend to people who want to get into this business because it helped me out a ton."
In the midst of her time with the Ice Crew and improv training, Bathe also balanced additional jobs while also helping create an LA Kings Ice Crew video blog that found its way on FOX Sports West and ultimately opened the door for Bathe to get into sports broadcasting herself.
"I fell in love with shooting and editing," she recalled. "From there, I managed to weasel my way into picking up some Kings Vision shifts and then I fell in love with hosting. It eventually turned into an in-arena hosting position at STAPLES Center. I hosted for three seasons and then I moved on to FOX Sports Digital and covered WWE, UFC and NHL for their digital platform, and then I found my way back to FOX Sports West once they had an opening for their digital platform, XTRA Point."
Seems like everything fell right into place, right? Not necessarily.
"Between each one of these steps, there was a lot of hard work, networking and learning – It looks easy when you line it all up but there was so much in between that no one gets to see or hear about."
Despite the career stops, courses and trainings, one thing that always stuck with Bathe was her passion for hockey. Surrounded by hockey growing up, her father played for the Philadelphia Flyers and Detroit Red Wings and, to the surprise of no one, she and her four brothers all played growing up. Bathe herself played organized hockey from sixth grade until senior year of high school. She still occasionally plays with her fiancé and her friends, but they're a little gentler and more careful now as to "not break any bones or lose any teeth."
In fact, hockey was how Bathe and her fiancé, Mike Hammer, met and fell in love. Mike and his business partner, Brian, started a clothing brand called Violent Gentleman, which drew Carrlyn's eye. "I saw their clothing brand and he sent me a box of gear. We became friends first and by way of life being life, we became a couple down the road. It was just a natural friendship that was based off a mutual love of hockey that turned into a relationship."
"Violent Gentlemen is about representing your favorite team without it screaming HEY I'M A HUGE KINGS FAN. It's a very subtle nod to hockey and to whatever team you love. They had an exclusive line in the Kings store that they created just for Kings fans that was really sweet. They have a couple different lines like that throughout the league. It's really cool that I found someone that is equally as obsessed and whose entire life revolves around the same sport that I love. I couldn't have written it any better."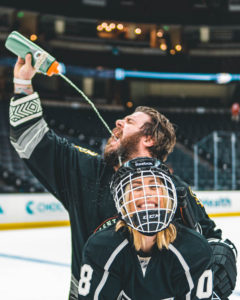 Like many other people, Carrlyn and her fiancé, Mike, had plans to tie the knot this summer.
"The wedding was supposed to be August 22. I ordered my dress before the pandemic hit and then, around April, we saw how serious this was and how it wasn't going anywhere anytime soon. We thought, no way do we want to make anybody travel. We don't want to guess what the world is going to look like in August, let's just postpone it. So, we postponed it to what would've been the NHL All-Star Break in January, but as things progressed, even that was up in the air. So, we're thinking about just getting hitched in October for our parents and my grandmother, who's 95, and making that a special event for our family. Then we'll have a reception once everything's clear and it's safe for people to come see us."
And though a new plan has been made, the decision wasn't easy for Carrlyn and Mike to make.
"I definitely teared up on that day. I woke up super early on the 22 and had a few quiet moments to myself. I was thinking about how this was supposed to be the best day of my life but hey, that's okay maybe next year. We made the best of it. We had a friend over to take photos of us and still mark that day as a special day."
The two took dressed down photos in the backyard to commemorate the occasion.
With so much up in the air, there's still a lot to look forward to when it comes to what hockey will look like in the coming seasons.
"I can't wait to see what the future hockey season holds. I'm excited to see how the broadcasters will adapt, how our access to the players will be different, and just learning and evolving as we still will have to battle with this pandemic. It's a new and exciting way to figure out how to do our jobs safely while still bringing that same level of access and content to fans as we come out of this together."
Bathe says there are learning opportunities everywhere, through watching NBA, MLB and NHL playoff games. This way, she'll have suggestions for the safest and most efficient interview techniques once the Kings hockey season returns.
"Every time I watch another sports broadcast, I'll write down different ways teams have conducted interviews and gotten their stories out of these athletes they don't have the same access to."
And just as much as she has been taking notes about how to improve her craft amidst the unknown, she's also taken this quarantine time to explore what she could do next to take her dream job even further.
"I'm having so much fun working for the Kings and it's been such a whirlwind and it's all still so fresh and new. Once you land your dream job, what's next? I really want to report at an Olympics, whether it's the hockey portion or even snowboarding. I'd also love to be a reporter for a special e-sports competition."
Bathe was recently asked to participate in an EA SPORT NHL 21 activation, the NHL Gaming: First Look tournament, where she will go head-to-head with Ottawa Senators forward Brady Tkachuk in the first-round bracket. The tournament will also feature the Minnesota Wild's J.T. Brown, as well as top gamers and influencers from the NHL gaming community. It will be broadcast on twitch.tv/nhl on Saturday, Oct. 3, at Noon (PT). with a special encore presentation also airing on NBCSN in the U.S.
With another competition under her belt, Carrlyn is already one step closer to making her dream job feel complete.
NOTE – Kaylea Konoval works for the Kings and is currently one of many contributors to LA Kings Insider. Our organization understands the importance of LAKI to you and we remain committed to evolving the platform and providing exciting new content once we resume our usual operations.